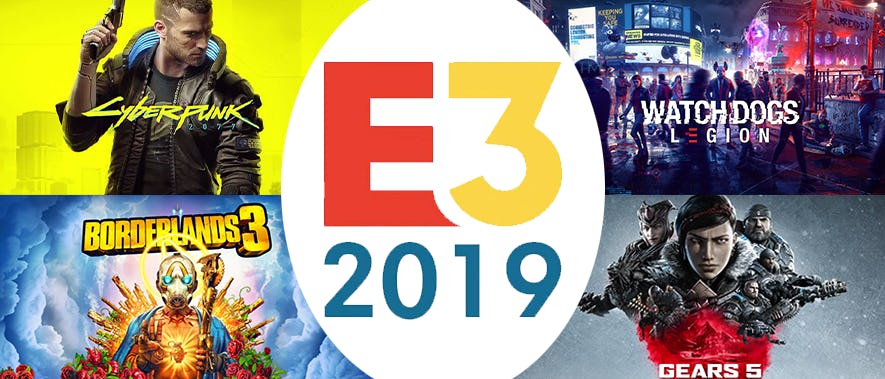 All of The Games Announced at The 2019 E3 Expo - Part 4
Shadow visited E3 - Every game announced at the Expo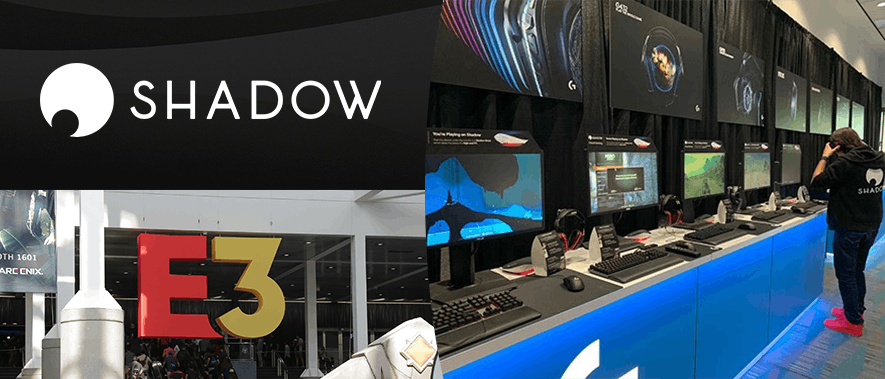 This is the fourth & final part of the E3 2019 series where we show you all the games announced at E3.
Part 4: 67-91
This year, Shadow attended E3!
We designed our booth to showcase Shadow with the best peripherals possible and demonstrate the power of cloud gaming.
E3 is a wonderful event for all video game fans, but not everybody can attend. That's why we decided to be your reporters so you can live the event like you were here with Shadow.
This article will give you the E3 announcements and what we think about them.
Games Breakdown
Many games came out this year, from new RPGs to party games, that will bring content every gamer wants. We can't wait to play all of these PC games , and other games as well.
Here is a full breakdown of the games per platform announced at E3:
PC Games - all available on Shadow: 61
Xbox Games: 42
PS4 Games: 38
Nintendo Switch Games: 28
Stadia Games: 3
Xbox Scarlet Games: 1
E3 2019 Announced Games Glossary
Use this glossary to jump to specific games that interest you (use ctr+F). Each game has a video and information related to the title.
67. Outriders
68. No More Heroes 3
69. Lego Star Wars: The Skywalker Saga
70. Tales of Arise
71. Chivalry 2
72. Microsoft Flight Simulator
73. Per Aspera
74. Circuit Superstars
75. Spiritfarer
76. Unexplored 2: The Wayfarer's Legacy
78. After the Fall
79. Halo Infinite
80. The Legend of Zelda: Breath of the Wild 2 .
81. Tom Clancy's Elite Squad
82. Wasteland 3
83. Battletoads
84. Evil Genius 2: World Domination
85. Deathloop
86. GhostWire: Tokyo
87. Elden Ring
88. Bleeding Edge
89. Baldur's Gate 3
90. Midnight Ghost Hunt
91. 12 Minutes
92. Solaris: Offworld Combat
Outriders
Release date: Summer 2020
Platform: PC, PS4, Xbox
Outriders is a 1-3 player(s) drop-in-drop-out, co-op shooter set in a dark sci-fi world on a hostile alien planet.
Fight your enemies using new and incredible weaponry to complete your quests, brought to you by Square Enix.
No More Heroes 3
Release date: 2020
Platform: Nintendo Switch
In No More Heroes 3, you play Travis Touchdown, whose goal is to become the best assassin in the world thanks to his laser beam katana, wearing power armor and fighting robotic enemies.
This fun hack and slash style game will fulfill your katana swinging hunger!
LEGO Star Wars: The Skywalker Saga
Release date: 2020
Platform: PC, PS4, Xbox, Nintendo Switch
In the LEGO X Star Wars universe we have seen in the past LEGO Star Wars games, you follow the story of all the Skywalkers from episode 1 to episode 9, still pending release.
You will have to use your brain and special abilities of different characters to solve puzzles and defeat your enemies to win the game against the empire.
Tales of Arise
Release date: 2020
Platform: PC, PS4, Xbox
The two protagonists of the game have been announced at the end of this year's E3.
Alphen, coming from the medieval planet of Dahna, is trying to free the people of Rena with his flame sword. The people are threatened as slaves for resources for the technological and magical advancements of the planet.
On the other hand is Shionne, a cursed woman that causes pain to anyone who touches her, fighting against Alphen for an unknown goal.
This action RPG is using the same battle system as the original Tales, but the gameplay is said to have been modified.
Chivalry 2
Release date: 2020
Platform: PC
Chivalry 2 is a multiplayer action game is the second coming of the license, coming from a Half-Life 2 mod taking place in a medieval world.
You can play multiple characters that are fighting from a first-person point of view, giving you a lot of different possibilities to attack or defend yourself.
According to the developers, the biggest improvements of this new game are the possibility to ride horses, and the number of players playing together: 64, instead of 32.
Microsoft Flight Simulator
Release date: 2020
Platform: PC, Xbox
From Microsoft's trailer, we were astonished by the quality of the graphics of the game.
In a full 4k environment, you can pilot your plane in this living, moving world where cities, nature, people and even the weather are taken into consideration
The experience uses satellite images and the Azure AI to compile these incredible landscapes.
Per Aspera
Release date: 2020
Platform: PC
In Per Aspera, you take control of a human consciousness uploaded in a computer who is trying to terraform Mars. In a satellite orbiting around the planet, you start with only one drone, and have to gather resources to build your base, and transform the red planet into a suitable for-life planet.
The game will star 2 modes: the campaign, where you have to terraform the planet, develop new technologies, and even host humans, and a sandbox mode in which you can play freely, just as you want.
Circuit Superstars
Release date: 2020
Platform: PC, PS4, Xbox, Nintendo Switch
This racing game's objective isn't to have the most realistic graphics, it's to have the best original gameplay possible.
You can play on and off-road circuits in different modes (rally, GT, classic cars and trucks) to finish the race before all your opponents. Circuit Superstars looks like a cute, fun, racing game, that even includes Pit Stops.
Spiritfarer
Release date: 2020
Platform: PC, PS4, Xbox, Nintendo Switch
This relaxing 2D game places you as the captain of a boat you can build by expanding it, and even add houses to your boat.
Spiritfarer is oriented toward emotion and friendship with the anthropomorphic animals living with you on the boat.
The game will be a relaxing change of scenery as opposed to many of the zombie, war and apocalyptic titles we listed earlier.
Unexplored 2: The Wayfarer's Legacy
Release date: 2020
Platform: PC
The second release of the Unexplored franchise, this roguelike action-RPG game asks to destroy the mysterious staff of Yendor.
With artistic and well-designed graphics, this game from an omniscient point of view is transporting you to its world and its story. Be sure to check out the graphics, we haven't seen something with this style before.
After the Fall
Release date: 2020
Platform: PS4
This four-player FPS, VR game makes you dive into a hostile world, where you will fight against monsters that look something like zombies, to be honest, in an alternate reality of a frozen Los Angeles.
The graphics are impressive for an FPS VR game, and we are excited to check it out.
Halo Infinite
Release date: Holiday 2020
Platform: PC, Xbox, Xbox Scarlett
The comeback of the famous Halo franchise with a new title: Halo Infinite!
Follow the Master Chief story in this FPS, fight aliens on a Halo ring with your new armor, and save the human race.
It's exactly what you would expect from Halo and everything you want for the newest title in the veteran series.
The Legend of Zelda: Breath of The Wild 2
Release date: TBA
Platform: Nintendo Switch
Announced at the end of the Nintendo Direct presentation during E3 through a short teaser, the second release of Breath of The Wild is in development
For now, we don't have a lot of information about the game, except that it will be an open world like the first title but darker. in plot and context.
The graphics look similar to the original Breath of The Wild, and from the teaser, we also see the same kind of magic.
The game is supposed to be even darker than Majora's Mask, and we can't wait to take a deeper look at it.
Tom Clancy's Elite Squad
Release date: TBA
Platform: Mobile
This game is the gathering of the most emblematic characters from all the franchise's games.
Elite Squad will be a 5vs5 game, in addition to a campaign mode, a player vs player mode and a guild vs guild mode.
During a press release, Ubisoft announced that the game will be role-playing, with real-time, where you will have to upgrade your character and weapons to fight against others.
Wasteland 3
Release date: TBA
Platform: PC, PS4, Xbox
The story of the isometric squad-based RPG is a direct sequel to the previous Wasteland game that came out in 2014.
Wasteland 3 takes place in a post-apocalyptic Colorado where factions are fighting each other to take control of the state.
In addition to the enhanced graphics that we see in the trailer, we have some extra information for you.
First of all, it's the first time that Wasteland will provide a multiplayer mode and a co-op campaign!
You can play the campaign with your friends or even play alone.
The map will have two majors locations: Colorado Spring, and your base where you can find quests, elements of the story and NPCs.
Your base will evolve through the game depending on your decisions and quests, without you having to manage it. Expect a lot of story and dialogue in this game.
Battletoads
Release date: TBA
Platform: PC, Xbox
After 25 years, Battletoads is coming back with a three-player mode that reminds us of the old, funny arcade game, albeit with better graphics.
This beat 'em up/platform game lets you play as one of the three anthropomorphic toads to fight and finish stages to beat the game. The art style reminds us of older, cartoonish arcade games, a total throwback to previous years.
Evil Genius 2: World Domination
Release date: TBA
Platform: PC
This classic simulation game let you play as an evil genius who is building his lair to take over the world.
Your objective is to build the most secure lair against all do-gooders, train your minions and do missions like kidnapping the Queen of England or baking Alaska, in order to become the world's ruler.
With beautiful cartoonish graphics, Evil Genius 2 positions itself on the opposite side of the super-heroes games. Finally.
Deathloop
Release date: TBA
Platform:
This first-person game brings you to Blackreef island, in the middle of an eternal battle between two special assassins who keep killing each other over and over again.
Deathloop is supposed to give you control of all actions in an immersive world in which you will have to complete your missions.
Your objective is to break the cycle of death without dying yourself.
In the trailer, we saw guns, explosions, and… maybe a bit of supernatural power.
Elden Ring
Release date: TBA
Platform: PC, PS4, Xbox
In a fantasy open-world universe, this action-RPG brings Dark Souls gameplay into vast universes and environments.
Elden Ring is told to have dungeons, separated by large pieces of a map, that will change the player's approach and give him more liberty to play how they want to play.
Discovering the map will be a huge piece of the game, as well as the fights against enemies.
Knowing that George R. R. Martin is involved in the design of the game, we can expect the game to be huge.
Bleeding Edge
Release date: TBA
Platform: PC, Xbox
Bleeding Edge is a 4v4 third person team brawler, where every character has his special abilities to defeat others.
The game will also contain obtainable mods to design your characters and create the fighting style you need for your team. Environments will be a big element of the game that you can use to fight or that you will protect against. As competitive as addictive!
Baldur's Gate 3
Release date: TBA
Platform: PC, PS4, Xbox, Stadia
Developed by Divinity: Original Sin 2 creators Larian Studios, the come back of one of the best RPG of all time has already created hype!
Apparently, the city of Baldur's Gate will be a key place in the game, where you will have access to some pieces of it, but you might also have access to other planes and worlds like the Underdark.
The mind flayers have found a way to travel between these worlds, giving you more opportunity to discover the full universe of the franchise. We can't wait to get our hands on this one!
Midnight Ghost Hunt
Release date: TBA
Platform: PC
This Ghostly hide-and-seek game lets you play ghosts or ghost-busters in haunted places.
Your objective as a ghost is to hide somewhere, like in objects, and not be caught by the busters.
Reaching midnight, you can attack the busters with objects of the set to eliminate them.
As a buster, you have different tools to track the ghosts and eliminate them before they eliminate you! A new kind of game that looks like it could be a lot of fun.
12 Minutes
Release date: TBA
Platform: PC, PS4, Xbox
12 Minutes is a puzzle based on time.
You have to solve mysteries and puzzles in repeatedly 12-minute sessions of gameplay until you figure out the solution of the mystery.
From a top-down perspective of an apartment suite, you play a husband whose pregnant wife is being arrested by a police officer that kills her. Your objective is to prevent the situation from happening and to reach the best solution possible.
Every time you don't reach the objective, you play the scene again. You will have to investigate to determine how you can save your wife and if she is really guilty of the crime. A short game, expected to last around ten hours.
Solaris: Offworld Combat
Release date: TBA
Platform:
Described as a "fast-paced multiplayer first-person shooter", and with the low amount of information we have about that game, we expect it to be an online multiplayer FPS game, in a science fiction environment, with futuristic weapons.
We are still waiting for more information about Solaris. Once we get it, we'll make sure to share it with our community.
If you need a high-end computer to play some of the titles listed, try Shadow. Don't forget to join our official Discord to hang out with other gamers, Shadow users and make some new friends to play PC games with.
Want to learn more? Sign up for our newsletter if you want to stay informed about the latest news regarding Shadow!