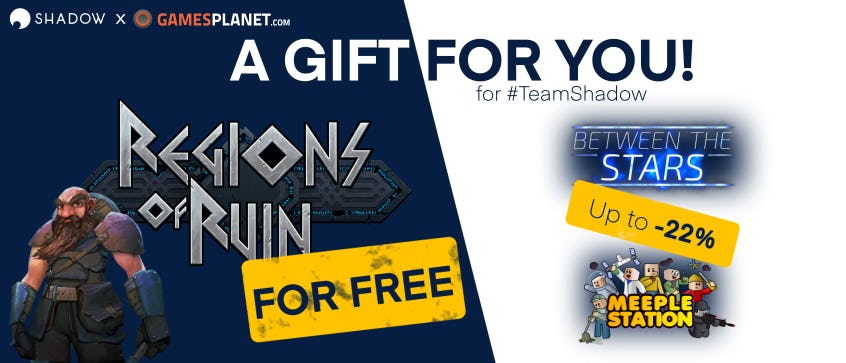 Get Regions of Ruin for free Courtesy of Shadow & Gamesplanet
don't miss out on your free copy of Regions of Ruin courtesy of Gamesplanet and Shadow!
We teamed up with Gamesplanet to get Shadow subscribers Regions of Ruin, for Free. With the partnership, you can also save up to 22% off Between the Stars, and Meeple Station.
If you aren't a Shadow subscriber yet, visit this link.
Regions Of Ruin
To Get Regions of Ruins for Free, follow these steps:
Create an account at Gamesplanet for free
Add Regions of Ruin to your cart
Proceed to checkout
Select "redeem a voucher" and enter your voucher code found in your Shadow Account and select Redeem
Validate your basket on Gamesplanet and get Regions of ruin for free!
Regions of Ruin is a 2D, pixel side-scrolling RPG with town-building mechanics. Explore, fight and build in an open world that challenges you and your growing settlement. In the game, you'll fight to fend of the threat of extinction to the Dwarven race. Watch the gameplay trailer above for more information.
Between The Stars & Meeple Station Discount
With Shadow and Gamesplanet, you can save up to 22% on the space action game, Between The stars and the never ending galactic adventure, Meeple Station.
To access your discount:
Create an account at Gamesplanet for free
Add Meeple Station or Between The Stars to your cart then Checkout
Select "Redeem a voucher"
Enter the code SHADOWSTARS for Between The Stars
Enter the code SHADOWSTATION for Meeple Station
Checkout
Meeple Station
Meeple Station lets you build a personal space station while you care for your planetary inhabitants, create trade deals, and explore distant galaxies.
You'll have to survive pesky pirate attacks, maintain order during a meteor strike, and try your best not to destroy your station with bad building decisions.
Will your humble little station be a stellar creation, or a ramshackle pile of rubble?
Between The Stars
Between The Stars places you at the helm of an interstellar cruiser as you vow to protect the civilized world from the Children of the Sun, a deadly faction that dominates the known universe.
Fight in intense battles, and ponder crucial decisions which can change the outcome of an entire play through.
These vouchers can only be claimed until 08/02/2019.
Make sure to grab Regions of Ruins for free, and two other solid titles at a steep discount. If you need a computer to play your new games, give Shadow a try.
This offer does not apply to trial users.