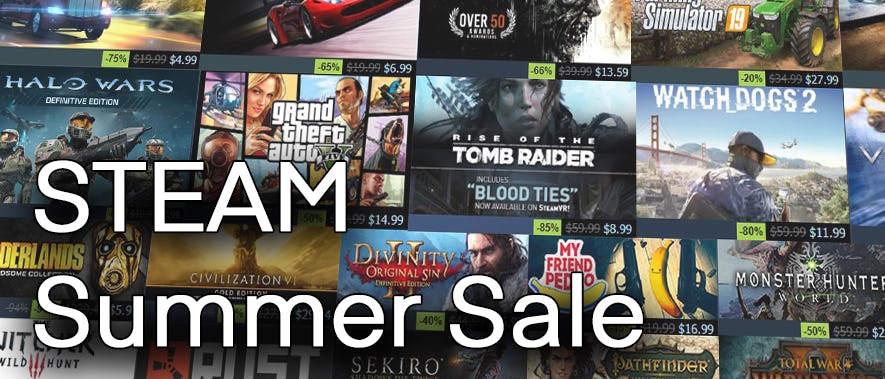 2019 Steam Summer Sale: Our Top 5 Recommendations
Ready to open your wallet? The Steam Summer Sale is here!
The 2019 Steam Summer sale has already begun! This will run from the 25th of June to the 9th of July. Every gamer knows how to prepare for the Steam Summer Sale, which usually involves spending more than your budget, buying too many games and spending weeks inside trying to clear the backlog of discount titles.
The only inconvenient thing about Steam is its download time, if your connection is not strong enough, but thanks to Shadow and its 1Gb/s download speed, you can install Steam on your Shadow, download the heaviest games in a minute and start playing them at max settings!
Every year, Steam launches the Summer Sale Season, during which you can find awesome deals on some games (up to -90% sometimes), to re-up on your library of PC titles.
We are going to present you a selection of our office's most appreciated games on sale this year, so prepare your wallet and let the money flow!
If you would like to take advantage of the Steam Sale, but your computer isn't powerful enough to run these games, we have a solution for you: all Steam games are accessible on Shadow, a high-performance cloud PC available on all of your devices, to get the best of your newly purchased games!
Top 5 most wanted Steam sale games in our office
The Handsome Collection is a bundle combining Borderlands 2, Borderlands: The Pre-Sequel and 50 DLCs (small and big ones) for an original total price of $229.48. With a 97% sale price, Steam is now offering the full collection for $5.90! A really good deal for all the Borderlands fans.
Borderlands 2 is a co-op FPS taking place in a post-apocalyptic world where you have to achieve quests given by a bunch of weirdos. But that's not the most interesting part for us. The gameplay is.
You have a variety of weapons and guns that are absolutely insane. From snipers to pistol-rocket-launchers, we always have fun killing monsters with that crazy arsenal, fighting our friends for the loot, and discovering the craziest NPC ever (for now, Clap-Trap is leading the contest, even if he is not completely an NPC...).
The perfect game to have fun with multiple friends.
Divinity: Original Sin 2, followed by Divinity: Original Sin 2 - Divine Edition and Divinity: Original Sin 2 - Eternal Edition, are now on sale on Steam! Divinity: Original Sin 2 and the two other editions have a -40% discount, bringing the price from $44.99 to $26.99 for the original game, from $59.99 to $35.99 for the Divine Edition, and from $89.99 to $53.99 for the Eternal Edition. Not as big as Borderlands' discount, but still a pretty good one for this game.
Divinity: Original Sin 2 is the second opus if the famous RPG. You can play up to four players, design your strategy based on each other's abilities, and defeat your enemies to become a god. The game is very complete, with a lot of different quests, from fighting necromancers to investigating the death of a soldier.
Magic is omni-present in this game, and the beauty of it, is the way your spells interact with others. Use physics to make your enemies react the way you want, freeze them then burn them to make them explode, or use oil then fire to celebrate Burning Man!
The story of the game has been developed to create an immersive environment, where all your answers to NPC, choices and decisions, create the character that you are and its attributes. Don't be scared to read immerse yourself in the dialogue.
Steam is offering us the game, Tom Clancy's Rainbow Six Siege, and three different editions: Deluxe, Gold and Ultimate. All of these packs are having a -50% discount for the Steam sale, except the Deluxe Edition with -60%, bringing Tom Clancy's Rainbow Six Siege from $19.99 to $9.99, Deluxe Edition from $29.99 to $11.99, Gold Edition from $59.99 to $29.99 and Ultimate Edition from $99.99 to $49.99. A nice way to get the game for a cheap price!
Tom Clancy's Rainbow Six Siege is an online FPS that really emphasized team work and environmental destruction, in all the different game modes such as capture point, hostage rescuing or bomb defusing. In addition to these modes, you also have some exciting solo missions against NPCs. If you have ever wanted to feel like a counter-terrorist, this game is definitely competitive enough to give you the adrenaline of a real battlefield... or maybe not, but that's for the best.
Monster Hunter World and Monster Hunter World Deluxe Edition are also in sale, and bullying our wallet. With respectively a -50% discount and -44% discount, this offer is really attractive on a game that wasn't that cheap in the first place. The price came from $59.99 to $29.99 for Monster Hunter World, and from $74.98 to $42.28 for the Deluxe Edition. If you haven't played this masterpiece yet, the Steam sale is here to give you a steep discount to join the action.
Monster Hunter World is the last game of the Monster Hunter franchise, coming back this time with a beautiful open world, full of monsters (that kind of look like dinosaurs sometimes) to defeat. This RPG can also be played online with your friends, so you can make your squad and attack even bigger monsters. The large amount of different monsters to hunt blew our minds, with beautiful graphics, and an easy to master gameplay (even if some of the Shadow employees couldn't do the combos right...). Choose the kind of fighter you would like to be, and start the hunt now!
Rust is the last one of our Top 5 of the most appreciated Steam games in sale, mainly because of the feedback we got from the losing team of our office. Rust currently has a -75% discount, bringing the game from $34.99 to $8.74. Not fully acclaimed by the public, this game is still giving us a whole load of fun in the office, especially when we are playing together.
Rust is an open-world game in which the only objective is to survive. You start with nothing, and have to hunt, make fire, find fresh water etc, in order to control your thirst, hunger and temperature. But that's not all.
Rust isn't only a Man vs Wild game where Bear Grills is going to be saved by a helicopter. You will also have to find (or steal) materials, to build your base, defenses and weapons, to attack other players on the map, or to defend yourself. Build your team (officially or not) and protect each other to fight and loot from other players. Rust is an accelerated history of mankind, in which players don't evolve at the same speed. That's why the loosing team of our office is having a hard time.
Ever wished of anarchy and survival? Rust is for you.
This is the end of Shadow's top 5 best Steam sales 2019. We invite you to discover all the other games that Steam is currently discounting, but don't forget, you only have until the 9th of July to get them!
If you want to get the best experience from your newly purchased Steam games, on all your devices, Shadow is here for you. We give you access to a high-end Windows 10 cloud gaming rig that can run all your games! If you want to check it out, here is a $10 promo code on your first subscription month after your trial!
Enjoy gaming and all praise Lord Gaben!
Want to learn more? Sign up for our newsletter if you want to stay informed about the latest news regarding Shadow!