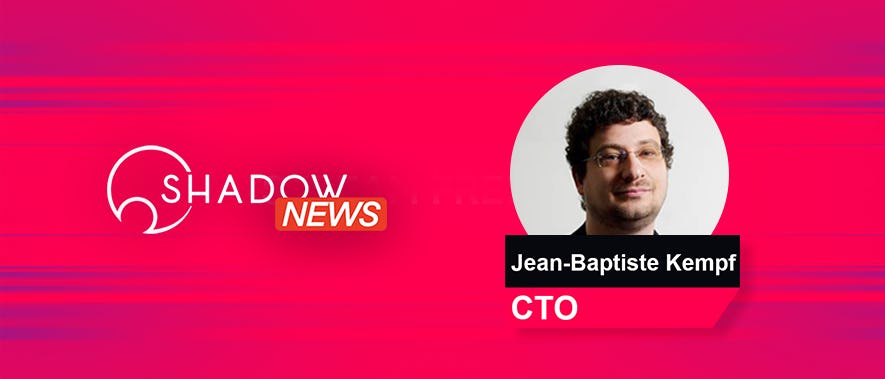 AMA with our new CTO, Jean-Baptiste Kempf
Everything you dreamed to know about our new CTO is here!
—
September 23rd, 2020 ago
Each company has its own method of integration.
At Shadow, true integration doesn't happen without going through community. And yes, you probably noticed it already, we love talking to you. It's not uncommon to see employees hanging out on our Discord, Reddit, forum, and, for the lucky ones, on our Twitch channel.
In order to welcome our new CTO (Chief Technology Officer) as warmly as possible, we decided to introduce him to you during a livestream so that you can meet him and ask him all your questions!
Did you miss this historical Livestream? Don't panic, we've not only written a recap but also made a fancy pants video with the best Q&A's from the stream.

Who are you, Jean-Baptiste Kempf? 
Our new CTO (or C3TO), is 37 years old, French, and of course, a geek. He has been working in tech and programming since 2003. He is mostly known in the open-source community because he has contributed to many projects of this type, including the famous VLC media player software. To learn more about his background, check out our blog post about his arrival (and that of our new CEO, Mike Fisher).
Before embarking on this question-and-answer session with the community, our CM Luc was able to interview Jean-Baptiste (who prefers to be called JB) to find out a little more about him.
Luc : How did you come to know about Shadow? What did you think about it before joining the company itself? 
JB : Everything related to video streaming gaming has always been an interesting topic for me, back since the X264 project (a video encoder). The new video codecs I helped develop had special features just for that. So of course I was interested when Shadow was created in France, and loved the project, that's why I followed it. I became closer to the company in 2018 when an investor asked me to technically audit it. Since then, I've been discussing with a few people at Shadow regularly and everything accelerated in July when they said "Hey, why don't you come and join?"
Luc: What does it mean for you to join Shadow in terms of vision, the roadmap, and the overall product developments? 
JB: The core tech of Shadow is very strong but can still be improved. Grab a few milliseconds on FPS or new ways of encoding and streaming are parts of so many other things I'd love to see. 
There are also issues, but we are aware of them. My role is to fix the bugs we might have in the background to build the good blocks for the future. Be sure that the architecture, the technical background is able to evolve. Ask the difficult questions internally so that we can reorganize the teams and see if we need to recruit new people, so we can move forward. 
Luc: What are the actions that have more priority for you? What next steps will the community see an impact from? 
JB: - First, I would like to meet everyone, understand the tech, work on the architecture and reorganize the teams. 
I also deeply care about fixing some of the annoying bugs, and would like to see how we can have quick wins to push the technology forward. 
Then, I want to work on the VR app, and I'd love to make it possible to access Shadow from a web browser. This isn't on the roadmap and is difficult to do but I'd still love to achieve it. 
About 4:4:4: Video streaming was never done for 4:4;4 but for movies. Bringing 4:4:4 seems easy but isn't. But it would be technically interesting to me and I deeply care about it. 
Luc: What do you think about the cloud computing and cloud gaming world as a whole and how do you see Shadow fitting into that? 
I really like the approach of Shadow because it's unique. I usually play it on non-standard games, which cannot be done with Stadia or GeForce for example. Being able to use Shadow not just for gaming but many other things is also something that is very unique. 
There are going to be so many fights about game editors and platforms and so on that having an agnostic platform where you can play all the games you want, as a user, is really something I appreciate. 
It's a difficult approach because you're taking a hard road on all sides, and the tech team is still quite small compared to competitors. But I like this road, and I think we should pursue it and improve the product. 
Let's move on to the questions! 
Time to see some of the questions asked by our community. They were very numerous so we'll try to sum them up as much as possible here. Don't forget that you can still watch the live stream on our Twitch channel to hear them all!  
Question: Are you still involved in VLC? 
Answer: Yes. I was already doing VLC in my free time while working on a few startups. Today I'm not coding anymore on VLC because I don't have enough time. I'm now putting all of my focus on Shadow!
Q: What is your favorite game? 
A: Probably The Legend of Zelda: Ocarina of Time. 
The games I spent most of my time on are: Age of Empire and the Anno series. I've been playing Assassin's Creed lately to test some things on Shadow. I like strategy games. Is it because I suck at other games? Maybe :)
Q: Can Shadow on the web browser really happen? 
A: It's very interesting to stream directly from a web browser. It will need a different encoding to access the hardware and changes in Shadow's architecture but I don't see any big roadblock on the way. 
Q: Will Shadow be available on Chromebook?
A: There is something that overlays the Shadow app and makes it unusable on Chromebook, causing it to block successful launches. It's misbehaving because of too much overlay but we are looking to fix that. 
Q: How is Shadow going to keep up with the evolution of components on a regular basis? 
A: There is a strategy and I'm not the only one who can deliver that. However, there are many challenges related to this because we are buying a lot of GPU cards: there are supply and financial problems, and questions such as "are we allowed to do what we are doing?". The focus, for now, is to develop the tech and follow the new structure so that infra can deliver them in a cost-effective manner. 
Q: What are your goals during your first years at Shadow? 
A: First of all, I would say not getting fired and not making too many mistakes! I don't want to make false promises and I want to prove that small companies can be big and can deliver tech. 
Q: What are your plans regarding the Android App?
A: I would like to hire new people to focus on it. I deeply care about mobile devices, I don't want to focus only on the desktop version because I want everyone to be able to play, from any device. 
Q: Why can't Shadow use i7 and remove Xeon?
A: It's difficult. Running stuff on the cloud has limitations and is tricky. I know it's frustrating but it's complex. You cannot put normal CPUs and GPUs in data centers. There are a lot of rules, questions about power consumption, power-draining, etc. It's not just taking normal PCs and putting them on the cloud, it's way more complex. 
And that's all for today! 
There were way more questions asked, so if you're curious to hear all of the answers JB had, don't forget that you can always watch the replay of this stream! 
We hope you liked this questions and answers session. Feel free to share your thoughts about it on our forum or on our Discord. 
We are super excited to have Mike Fisher join us as our new CEO, and Jean-Baptiste Kempf as our new CTO, and we hope that you understand why after reading this live stream's transcript!