Blog
/
Shadow News
/ Amid Coronavirus pandemic, Shadow does its part to help

Amid Coronavirus pandemic, Shadow does its part to help
The current situation with Coronavirus is hurting us all. During this difficult time, Shadow tries to give back.
Coronavirus Relief
Coronavirus has impacted us all. With a pandemic drastically changing the way everyone can live their lives, we have to strive more than ever to help one another. We may be doing social distancing, but it's crucial that we remain "close" as a society. 
The people here at Shadow decided we wanted to do our part, no matter how big or small that would be. So, we got to work and one one project led another and we couldn't stop. We wanted to bring up what we've done so that it may inspire those who have the ability with ideas of their own!
Mask Donation
To fight against the Coronavirus, we were able to contribute protective masks to a hospital in need, all thanks to TENA, our Shadow Ghost supplier from China!
So, what exactly happened? Well, our amazing supplier was kind enough to offer 4000 protection masks to protect our staff were we to keep working from the office (image of the mask below):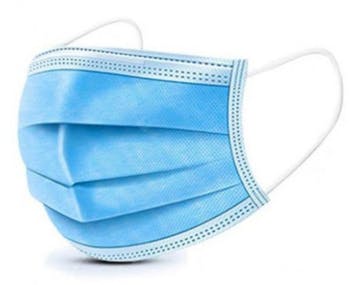 However, since we are all working from home, we decided this was the perfect opportunity to start helping out. Instead of having those masks go to waste, we had those masks shipped to a hospital in need instead. That hospital was the Centre hospitalier de Sélestat (in France - map below for reference):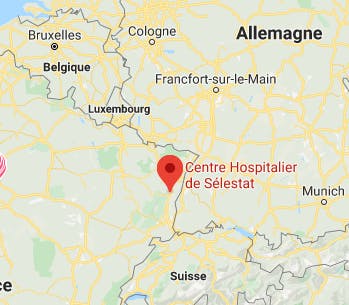 The masks were delivered early April and because we were able to get them to the staff relatively quickly, they were able to still go home to their families on a daily basis for some more time at least, which we were very grateful to hear
We are hoping that they get supplied some more masks soon.
Race for Care
We realized it was time to start looking at specific organizations to support that were better able to directly impact coronavirus relief. We found our first one in #ProtègeTonSoignant (a French association - translates to #ProtectYourCaregiver), and their event against the pandemic: Race for Care. Race for Care is the first inter-company charity esport competition aiming at supporting health personnel in the fight against the coronavirus outbreak.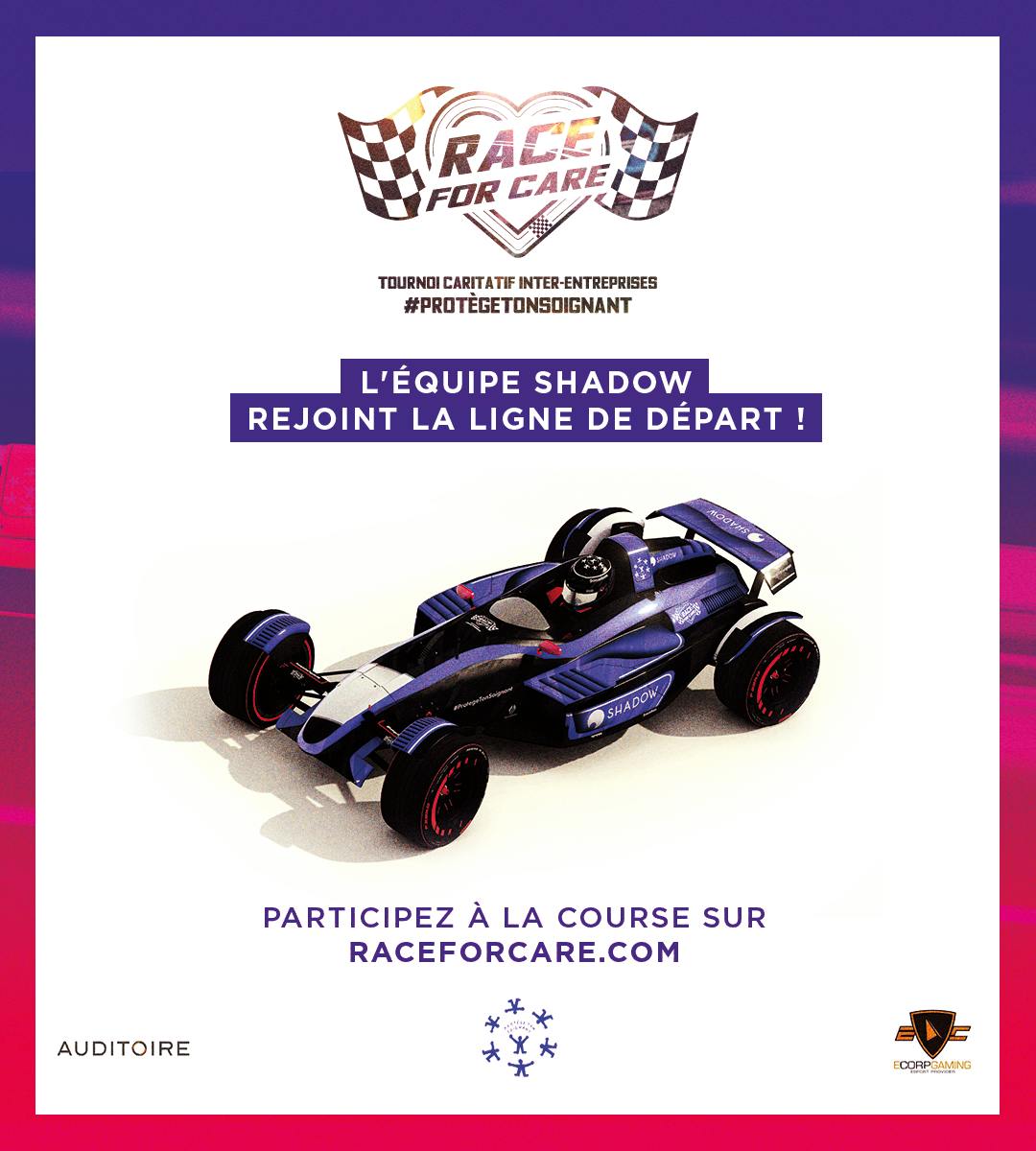 Before getting into the event, if you want to know more about the association #ProtègeTonSoignant: it is a collective of citizens putting their know-how and their network with the sole aim of helping caregivers to overcome this health crisis. 
We were very proud to be part of this charity competition, not only as a company participant but also as we were able to provide Shadow machines for the other competitors that didn't have access to a proper machine to play during lockdown. 
So, how did it work? 
Well, we had to form a company team and compete against other company teams in the game Trackmania 2 - a racing esports competition is always a good idea.
When it comes to how that was helping out, the closer a company got to winning, the more that company would pledge to contribute to the cause (up to 10k euros of donation from whomever wins)
We ended up winning 2 matches won out of 4, coming in 4th and paying 9k euros to #ProtègeTonSoignant, which we were very happy to be able to contribute. All together, 29k euros were collected in charity. 
We are also proud to have made available some VMs to the competing teams so that they can join the game.
 Finally, a big thank you to Ari, Elias, Thomas and Martin for making our 4-person Shadow team. You all did amazing!
Choeur de Gamers
With the success of supporting #ProtègeTonSoignant, we decided to support the program Choeur de Gamers as they focused this time period's charity efforts on the association Les Petits Frères des Pauvre (Little Brothers of the Poor).
Faced with the Coronavirus health crisis, the Little Brothers of the Poor are fully mobilized to help stem the pandemic and to guarantee their primary mission: the fight against the isolation of the elderly. To do this, they provide financial support for elderly people in unfortunate situations, assistance with shopping, fetching medicines, ordering and delivering errands via the internet, preparing and delivering meals to the homes of the elderly, strengthening telephone calls, and so on. 
To help out, we provided tech support with a Shadow Ultra to enable them to run their event (more specifically their video control setup): a charity marathon of more than 100 hours of non-stop live on Twitch and YouTube with a hundred influencers from the internet. 
The event raised 62k euros in total and they continued using their Shadow during their event that happened in May. 
User Story: Charity Event
After supporting organizations, we felt we could also take the opportunity to support individual efforts to help Coronavirus relief. Twitch streamer Louis brought us the opportunity to support his charity multi-day event tournament on games like Fortnite and Rainbow Six Siege. 
We emphasized on the event having less to do with "professional play" and more like a group of gamers who want to have fun and take part in a good cause.
Overall the charity stream was a success, especially given the fact we started from scratch! Our partner, Louis, appreciated our support. He hopes to use this as a springboard to organize more charity events in the future with this channel. 
He also had a few cool quotes about his experience using Shadow:
"I couldn't believe how well the Shadow PC handled multiple windows open from live streams, to a streaming software, to a Discord screen share and the game running at max settings and not one bit of buffering on anything!! The product is absolutely amazing."
"I cannot believe how amazing Shadow is, most nights I have got home and have been lost for words when I come to remind myself about how it works and how I can have my settings maxed out, with Streamlabs and many other windows running all at the same time!! I feel honoured to be able to use such an amazing system and be a part of a truly outstanding company." 
Thank you for the love, Louis. We were grateful to be able to do our part!
Charity Livestream
La Grizi Esport was founded by FC Barcelona striker Antoine Griezmann and his brother Théo. Why do I bring this up? After creating their esports team at the beginning of the year, the Griezmann brothers are now utilizing the team to support a wonderful cause.  La Grizi Esport decided to host a 24-hour gaming live show, even inviting soccer pros Paul Pogba and Ousmane Dembélé as well as many star streamers.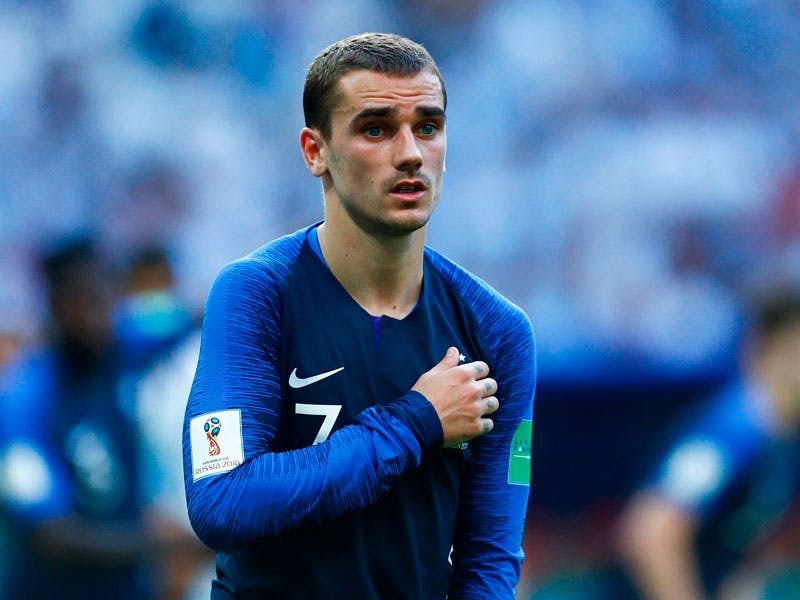 Watching Paul Pogba open for their segment of the stream on Call of Duty: Warzone (Call of Duty's famous Battle Royale genre entry) was great fun all while helping aid Coronavirus efforts.
We decided to assist the cause by donating 1k euros during the stream.
Continue fighting Coronavirus
While we were able to start our efforts to support the current global situation, that doesn't mean it's time to stop. The pandemic continues to affect people all over the world, and we don't know when this time in our lives will end. So, it's important to keep doing our part, however big or small. We know many are stuck inside and do not have powerful machines to do what they love, so we began gifting influencers with Shadow accounts for them to stream. 
We will continue to assist in any way we can, and we urge everyone (whether it be company or individual) to do the same! We are all in this together.
Want to learn more? Sign up for our newsletter if you want to stay informed about the latest news regarding Shadow!