At SHADOW, we believe that everyone should have access to high-end technology. This idea, combined with innovation, challenge, and open-mindedness, has helped shape our vision of technology.
Since 2016 and the beginning of SHADOW services (Blade at this time), we have been fortunate to have a loyal, active, and particularly dynamic community. Based on this observation we launched, several years ago, our referral system to reduce the price of Shadow PC subscriptions for our most committed users.
Good news: after several months of technical pause, the referral is back at SHADOW! It's time to share your passion for Shadow and cloud computing by sharing your referral code with everyone. Everyone, that also means your friends, family, colleagues... Or even just acquaintances.
Each Shadow PC member has a unique code, visible directly from the "sponsorship" tab. Whether you have already accessed your Shadow PC or not, you will be able to share your referral code as soon as you receive your order confirmation.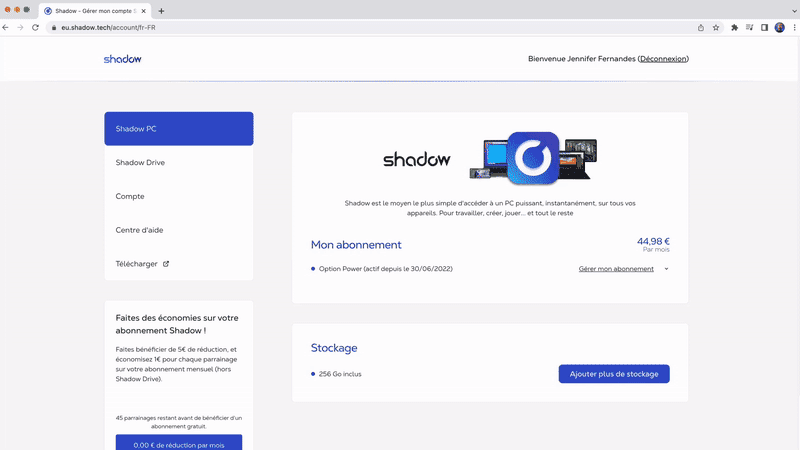 What are the benefits of a Shadow referral?
At a time when bills are especially steep, no one would mind a little discount.
Here's how it works:
The referred person will save $5 on their first Shadow PC bill (including Power Upgrade subscribers)*.

The referral will save $1 each month on their bill per referral, as long as their referral keeps an active Shadow subscription.
The good news? You can accumulate these referral discounts**. Refer 5 active Shadow PC users? You'll get $5 off your Shadow bill every month. So... Go get your referral codes!
*For now, it is only possible to refer someone in the same country as you.
**Due to temporary technical limitations, our system is currently limited to 10 referrals per user. Our teams are currently working to remove this limit.