The new Shadow update
This week, we are releasing a new update on MacOS and Windows, that will be the first step of a global update to all platforms.
Copperfield is a big update, we've been working hard to make it perfect, but if you experience any issues please contact our support team.
This update is a unification of our different apps, to create a seamless experience across all platforms. With the unified app, we can develop new features and improvements and release them to all apps at once. This means, we will able to develop faster, and improve your Shadow experience on all apps at the same time. Be ready to see a lot of improvement in the coming months, like the USB over IP feature on Mac!
Mobile Update
Added mobile update 7/24/2019
Our Mobile apps received the Copperfield Update. You won't see any direct changes, but you will feel technical improvements on our iOS and Google Play apps.
Updates:
Major Improvements to video streaming stability

Audio quality

Added input device support (Gamepad, mouse, keyboard)
The new Quick Menu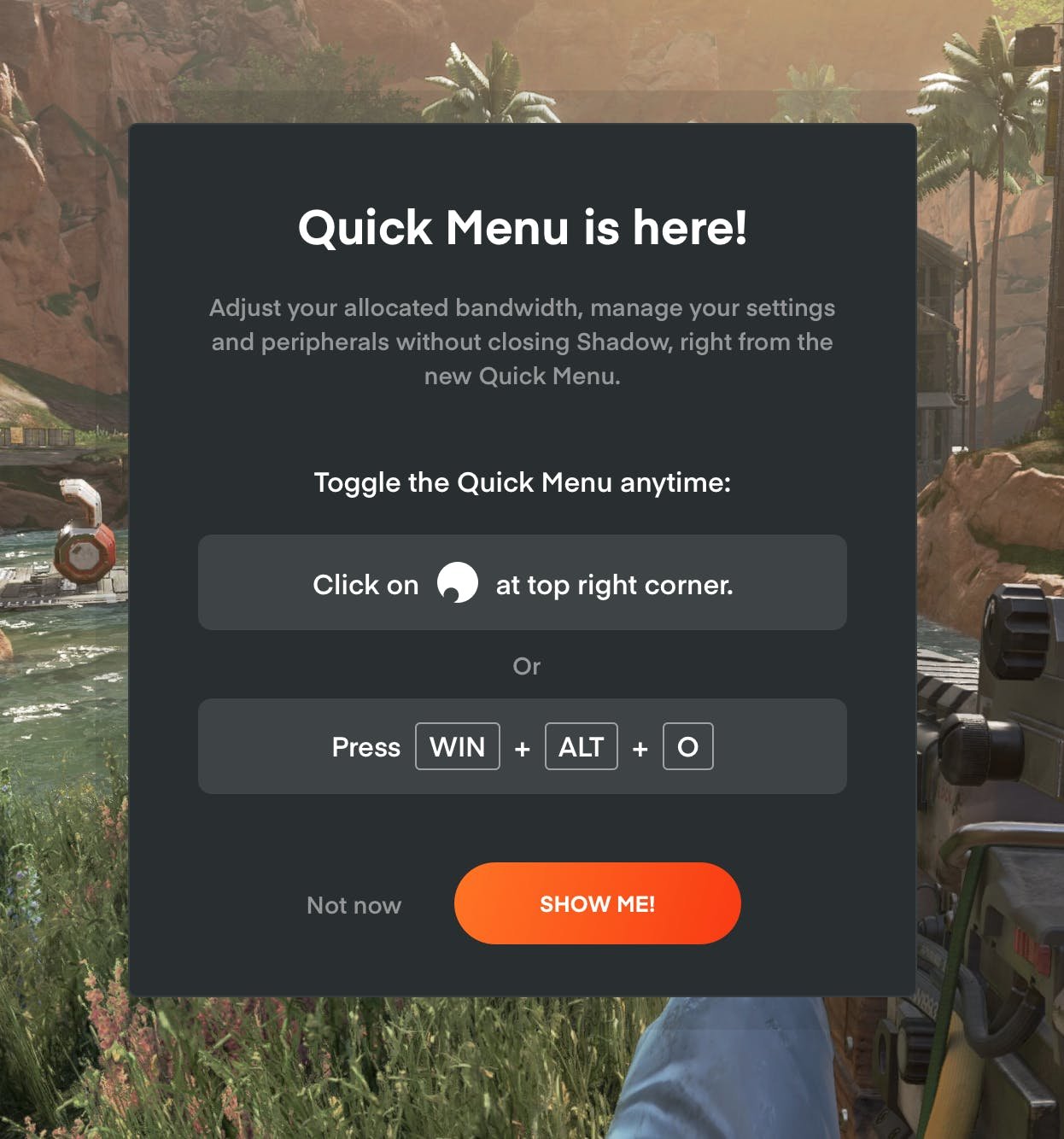 We are also releasing the V1 of our Quick Menu, a new way to access your Shadow settings directly from your Shadow. You will be able to control your Shadow, monitor it and manage your peripherals through the Quick Menu. As soon as you have completed the update, connect to your Shadow and an onboarding pop-up will automatically open to teach you everything about the quick menu. The Quick Menu will be accessible by clicking on the Shadow logo, or by entering the shortcut Win+Alt+O.
If you aren't a fan of the Shadow button, you can hide it with a setting contained inside the quick menu.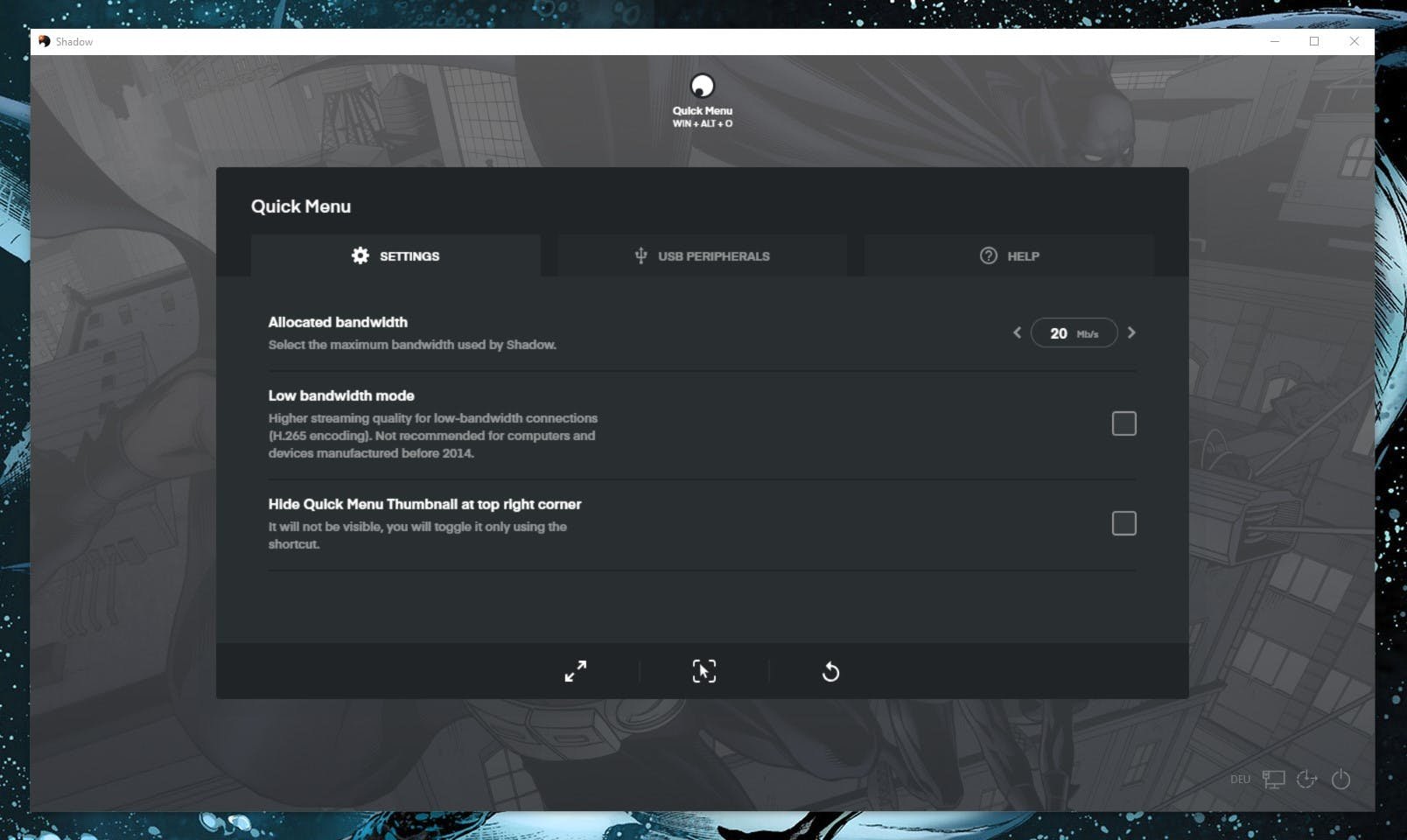 Functions accessible from the Quick Menu:
Switch between fullscreen and windowed view

Switch between locked and unlocked cursor

Restart streaming

Quit Shadow

Allocate bandwidth

Enable H265

Low bandwidth mode

Control mouse sensitivity

Access Apple keyboard

Enable Windows updates

Contact support
What makes the quick menu different from control panel?
The Quick Menu operates on the launcher side of Shadow, while the control panel only runs within the Shadow desktop environment. This means you can access your quick menu even if your Shadow is unavailable. The control panel is only accessible via an icon on your Shadow desktop.
When you make changes in the quick menu, your settings are copied to the control panel, not the Shadow launcher.
Now that you have all of the magic
The Copperfield update paves the way for new experiences and updates. Stay tuned! If you want to experience new features and help us build Shadow, check out our article that shows how to get Alpha or Beta launcher access.
Please note: keyboard shortcuts have changed from CTRL+WIN+KEY to WIN+ALT+KEY.
We are excited for all the features this release allows us to create in the future. In the mean time, if you have any questions, don't hesitate to contact support. Thank you for joining us on the cloud gaming adventure.
Want to learn more? Sign up for our newsletter if you want to stay informed about the latest news regarding Shadow!