Appreciating our community's creativity
Shadow has had quite a big year 2019, but you already know that. To celebrate the end of a great year and the beginning of an even better year for Shadow, we wanted to take the time and appreciate our community. What can we say, we have some pretty creative people having a blast with their gaming rig.
But hey, from our new 3-tier offer announcement to our end-of-year special offer, how can we blame you for being passionate about Shadow (we are too)? Let's take a look at the top 10 gaming setups from our community this year.
Feels like a forest - xQjan
Someone here really understands what is the true meaning of gaming: relaxation. Think about opening up your Shadow to play Fortnite or Borderlands 3 and seeing a beautiful rainforest pop up. 
Then to the left of the gaming setup you have a single mini tree to really immerse you in "nature". And for the icing on top, you have that warm glow from the orange lamp to really calm your soul (good on you xQjan).
Don't think we didn't see those speakers, probably playing "Rainforest Sounds Track #3". We're right there with you, buddy.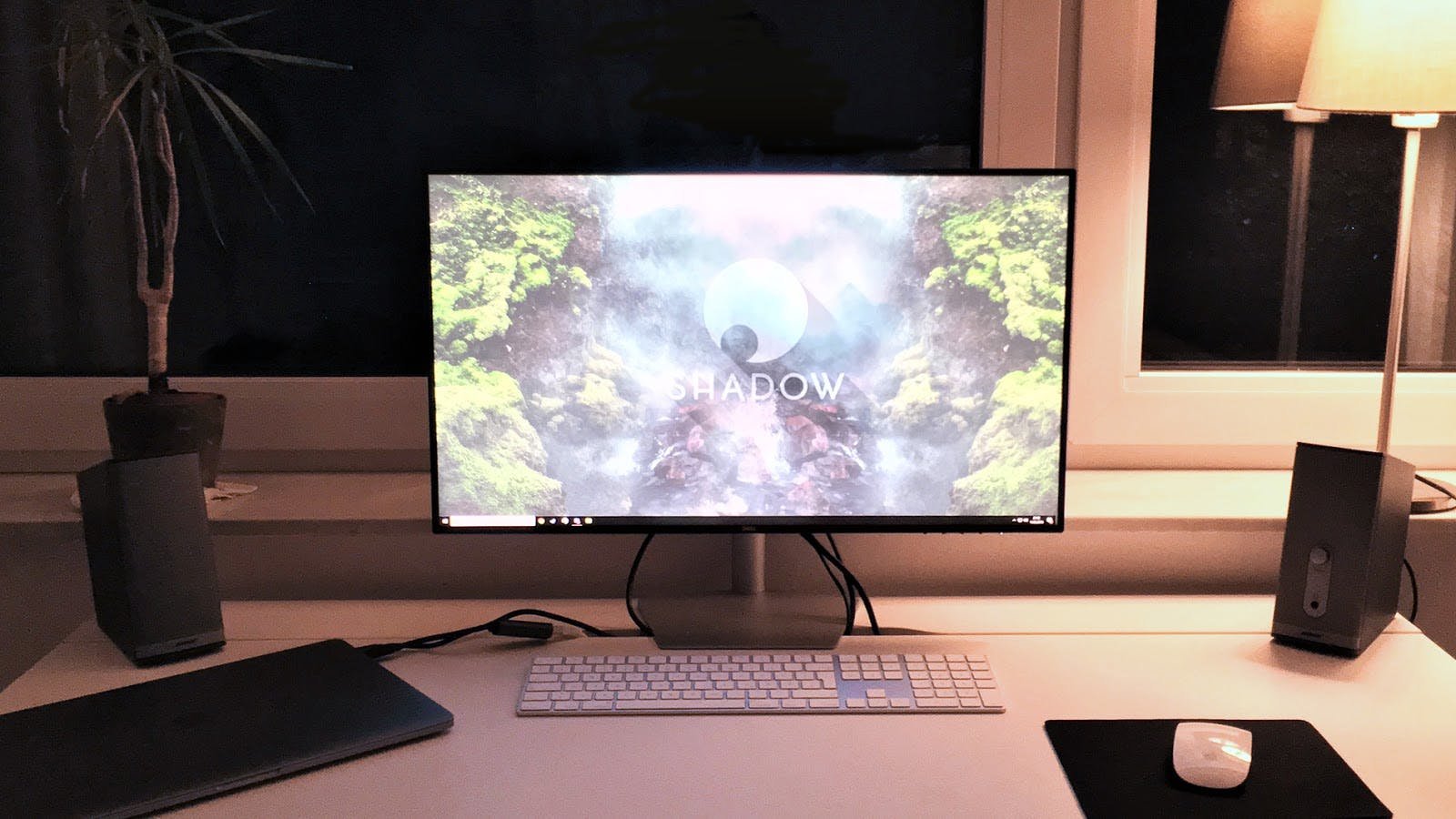 It's about the little things - Unknown
Okay, where to start? Let's just get the most important thing out of the way first: Yami Yugi (Aka Atem, aka Pharoah, aka King of Games, aka Instant Puberty). #HeartOfTheCards
Then we have that beautiful Shadow Ghost accentuating the room just perfectly. But we have to talk about that extra extra EXTRA wide monitor, with probably the cleanest pirate background money can't buy, making everyone at Shadow rather jealous. Also, we love how they have an extra wide mousepad to match. And to really bring it together, a keyboard meant to put on a lightshow at Coachella. 
But now we get into the lightning round. We have a beautiful headset at the ready, a figure, a fluffy mog, a PS4 controller, Bose speakers, AND a standing desk (the most important aspect of all - proper blood circulation is key).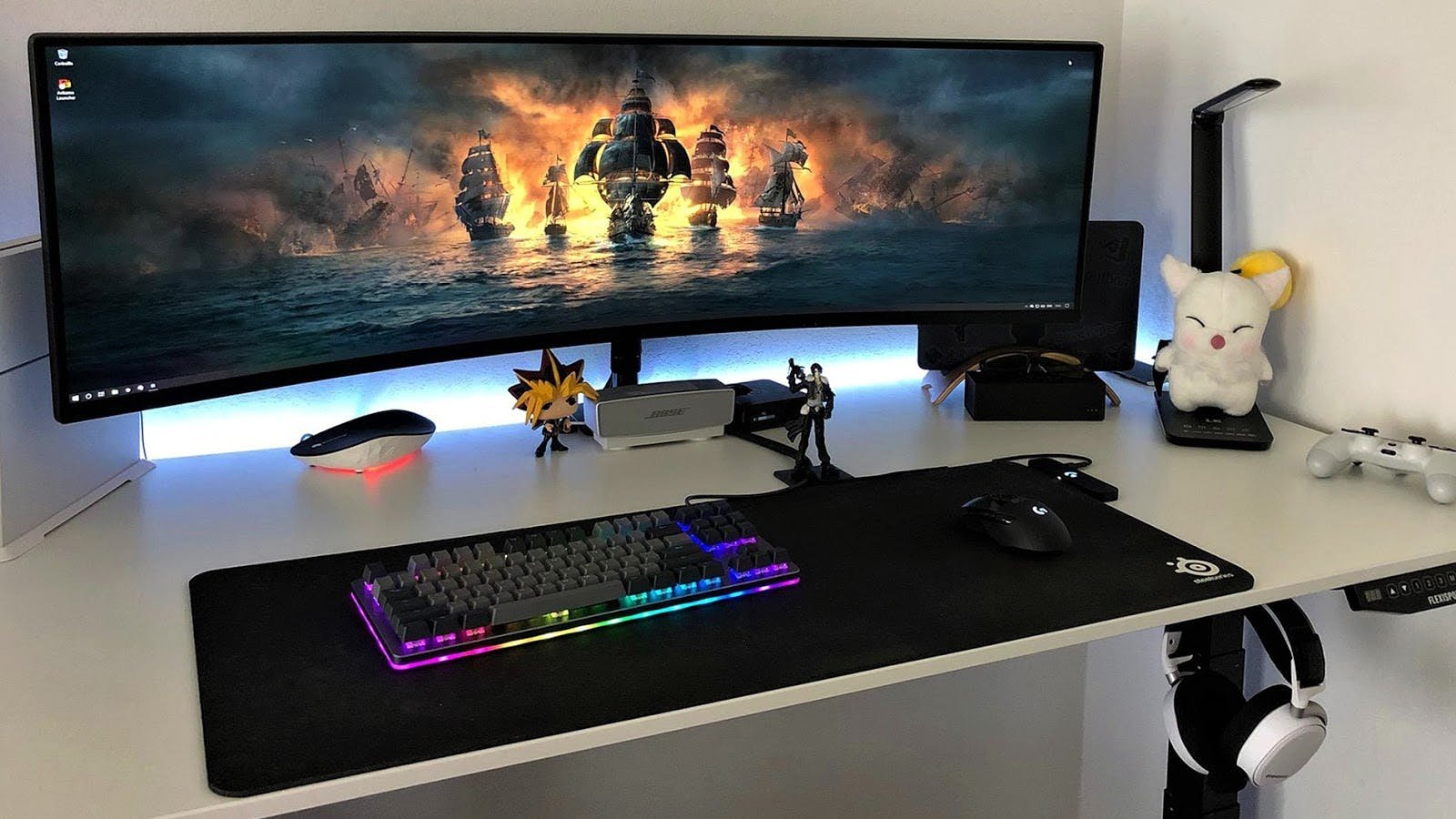 We got an OG: Shadow Box - Szkud
Before we even get into the meat and potatoes of why this setup is CLEARLY amazing, let's appreciate something that may have slipped past everyone: that corner set up. There is something just nice about the clean corner aesthetic our friend has going on here. You have the simple main haul setup in the middle, but all the nice little accent pieces collected in a crisp, multi-leveled display.
But what we really want to highlight is what's going on in the other corner… the Shadow Box. Anyone who knows the fun history of Shadow knows that it wasn't always the Shadow Ghost supporting users who wanted a piece of hardware in their hands. Before the Shadow Ghost… was the Shadow Box. We enjoy how dramatic we are being about this. But the Shadow Box is our OG. Just seeing it there with its sleek edged design (nothing against you Shadow Ghost - we love you too) puts a smile on our faces. Thanks for the memories, Shadow fan.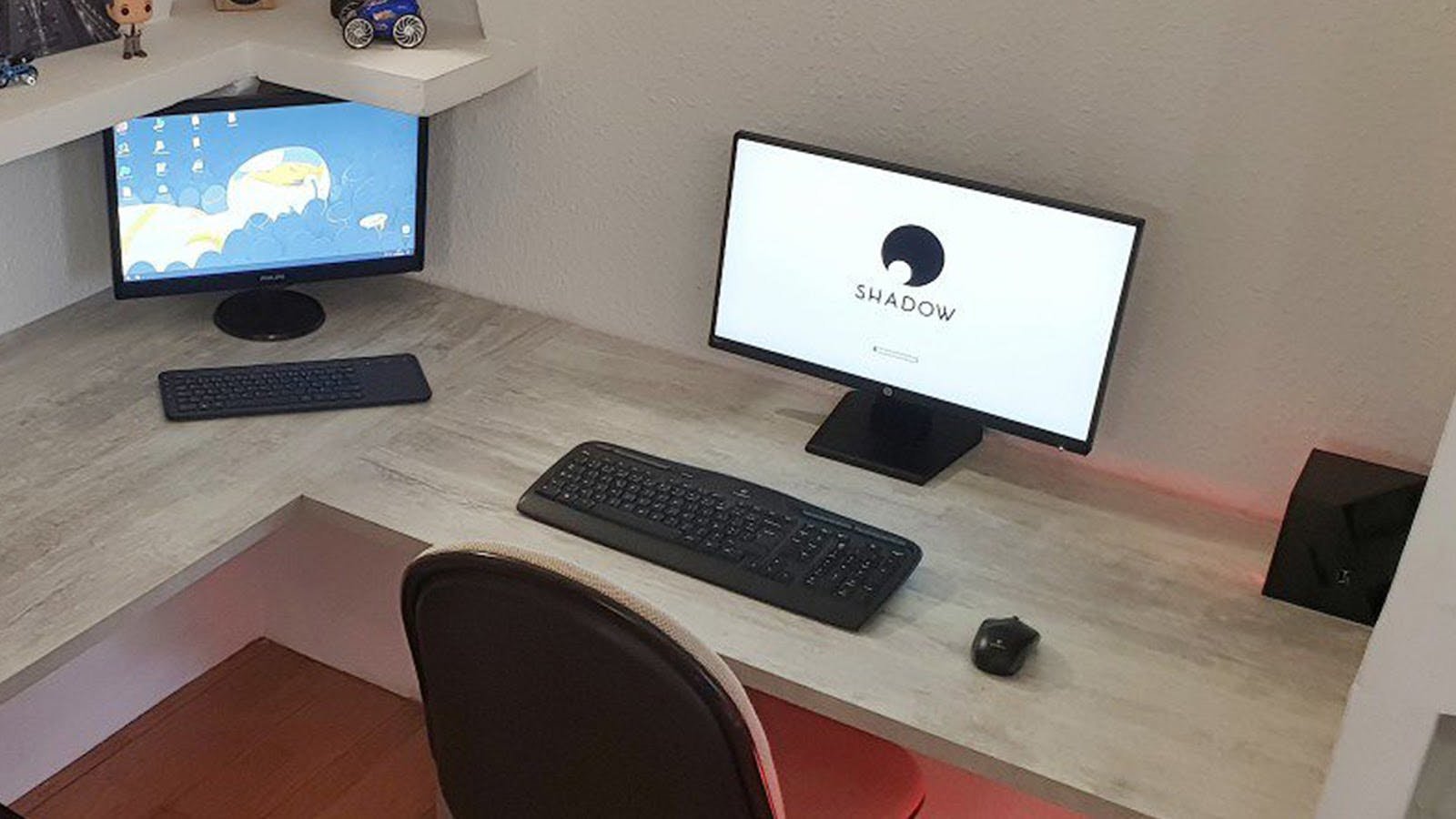 All you need: wine, bubbles, and Shadow - SillySolly1
We spoke about relaxing earlier with our nature-appreciating Shadow member. But our community has quite a few people that understand the art of relaxation. Take this member for instance, hitting all the points off the checklist:
Glass of wine = check.

Bubble bath = check.

Shadow on their tablet = check.
That's it. That's all you really need in this world. A glass of wine, a hot bath, and some good video games to play on your Shadow. We salute you, SillySolly1. You are truly living (please share that wine with us, thanks). We hope it's French wine, the best in the world (just like Shadow - wink).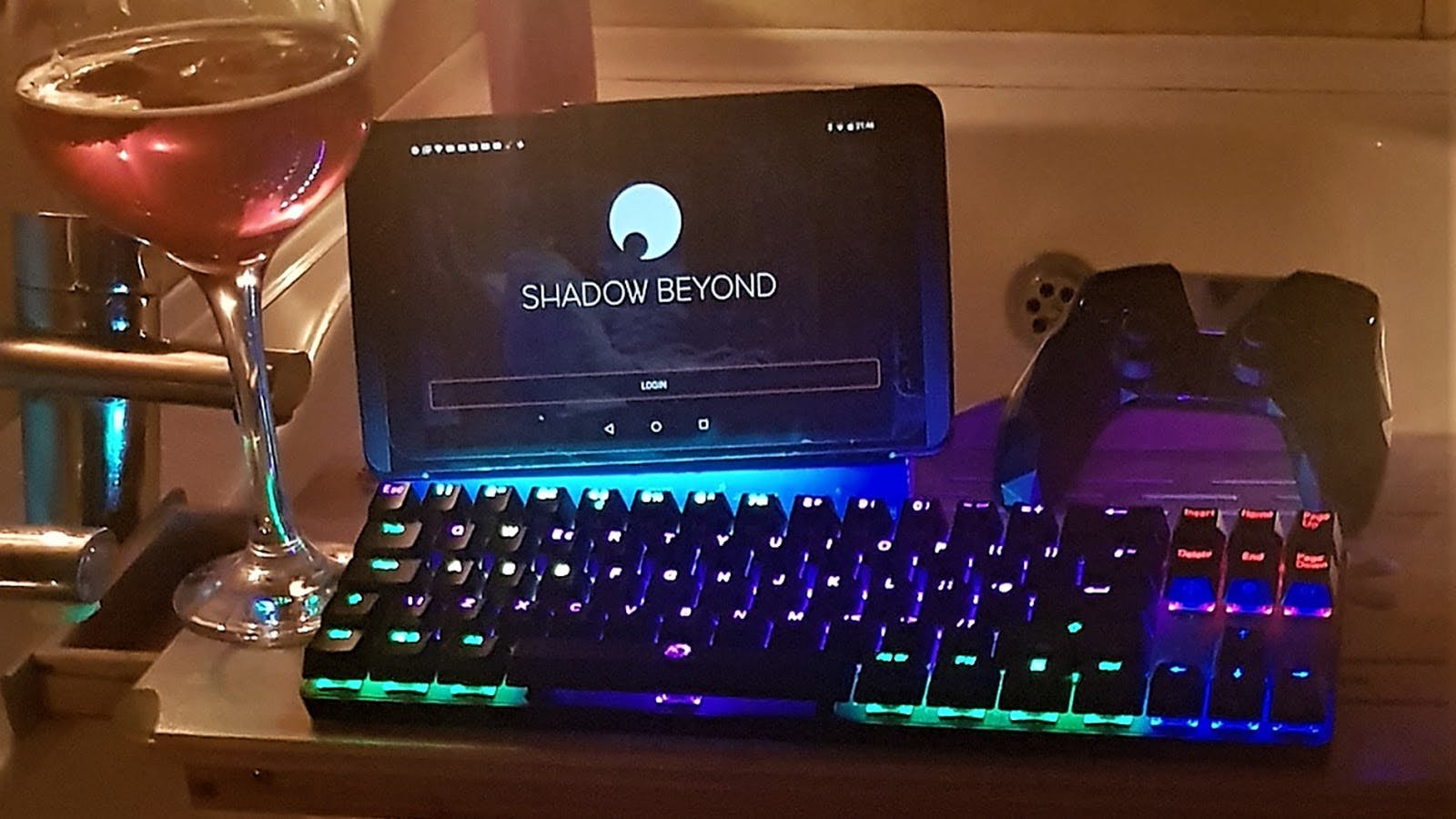 Now here's a fan that went all out. Beer and a phone. You can't have one without the other. A pair as old as time. 
But for real, this is what Shadow is all about: making the PC experience fit you (not the other way around). It's about having that beer and still being able to enjoy your PC at the bar. 
But here's the real genius behind this gaming rig… using the beer as a mobile device stand. We here at Shadow look out for real ingenuity. You, Mysteryx, have it. Enjoy your beer. Have one for us too.
The cultured individual - Hakai
Okay, so this one we may be biased. Wait, it's our top 10 setups… the whole point is to be biased. 
How can you not appreciate the TV background with just the greatest collage of all things manga and anime (Hakai, I looked at it to try and find all the characters I know for about 20 minutes).You have Dragon Ball Z (or Super if you are a new school fan), One Piece, Naruto, Bleach, Yu-gi-oh!, and even Yu Yu Hakusho (shoutout to Hiei in the middle right - that series was a masterpiece).
And then just the Stormtrooper enjoying himself below with his pal Kakashi not far away. 
But wait… the guitars. The absolutely beauties just to see every time you game. Now that's how you experience Shadow, with a couple of unique (probably expensive) guitars. Oh, and a lava lamp. Can't forget the lava lamp.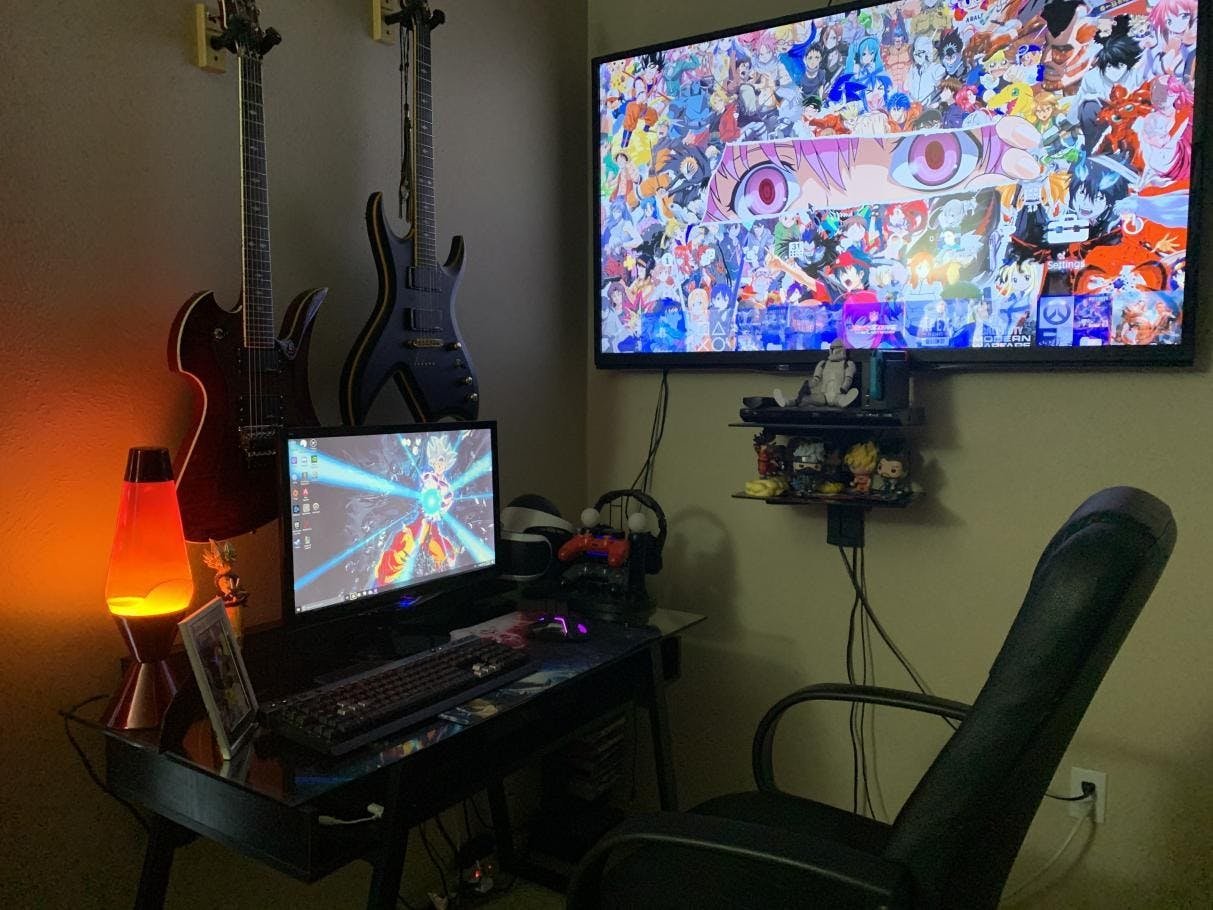 We're in the endgame, now - Marcio
So, we had our fun with a lot of the really good ideas for gaming sets with Shadow. Thank you to our community for always making this fun for us.
But… we're in the endgame, now (Marvel don't hate us for using your line - we're big fans). 
To transition, we have a perfectly set up triple monitor gaming rig from Marcio. This rig is equipped with the perfect backlight formation that fits phenomenally with the lit up keyboard utilizing the exact same color scheme (nice touch). On top of that we have the controllers at the ready, the gaming chair open for business, and Discord ready for use (as it always should be). 
The final touch was the Shadow Island on the desktop background. Thanks for the love!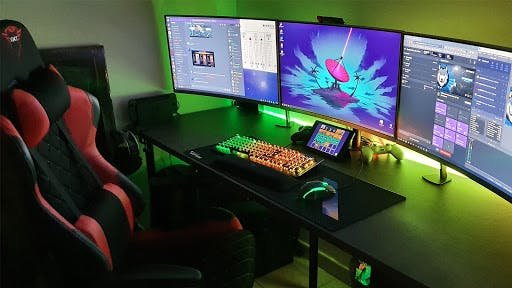 It's all about ambiance - Blakraven
Do you ever set the mood to be completely immersed in your gaming experience? It's really nice, right? 
Well, clearly our community agrees. There's something about Blakraven's choice we enjoyed: the way they used the lights. Turning the lights around to hit the back wall with the contrasting red and blue pigment that gets lost in the dark ambiance is amazing. And then having the bright, high-fidelity brick background to make your eyes widen as you zone out and get ready to game. We love this. Absolutely love this.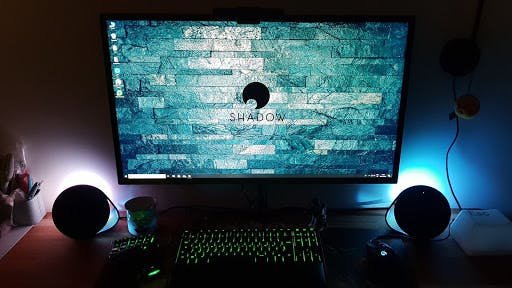 Stimulus overload - Ayeeebroham
One color. Massive monitor. Vivid light. Everything fits together.
The fact that you can see everything in the background but only as a silhouette is such a good use of your own things as decorative pieces while you game. 
And then just the clean set up, just highlighted with the blue light creating shadows that make each item pop (I have never wanted to pick up a controller more… and play Call of Duty: Modern Warfare). 
It's simple, but not that simple. We see you, Ayeeebroham. And we appreciate it.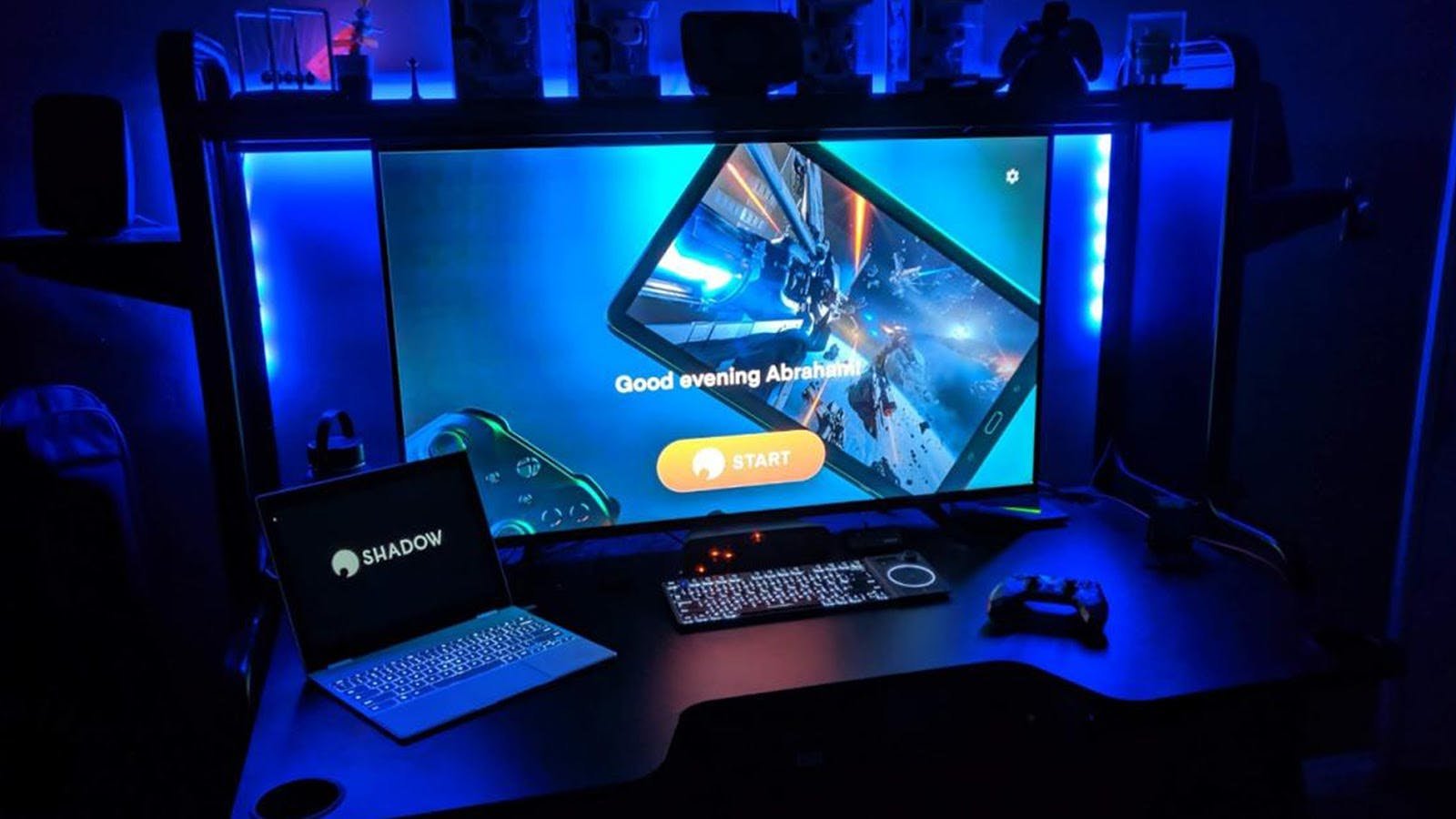 Every streamer's dream - RayLy
We end with one of our tech gurus stepping up their game. This is how you make Shadow work for you. This setup is the dream of every streamer (including our own community manager).
First off, RayLy please send us a link to that desktop background of the Stormtrooper disintegrating (asking for a friend who is dying to see Star Wars: The Rise of Skywalker). Second, that desktop background is amazing (sorry, we're obsessed haha). But actually, that soundboard just sitting by the Shadow Ghost with the soundproof foam pads as an aesthetic background piece (while also serving as a sound dampener - functional and pretty) is just awesome. Add the mic just waiting to make content, and you have streamer setup goals!
Also, the kitty resting on the Shadow Ghost is the greatest thing ever. Fact, not opinion.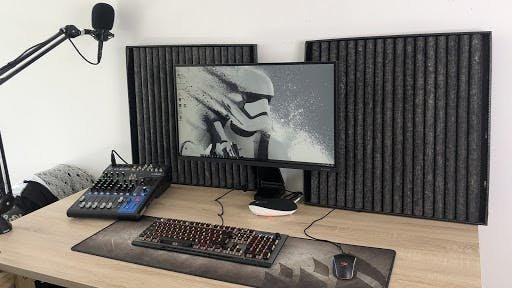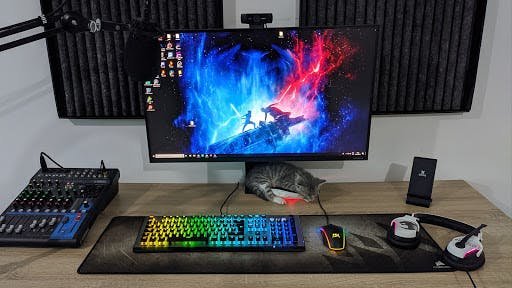 Bonus: I'm on a boat - Unknown
Do you know what has been holding PC gaming back all this time? Land. That's why this member understands how to take Shadow to its fullest potential: being on a boat. 
Why limit yourself to keeping your Shadow at home when you can travel the seas and show Shadow to the world?
Also, we see you with that Overwatch gameplay. Crushing it.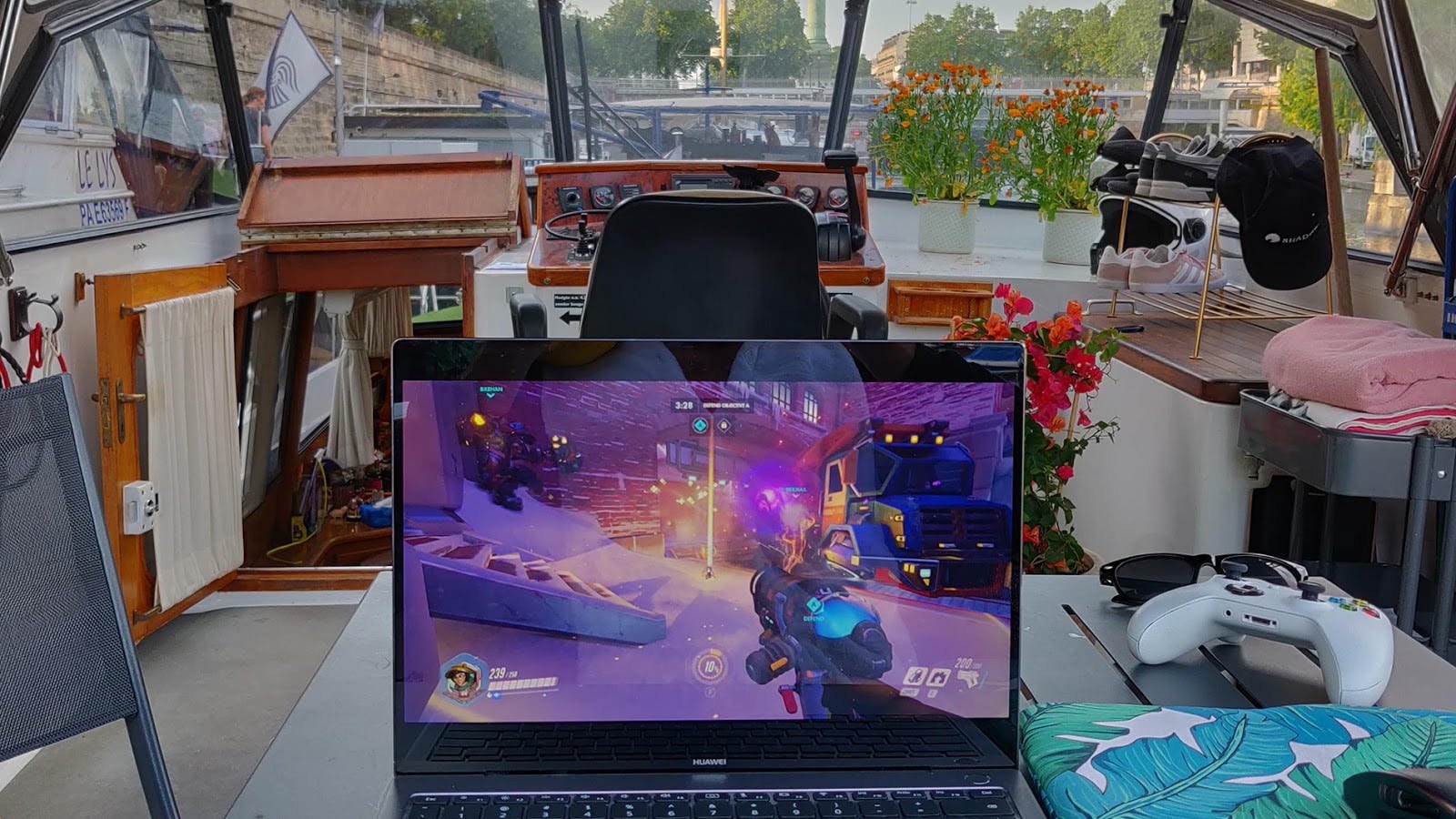 You've seen what our community can do. Want to see what type of Shadow gaming setup you can create? Check out our offers and subscribe today!
Want to learn more? Sign up for our newsletter if you want to stay informed about the latest news regarding Shadow!