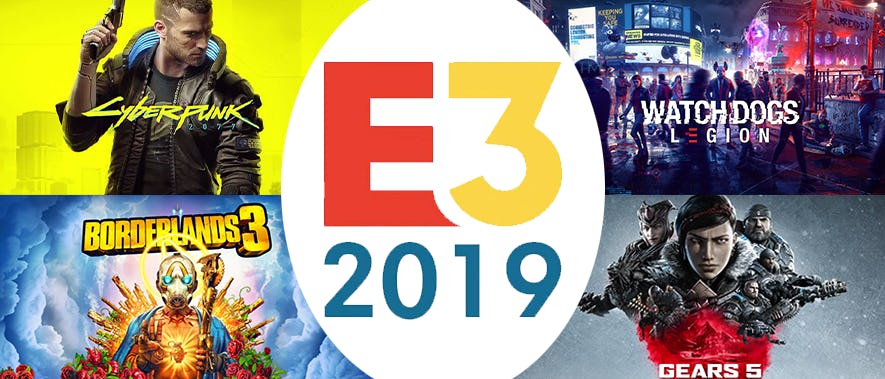 All of The Games Announced at The 2019 E3 Expo - Part 3
Shadow visited E3 - Every game announced at the Expo
This is the Third part of the E3 2019 series where we show you all the games announced at E3.
Part 3: 45-66
This year, Shadow attended E3!
We designed our booth to showcase Shadow with the best peripherals possible and demonstrate the power of cloud gaming.
E3 is a wonderful event for all video game fans, but not everybody can attend. That's why we decided to be your reporters so you can live the event like you were here with Shadow.
This article will give you the E3 announcements and what we think about them.
Games Breakdown
Many games came out this year, from new RPGs to party games, that will bring content every gamer wants. We can't wait to play all of these PC games , and other games as well.
Here is a full breakdown of the games per platform announced at E3:
PC Games - all available on Shadow: 61
Xbox Games: 42
PS4 Games: 38
Nintendo Switch Games: 28
Stadia Games: 3
Xbox Scarlet Games: 1
E3 2019 Announced Games Glossary
Use this glossary to jump to specific games that interest you (use ctr+F). Each game has a video and information related to the title.
45. Telling Lies
46. The Curious Tale of the Stolen Pets
47. The Elder Scrolls: Blades
48. Maneater
49. Panzer Dragoon Remake
50. Ori and the Will of the Wisps
51. Gods and Monsters
52. Final Fantasy 7 Remake
53. Watch Dogs Legion
54. The Avengers
55. Animal Crossing: New Horizons
56. Cyberpunk 2077
57. Trials of Mana
58. Gears Pop
59. Tom Clancy's Rainbow Six Quarantine
60. Roller Champions
61. Dragon Ball Z: Kakarot
62. Zombie Army 4: Dead War
63. Phantasy Star Online
64. Minecraft Dungeons
65. Vampire: The Masquerade Bloodlines 2
66. Final Fantasy 8 Remastered
Telling Lies
Release date: 2019
Platform: PC
In this narrative game, the player will have to retrieve the truth of a thrilling story with pieces of information from four different characters.
Through gameplay and live-action videos, Telling Lies will put your deduction instincts at work to differentiate the truth from the lies.
A game that requires your brain to be in working order, expect to do a lot of thinking, deductions, and lie detecting.
The Curious Tale of the Stolen Pets
Release date: 2019
Platform: PC, PS4
With kid-like cartoon graphics, The Curious Tale of the Stolen Pets VR game will transport you back to your childhood.
Help your grandfather find the answer to the mystery of the stolen pets by exploring small worlds, and using your logic & imagination to resolve the puzzle that leads to the conclusion of the game.
The Elder Scrolls: Blade
Release date: 2019
Platform: Nintendo Switch
Originally on mobile, this solo action RPG from the famous Elder Scrolls is now coming to console.
You control a character from the Blades organization and can choose between 3 different modes: Abyss, a rogue-like experience in which you have to travel as far as possible; Arena, where you survive against enemies, or Town; the classic story mode.
Bethesda announced that new features are also coming to the game, including custom jewelry making, solo arena battles, and a new dragon quest.
Maneater
Release date: 2019
Platform: PC
After traumatizing thousands of people around the world about sharks with Jaws, now try to be on the other side.
Maneater lets you control a shark that evolves in different sub-aquatic environments. Eat as many people as you can to grow to the biggest shark you can be.
Maneater will decrease your fear of Sharks, or increase it, depending on how you feel about eating people alive... as a shark.
Panzer Dragoon Remake
Release date: Winter 2019-2020
Platform: Nintendo Switch
A remake of Panzer Dragoon for Switch, this new edition with improved graphics and new controls will be a welcome addition to fans of the original 1995 game.
In a post-apocalyptic world set after several years of war, civilization is starting to rebuild itself with ancient technologies.
With your blue dragon and an ancient weapon, fight your enemies through multiple levels in this rail shooter. And if this remake isn't enough, Panzer Dragoon 2 has already been announced!
Ori and the Will of the Wisps
Release date: February 11th, 2020
Platform: PC, Xbox
Following Ori and the Blind Forest, this new platform/action game gives us awesome graphics and colors that we haven't seen in other games.
We recommend being patient, since Ori Doesn't come out until February 2020.
Gods and Monsters
Release date: February 25th, 2020
Platform: PC, PS4, Xbox, Nintendo Switch
Described as a "story-book" adventure game, Gods and Monsters takes place in a fantastical, mythological open world, in which you play a forgotten hero who is helping Greek Gods fight against monsters.
The beautiful graphics reminds u of The Legend of Zelda: Breath of the Wild. Once again, Ubisoft promises a new, quality game.
Final Fantasy VII Remake
Release date: March 3rd, 2020
Platform: PS4
This action-RPG title from the famous Final Fantasy franchise is a remake of the one from 1997. However, the game will be rebuilt entirely, so don't expect time-based battles to happen in this game.
According to Tetsuya Nomura, this game wouldn't have the chance to be better than the original game if it was just a graphic update. That's why Nomura announced new gameplay and new scenarios & events that are going to be incorporated in this remake for the pleasure of all Final Fantasy fans.
The presentation of an "Active Time Battle" to use special moves, items or magic is one of the many surprises that we can expect.
Watch Dogs Legion
Release date: March 6th, 2020
Platform: PC, PS4, Xbox
Watch Dogs Legion is another title that we can't wait to play.
This Action-adventure game takes place in the city of London, plagued by a technological nightmare. You need to rally the resistance to fight back and reclaim the city of London!
Characters? You can play any! It can be a mad grandma or a taxi driver, it's really up to you. This game was announced as "an experience that has never been seen", and is also incorporating a co-op mode to play special missions or take part in crazy activities online with your friends.
Marvel's Avengers
Release date: May 15th, 2020
Platform: PC, PS4, Xbox, Google Stadia
Introducing a brand new universe than even the Marvel fans have never seen.
This game is said to be played over multiple years. The Avengers have to face the result of a failed mission, during which many of them have died.
In this action-adventure game, you can team up with your friends online to build a four-player squad and fight in missions to restore peace.
More heroes, missions, and content will be added as DLC for no extra cost.
Animal Crossing: New Horizons
Release date: May 20th, 2020
Platform: Nintendo Switch
This life-simulation game is the new title of the Animal Crossing franchise. In this return to village life, you arrive on a desert island with your pets.
You get the freedom to build the entire island into the happy civilization of your dreams. Build your own tools, furniture--that can now be placed outside--your house, and engage in classic Animal Crossing activities like fishing, gardening, or even swimming.
Animal Crossing: New Horizons is a game that is so relaxing, it makes you wish you were on a deserted island.
Cyberpunk 2077
Release date: April 16th, 2020
Platform: PC, PS4, Xbox
I guess you haven't missed the apparition of Keanu Reeves in this new game from CD Projekt RED, the studio behind the awe-inspiring Witcher series.
Keanu will be one of the big characters of this action-RPG, where you design your own character and evolve in a dystopian and futuristic open-world.
The first person game will bring you to the universe of Night City, where super-companies are ruling and poverty, drugs, and technologies are omnipresent.
We expect a lot from Cyberpunk: 2077 based on the amount of joy we all received through numerous playthroughs of The Witcher series.
Trials of Mana
Release date: Early 2020
Platform: PC, PS4, Nintendo Switch
Trials of Mana is a real-time action-RPG and a remake of the 1995 version of the game. Graphics and gameplay are improved for a totally new experience that should feel somewhat similar to the original game.
The battles have also been improved with additional bonus missions every time you enter a new battle.
Choose 3 characters among the six available, fight against monsters, and level up to save the Mana Tree!
Gears Pop
Release date: Early 2020
Platform: Mobile
This real-time multiplayer game is basically the characters from Gears of War, designed with Funko Pop graphics, fighting each other in arena battles.
You can gather items to improve your character and fight among friends to defeat your opponents' squads.
At Shadow, we have Funko Pop figures on almost every surface of the office; we know we'll get our hands on Gears Pop as soon as it releases.
Tom Clancy's Rainbow Six Quarantine
Release date: Early 2020
Platform: PC
Rainbow Six Quarantine is another edition of the Rainbow Six license that happens several years in the future of the series.
We don't know how many missions are going to be included in the game, but unlike its predecessors, Rainbow Six Quarantine is not going to have a PVP mode, but will instead include co-op missions with up to three players against the environment facing AI enemies.
After being dropped into quarantine zones, you will fight enemies infected by an alien parasite in this FPS game.
Roller Champions
Release date: Early 2020
Platform: PC
Who thought a game about roller derby wouldn't be competitive? Well, certainly not Ubisoft.
Roller Champions is a game following the new trend set up by Rocket League, to create competitive gameplay around roller derby, in an arena where you have to fight to score.
Two teams of three players loop around the arena to throw a ball into a hoop hanging on the wall. Addictive!
Dragon Ball Z: Kakarot
Release date: Early 2020
Platform: PC, PS4, Xbox
Dragon Ball Z: Kakarot brings the experience of the DBZ manga in a fully immersive action-RPG game!
The game is set in an environment similar to open world games, but with different large maps that you can switch between as you progress through the game.
You experience different parts of Goku's life in the story, but for now, we don't know yet if the story will stop after Namek's arc, or if it will cover Cell and Boo arcs too. We can only hope the game continues on.
Zombie Army 4: Dead War
Release date: Early 2020
Platform: PC, PS4, Xbox
Fight Nazi zombies in this 3rd-person shooter, taking place in a WW2 era with an arsenal of weapons.
The gameplay is similar to the last games of the Zombie Army franchise, but it's still very satisfying!
With nice slow-motion effects when you get multiple kills or special moves, you are fully transported into the bloody, zombie carnage, you know and love.
Help cleanse the world of the zombie hordes that walk the streets of the living.
Phantasy Star Online 2
Release date: Spring 2020
Platform: PC, Xbox
After eight long years, Phantasy Star Online 2 is finally coming to the West in the Spring of 2020.
Only available in Japan and Asia during the past few years, you will soon be able to play on PC and Xbox.
We don't have a lot of information about the MMORPG, Phantasy Star Online 2 yet, but we know it will already have all the features that have been released in Asia in the past years, and it will be a free to play game!
The story is about an interstellar fleet with four different races, traveling through the universe to discover new, habitable planets.
You take control of an Ark, a character that has a mission to check the newly discovered habitable planet with his squad and travel in different worlds.
Minecraft Dungeons
Release date: Spring 2020
Platform: PC, PS4, Xbox, Nintendo Switch
This action-adventure game taking place in the Minecraft universe and gives you an objective to save the villagers from monsters around the map.
Choose a class between four different fighters (assassin, warrior, heavy warrior and wizard) to defeat monsters with weapons you will find on your journey.
Vampire: The Masquerade Bloodlines 2
Release date: Q1 2020
Platform: PC, PS4, Xbox
Even with the release issues of Vampire: The Masquerade Bloodlines, the game was still considered a success by the fans that loved the story and the characters.
This RPG oriented on the narrative of the game, makes you dive into a world where vampires are a society living among humans. You play a vampire who is investigating the attack of some "rogue vampires" turning humans into blood eaters without the approbation of their clan.
The graphics of the second Bloodlines game already look amazing and we can't wait for its release that we hope, will be easier than the first game.
Final Fantasy VIII Remastered
Release date: Summer 2020
Platform: PC, PS4, Xbox
Finally, a remaster of the game from 1999! With better graphics and modern console gameplay adaptation, this RPG is inspired by modern society than the other titles in the Final Fantasy franchise.
You follow the story of a group of mercenaries who are trying to defeat a witch that controls a world war to reach her objectives. After more than 20 years, we are glad to see the return of Final Fantasy VIII.
If you need a high-end computer to play some of the titles listed, try Shadow. Don't forget to join our official Discord to hang out with other gamers, Shadow users and make some new friends to play PC games with.
Want to learn more? Sign up for our newsletter if you want to stay informed about the latest news regarding Shadow!