Reality's a crazy thing, huh? Luckily, we live in a time where you can explore virtual realities, from travelling to monuments and breathtaking tourist vistas, to ripping through a few songs in a new dimension.
But VR is expensive and considered reserved for an elite. At Shadow we want to break that barrier and bring this incredible experience to the masses. Thanks to the possibilities of the cloud and the latest VR headsets, we have a unique opportunity to create a VR experience that is affordable, cable free, and allows us to play games without limitations.
What we want at Shadow is to give everyone access to a powerful gaming PC so that we can play all the latest games. But, we want to take that belief and expand it. So, we also want to bring you this with VR.
Hey, maybe a super cool, brand new VR game is coming out this week… wink haha. But you probably can't play it. Participating in VR requires complex and expensive setups, with large physical limitations. This is yet another challenge we want to solve in order to bring more freedom to gamers. The reason we're going into VR is exactly the reason we decided to make Shadow in the first place: to let people play any game they want by breaking the hardware limit (cost, complexity, obsolescence).  And we want to do that with our community.
We've seen you, yes, *you*, our lovely community, getting VR and Shadow to play together (not always perfect but oh so clever, haha). It's been so wonderful to see what you all have been able to achieve using Shadow!
Truth be told, we want in on the fun.
Today, we are excited to announce the first step towards VR being officially supported on Shadow! We have been working on VR for some time and we are excited to finally have a foundation for a few members of #TeamShadow to mess around with and that we may build upon for the future.
This new project combines the power of the Shadow infrastructure and our bleeding edge streaming technology with the freedom allowed by the cloud and the latest VR devices to provide a truly unique experience. And as always with Shadow, the goal will be to allow you to play any game (we're on it!).
Latency is one of the major challenges in VR. With our world class technology, we managed to bring to Shadow users a local like experience for regular PC games and we plan to do the same with VR. We need our community to beta test our app in diverse connectivity conditions in order to fine tune our algorithms and create the best possible experience for everyone.
Tackling VR in the cloud is no small task. No one has done it before, but with our secret weapons in store we feel up to the challenge.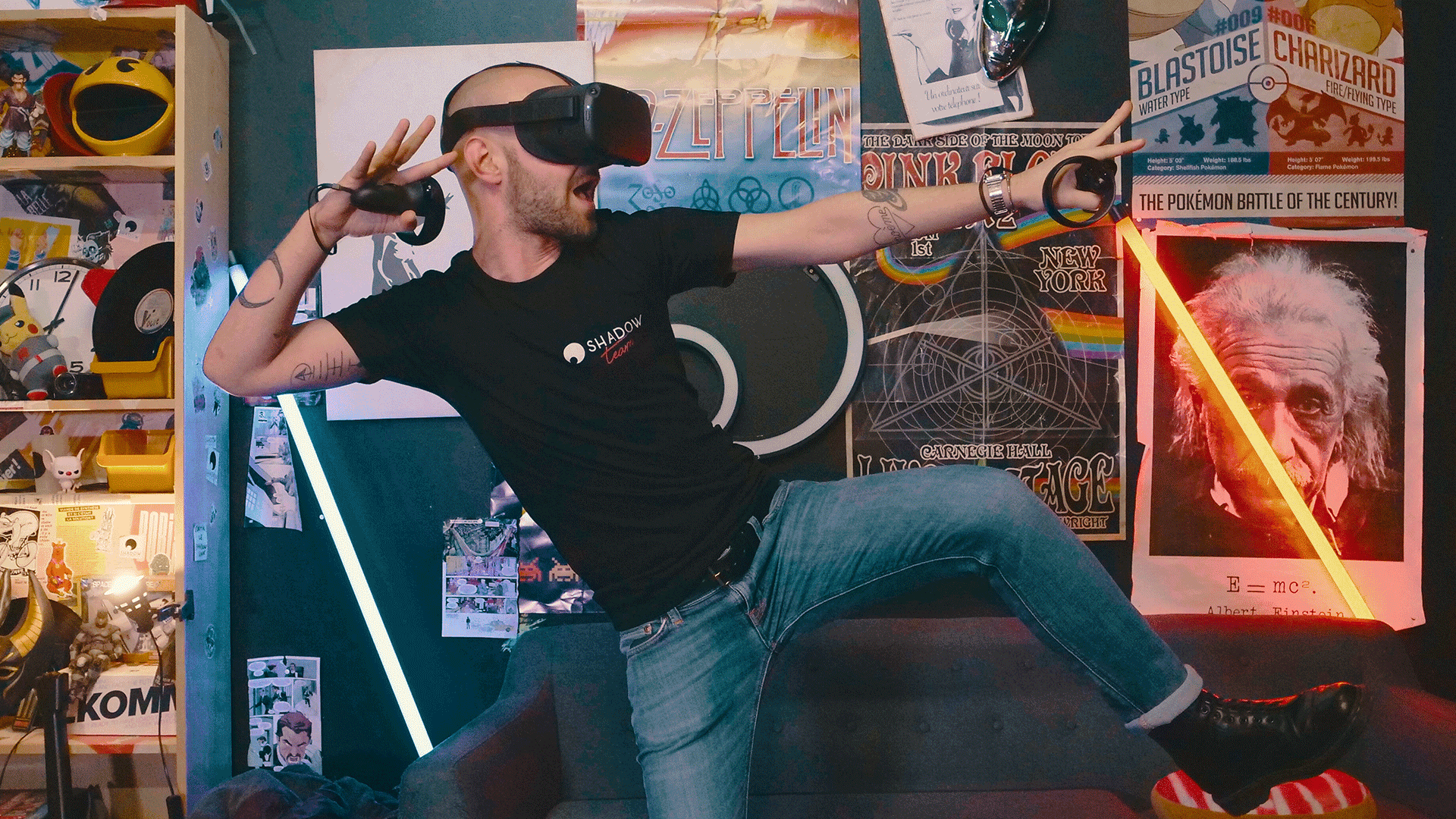 We invite you, the #TeamShadow community, to join us in yet another venture of collective exploration as we push the potential of Shadow to greater heights. We will be working with the most engaged Shadowers, for enthusiastic early adopters, and for those who are passionate beyond ordinary "passionate" to shape the future of VR.
If VR on Shadow becomes an official part of our offer, it will only be possible thanks to this collective exploration initiative (and all of you early testers)! :)
How did we choose our squad?
Note: First round of selection on the below criteria is now closed. Thanks to all that participated! 
As this is going to be an Alpha test, there were many variables to consider (we're really giving this our 110%). To understand our testing group, we've detailed the criteria used to determine participants here:
VR Knowledge
Own an Oculus Quest

Familiar with VR tech (ideally, you've tested many VR setups and games)

Have a Steam account with owned VR games
Equipment/Connection Requirements
Have an internet connection of at least 100 mbps download, 20 mbps upload

Have a ping less than 15ms to your Shadow datacenter (check using the Shadow overlay)

Have a 5Ghz Wi-Fi router, and be able to play near it to ensure having a connection as stable as possible
#TeamShadow Spirit
Familiar with Windows 10 PC environment

Available on Discord to give regular and technical feedback to Shadow development teams

Speak English

Willing to authorize development teams to access your Shadow for debug analysis

A US-based user

Willing to sign an NDA
The requirements may seem to be rather specific, but they are crucial for our collective exploration towards new VR possibilities. 
Note that there will only be 20 people qualified in the first round to keep the testing at a dissectable sample size. If you haven't qualified at this time, don't worry. As time passes and VR on Shadow is further developed, the program will likely become more open with new testing opportunities. We hope you all are as excited as we are as we make entry into this ever-growing territory. Let the program begin!