TL;DR: This handy article explains everything you need to know about Shadow's improved three cloud gaming configurations. From Shadow Boost to Shadow Ultra and Shadow Infinite, we'll help you choose the perfect package.
Shadow Upgrade: we promised & we delivered. Now it's time to choose your Shadow Configuration.
Let's face it: building and maintaining a gaming PC can be a daunting task. With so much to learn, research, upgrade and fiddle with, it's easy to be put off by the demands that PC gaming requires.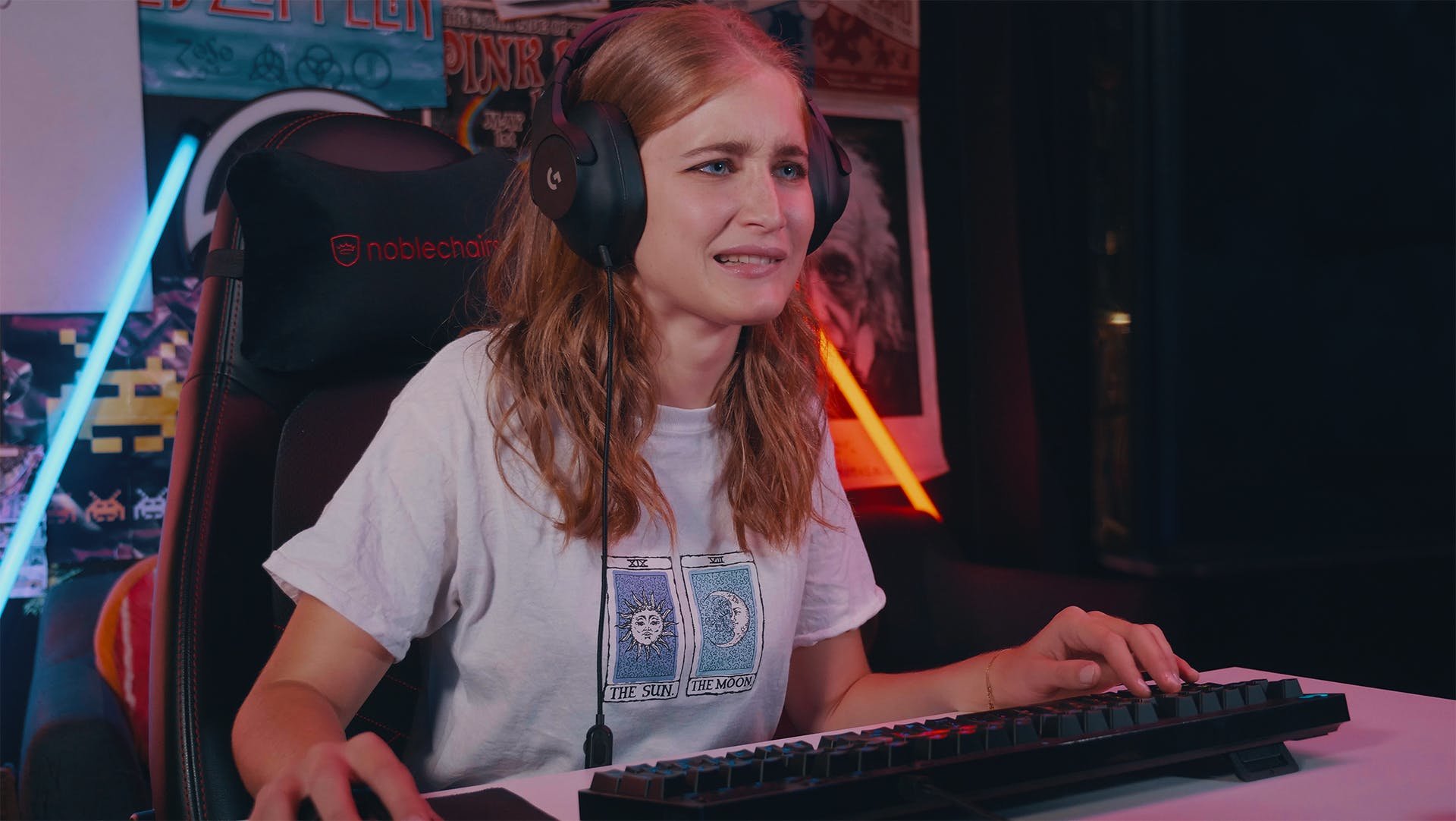 Unfortunately the turmoil doesn't end there, because every game on PC comes with its own set of recommended requirements to play, some of which are impossible to predict. Want to know what specs you'll need to run Cyberpunk 2077® effectively? Tough luck! You'll just have to wait and see. 
On top of that, technology in the gaming space evolves at a blistering pace, often leaving previously capable gaming rigs obsolete at a moment's notice. When that happens, replacing your PC or adding new parts to bring it up to par doesn't come cheap, as state of the art hardware always carries a hefty premium. Urgh.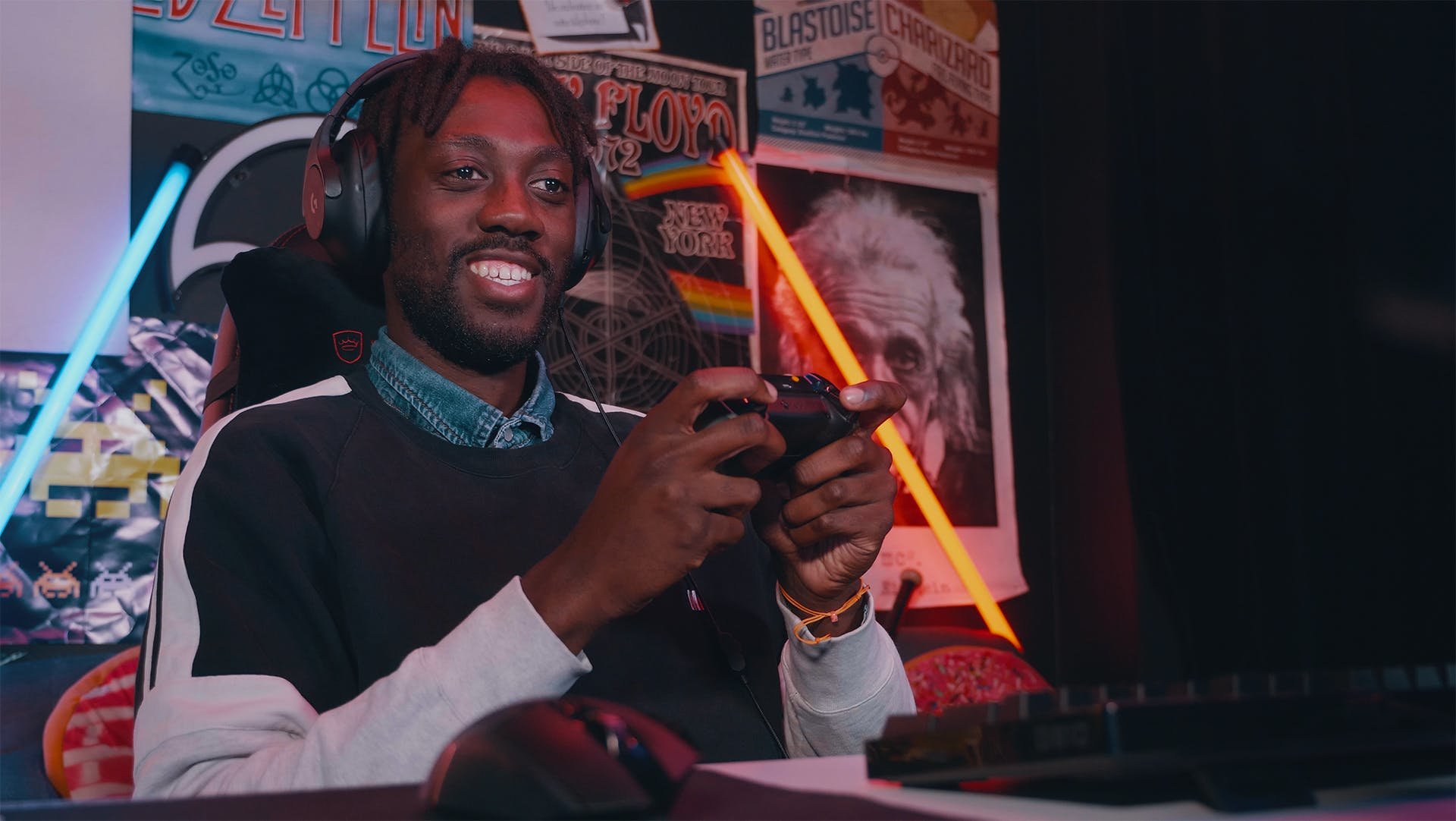 But what if there was another way? 
Thankfully, there is. Cloud gaming with Shadow is a simpler and - in our totally unbiased opinion - way more tempting proposition. You'll never need to worry about upgrading your PC ever again or find yourself unable to play the latest games. It's hassle-free gaming with a ton of perks, no strings attached. Oh, and it just got even better. 

At Shadow, we're committed to giving gamers complete freedom to play their way. We believe everyone should be able to play their games wherever and whenever they want, at the highest fidelity possible. That's why we recently announced three game-changing subscription plans that give you the power and flexibility you need. We can't wait until you get your hands on them. 
But we didn't stop there. And as an added bonus, we have greatly improved our users' mobile experience with our new Shadow app. Enjoy our brand new subscription plans all from the palm of your hand.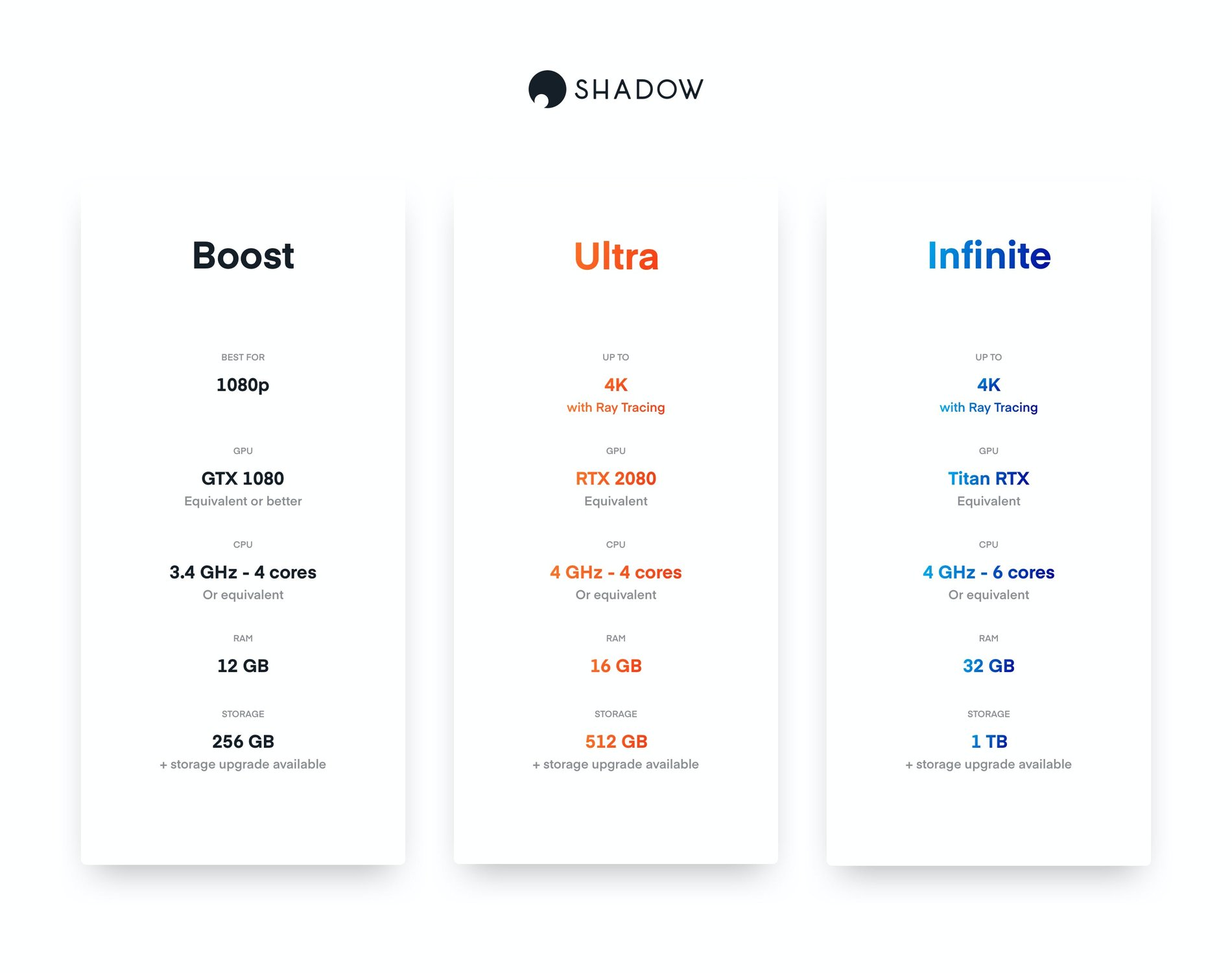 Shadow Tiers
So what's new, then? Well, our three Shadow plans were made with our customers firmly in mind. Users can now choose one of three awesome plans, each catered to a specific type of gamer. We've also introduced the option to expand up to a whopping 2TB should you desire. 
We're so happy to release these new offers, understanding how important flexibility and control are to our users. This release is our way of saying, "Yes, we are listening and we do care." 
In the next section, we'll break down each Shadow tier and help you determine which plan is right for you. So, let's get started, shall we?!
Shadow Boost
£14.99 monthly (cancel anytime)

£12.99 yearly (save £2.00 a month)
Included storage: 256GB
Shadow Boost Specs
Shadow Boost gives you everything you need to run your favourite desktop programs and play your library of games at silky-smooth frame rates. Enjoy up to 144Hz refresh rates at Full HD resolution so you never miss a moment (or vital headshot). 
The Boost plan comes with 256GB of storage. But if you require more space for your ever-growing library of games (guilty as charged!), you can add again up to 2TB of additional storage for all the other games you love (or to make room for yet another Sims 4 expansion pack).  
Shadow Ultra
£29.99 monthly (cancel anytime)

£24.99 yearly (save £5.00 a month)
Included storage: 512GB
Shadow Ultra Specs
Shadow Ultra is the perfect plan for gamers who feel actual physical pain when lowering their in-game settings from high to medium. Capable of up to 4K resolution with ray-tracing on (that's super fancy lighting and shadows if you didn't know), you'll be the envy of all your console obsessed and PC master race friends.
With the Shadow Ultra plan, you'll be able to run the latest games without breaking a computational sweat. Flex your graphical muscles to the max with this powerful cloud gaming package. Go on, let's see those binary-code biceps. 
Shadow Infinite
£49.99 monthly (cancel anytime)

£39.99 yearly (save £10.00 a month)
Included storage: 1 Terabyte
Shadow Infinite Specs
With Shadow Infinite, it's time to legally change your name to "Max". Why? Because you won't be playing games on anything less than max "ultra" settings at 4K. We hear you yelling, "How is such sorcery possible?" Well, with the Shadow Infinite plan you're armed with a GPU that goes toe-to-toe with an Nvidia Titan RTX. You'll also get 32GB of RAM, a crazy-fast CPU equipped with unlimited bragging rights. 
We'll excuse you for laughing in the face of even the most technically advanced games that cross your path: Red Dead Redemption 2, Metro Exodus, Gears 5 - they don't stand a chance.      
From now on, your name is Maximus Decimus Meridius, Commander of the Armies of the North, General of the Felix Legions, loyal servant to the true emperor, Marcus Aurelius. And you will have your vengeance upon these high spec games lagging your computer, in this lifetime. 
The future is almost here
However you like to play, Shadow has a plan to suit your needs. Whether you love the freedom of cloud gaming and being able to play on any device or demand pixel-perfect quality from your gaming experience, we've got you covered with our three dynamic new plans. 

Want to learn more? Sign up for our newsletter if you want to stay informed about the latest news regarding Shadow!