Paris, FRANCE - September 15, 2022 - SHADOW services are starting to roll out in new markets, starting today with Austria. Users in Austria are the first newcomers able to enjoy Shadow PC, our powerful subscription-based cloud PC accessible from any device they own, available for 29,99£ or $39,99 CAD.
And this is just the beginning of our geographical expansion. Initially planned on September 15 along with Austria, the Canada grand opening will happen on September 20, these few additional days allows us to guarantee an optimal experience on launch day.
Shadow offers will also be available in Italy, Sweden and Denmark on September 27, before opening in Spain this Fall. The exact availability date for Spain will be announced in the coming weeks.
In addition to our existing Shadow PC, our services available in all those territories will include the upcoming Power Upgrade, available starting October 26, as recently announced. Users can get more details by checking our September 'Shadow News' recap. As a reminder, the Power Upgrade is a new and more powerful configuration, available for 14,99£ or $19,99 CAD, in addition to the Shadow PC monthly subscription.
Ahead of availability in each territory, our teams, in collaboration with our partner OVHcloud, are certifying the quality of connection via dedicated ping tests. Future users will also be able to find out if their localization is eligible for Shadow offers before subscribing. SHADOW's current network of data-centers is composed of eight units, located in France, Germany, the United States and Canada.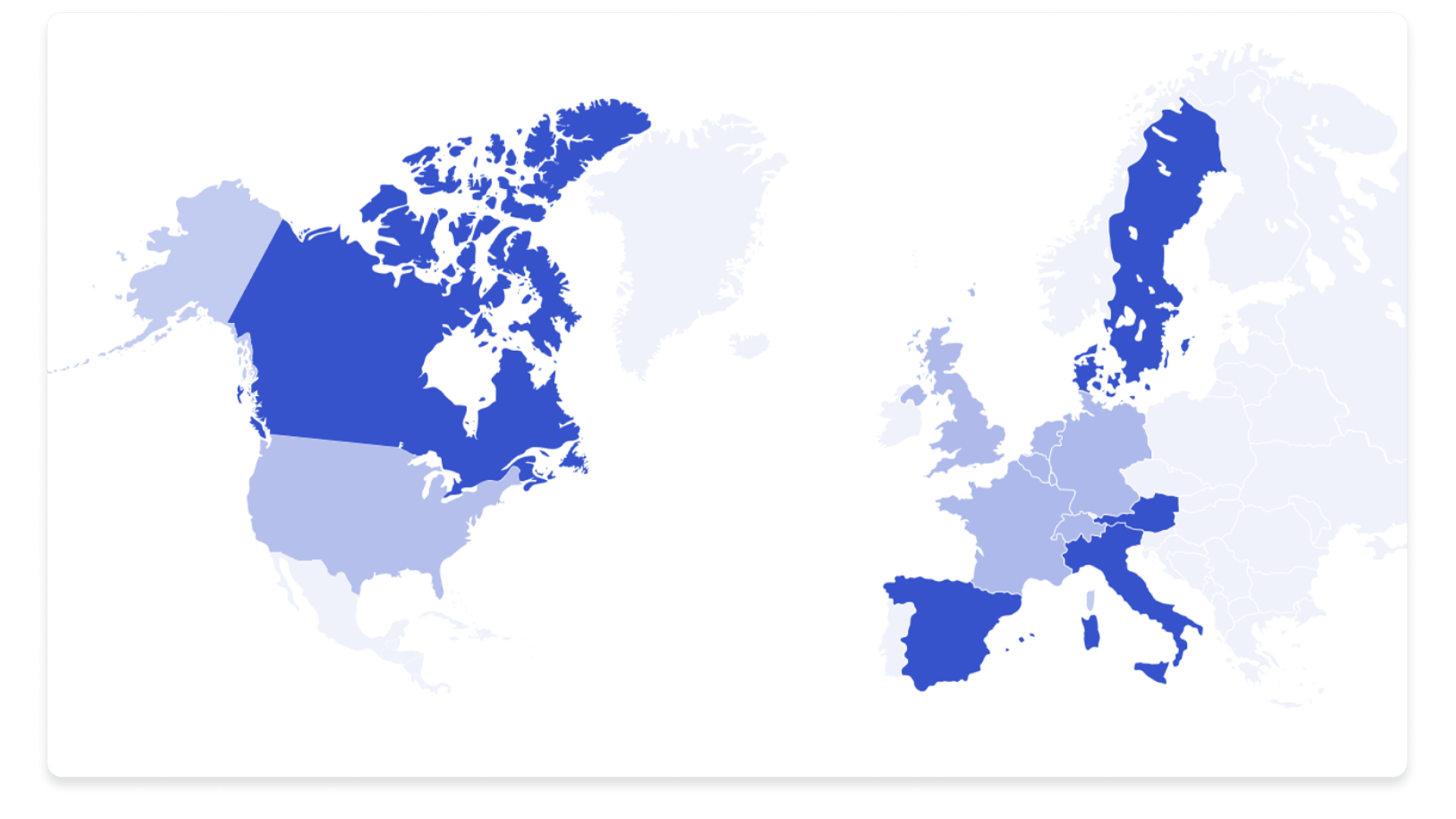 The very first users who subscribe to our Shadow PC from these two territories, starting today in Austria and September 20 in Canada, will benefit from an Early Birds discount.* This discount, available in very limited quantities, is not time-limited and will remain active as long as the subscription is maintained or terminated. Austrian Early Birds will receive a monthly 5€ EUR discount and Canadian Early Birds will receive $5 CAD.** 
These discounts will be issued differently per territory: Canadian users will have the opportunity to redeem a limited-time promo code when subscribing, whereas Austrian users will have a coupon applied to their subscription automatically by our teams and will not have to perform any additional action. All users eligible for the Early Bird discount will receive an email confirmation. The discount will trigger from the second month of their subscription onwards.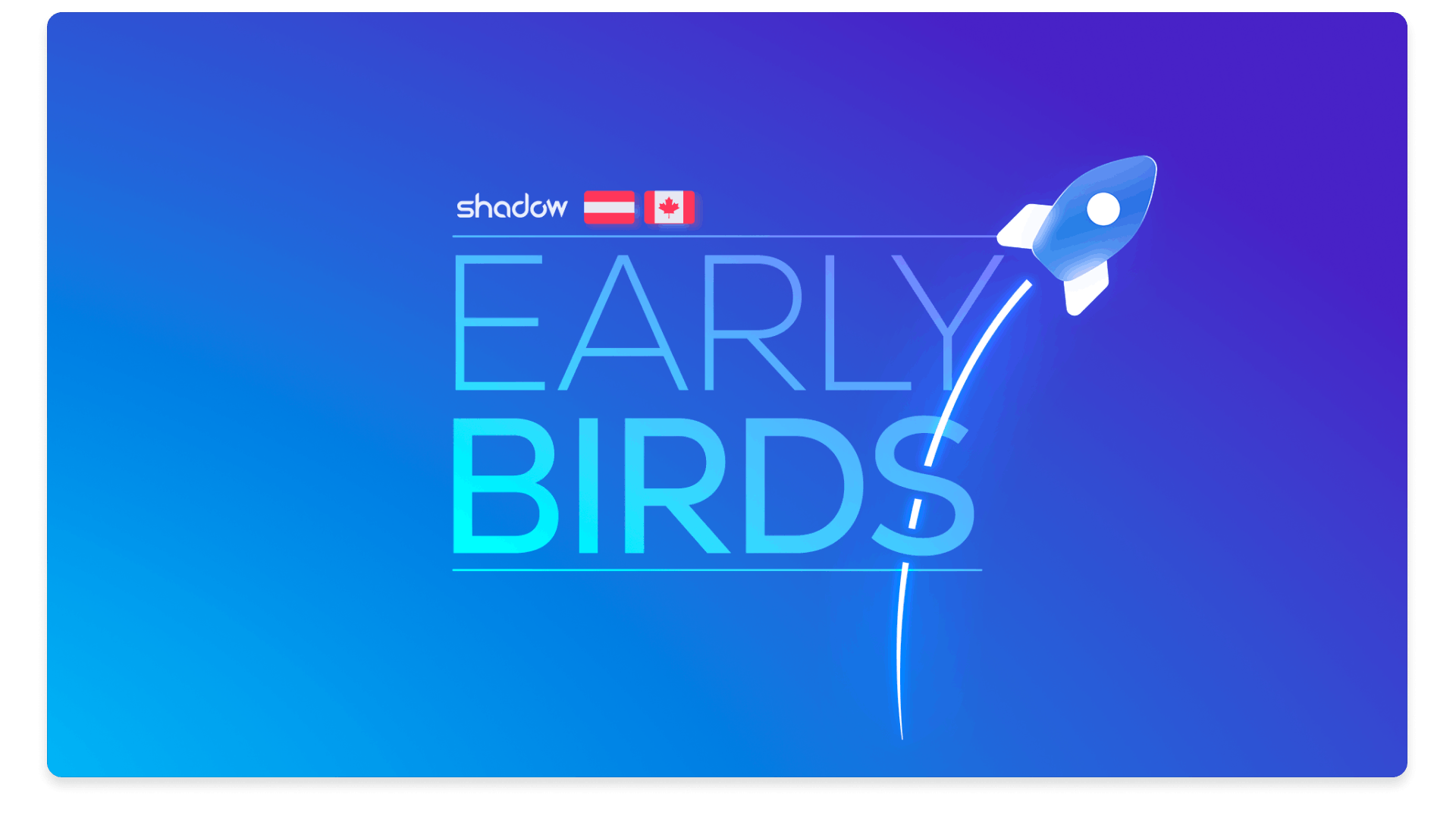 Along with our Shadow PC dedicated to customers, we are also opening our business oriented services in these new territories. Shadow Business Solutions can be accessed by professionals starting today in Austria and Canada, and starting September 27 in Italy, Denmark and Sweden.  
*for consumers only. Prices and offers differ for professionals, check our dedicated page for more details.
**Shadow PC starting price 24,99€ per month instead of 29,99€ in Austria, $34,99 CAD instead of $39.99 CAD in Canada. Discount is non-transferable from previous accounts.
About SHADOW At SHADOW, we strive to become the definitive cloud platform for gamers, creatives, and businesses, because we believe that cloud innovations have the potential to bring technological freedom to all. SHADOW delivers state-of-the-art cloud-computing experience to consumers, via its original Shadow service, and to professionals via its Shadow Business Solutions. It developed the first ever high-end cloud PC to play, create and work on any device. Shadow has more than 150 employees based in Europe and North America. Join us at www.shadow.tech. Check our latest news on shadow.tech/blog. Follow us on Twitter.
About OVHcloud
OVHcloud is a global player and the leading European cloud provider operating 400,000 servers within over 33 data centers across four continents. For 20 years, the Group has been leveraging an integrated model that provides complete control of our value chain, from designing our servers to managing our data centers to orchestrating our fiber-optic network. This unique approach enables OVHcloud to independently cover the full spectrum of use cases for our 1.6 million customers across 140 countries. OVHcloud now offers customers the latest-generation solutions that combine high performance, predictable pricing, and complete data sovereignty to support their unfettered growth.