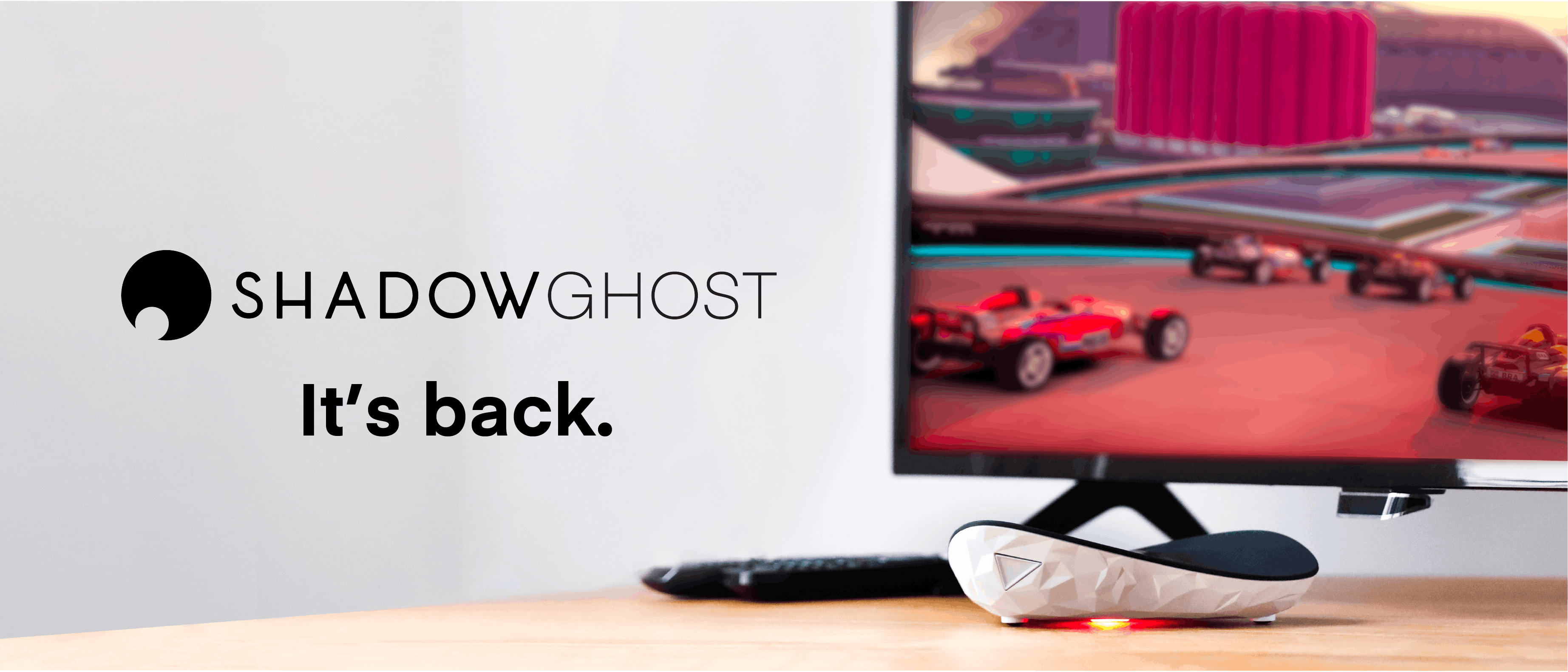 Shadow Ghost is back!
Get your hands on a new kind of PC.
We wanted to make a punny joke about a Ghost appearing and disappearing, but let's just cut to the chase...
Shadow Ghost is back!

*Active Shadow Description Required
That's right, you can pre-order Shadow Ghost now until Wednesday, April 17th. So if you want to get your hands on your "precious" and join the chosen ones, it's now or never!
Who can pre-order Shadow Ghost?
Pre-orders for Shadow Ghost are for all current users. If you are not a current user, now is the perfect time to join the #ShadowTeam! Subscribe to Shadow here and once subscribed, simply go to the "Subscription" tab on your account page to pre-order your very own Shadow Ghost!
Why use a pre-order system?
By allowing pre-orders, we can anticipate the number of Shadow Ghosts we will need to deliver. This system also avoids frustration, allowing everyone who wants one to get one.
How many Shadow Ghosts can I pre-order?
As many as your heart desires! 1 for bedroom, 1 for the kitchen, and maybe even 1 for some bathtub gaming.
When will I receive my Shadow Ghost?
We will do everything in our power to send you the Shadow Ghost as soon as possible! Taking into account production delays, you will receive your order in August 2019 at the very latest.
What if I cancel my subscription before receiving Shadow Ghost?
Once you've pre-ordered, we unfortunately cannot cancel your Shadow Ghost. Good news, you have 14 days to return it for a full refund once received.
What countries do you ship to?
Albania, Austria, Bosnia and Herzegovina, Belgium, Bulgaria, Croatia, Czech Republic, Denmark, Estonia, Finland, France, Germany, Greece, Iceland, Ireland, Italy, Latvia, Lithuania, Luxembourg, Macedonia, Montenegro, Netherlands, Norway, Poland, Portugal, Romania, Serbia, Slovakia, Spain, Sweden, Switzerland, United Kingdom.    
Important note: you are not able to modify your shipping address once confirmed, so make sure you choose the correct address!

Wait, what's Shadow Ghost again?
Shadow Ghost is the perfect way to bring a high-end gaming computer to your TV. Forget about setting up a bulky PC tower. Simply log-in to your Shadow account and make the most of all your PC games in full HD, and even 4K UHD, with a gaming setup that fits in the palm of your hand!
Want to know more about its specs, design and price? Click here!