Blog
/
Shadow news
/ Shadow Ghost: 5 games to share through your new living room PC !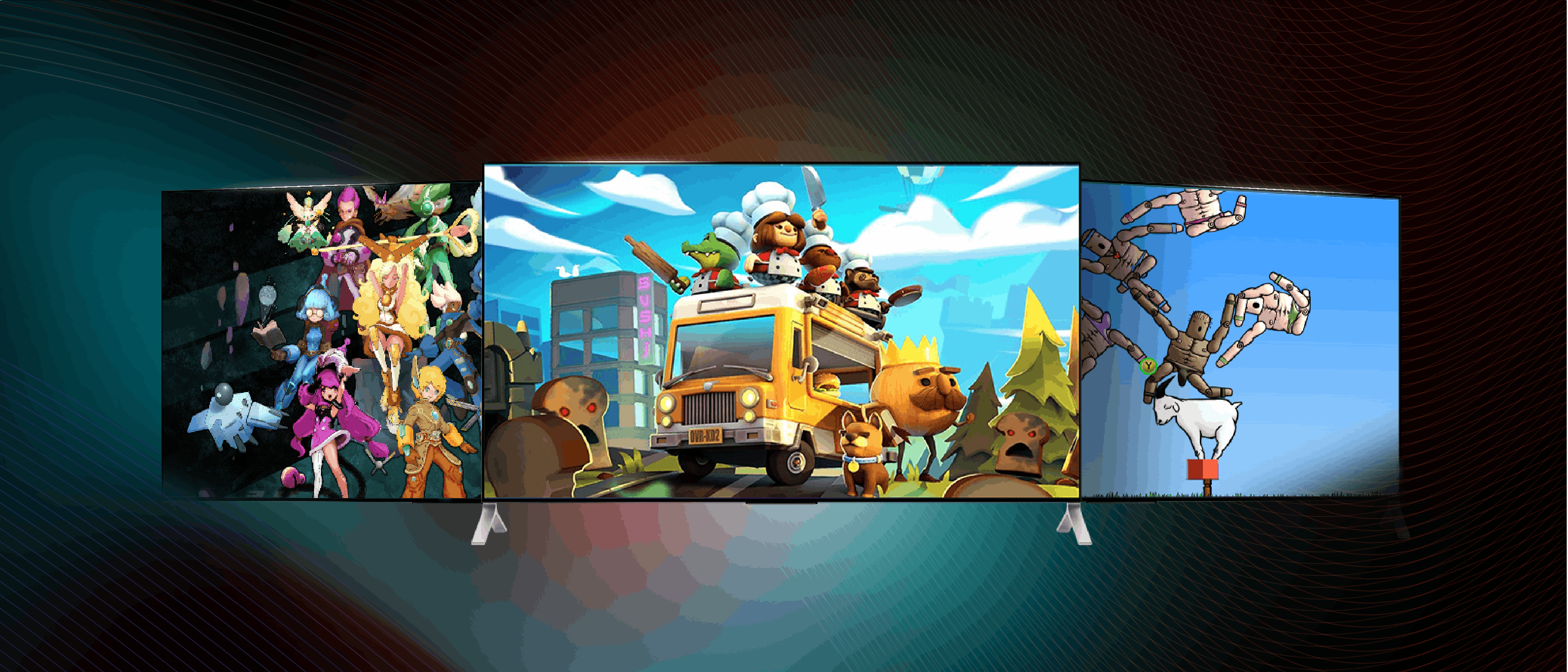 Shadow Ghost: 5 games to share through your new living room PC !
Forget about your game console: with Shadow Ghost, enjoy a new kind of party games !
Shadow Ghost is coming and it's time to set the stage, to give it a proper role. For example, why not make it the host of your buddy parties?  Why wouldn't you use it to enjoy the best PC party games on your big TV screen? That's a good idea, huh? Well, we got exactly what you need.
For a few years now, we've been witnessing a strong comeback of a fading tradition, weakened by the arrival of high-speed Internet connections: the local multiplayer, the good old games to share with friends that are not dozens of kilometres away, but right next door, on the same tired couch. While some console manufacturers - starting with Nintendo - have specialized in this field for years, one have to admit that PC has probably become the most interesting testing ground for so-called couch-gaming since the breakout of the indie wave. Local multiplayer concepts have flurrished, in various and increasingly crazy forms, often with modest pricing.
Thanks to the Shadow Ghost, your PC will find its way to the heart of your living room. With this small selection, you'll be able to show everyone why it's great! Please note that we'll soon publish our list of the best alternatives to Super Smash Bros. This one is thus intended to complement it with other types of games. Enjoy!
Overcooked and Overcooked 2
Developer: Ghost Town Games
Release date: August 3rd, 2016 and August 7th, 2018
Price: €15.99 and €22.99
Players: 1 to 4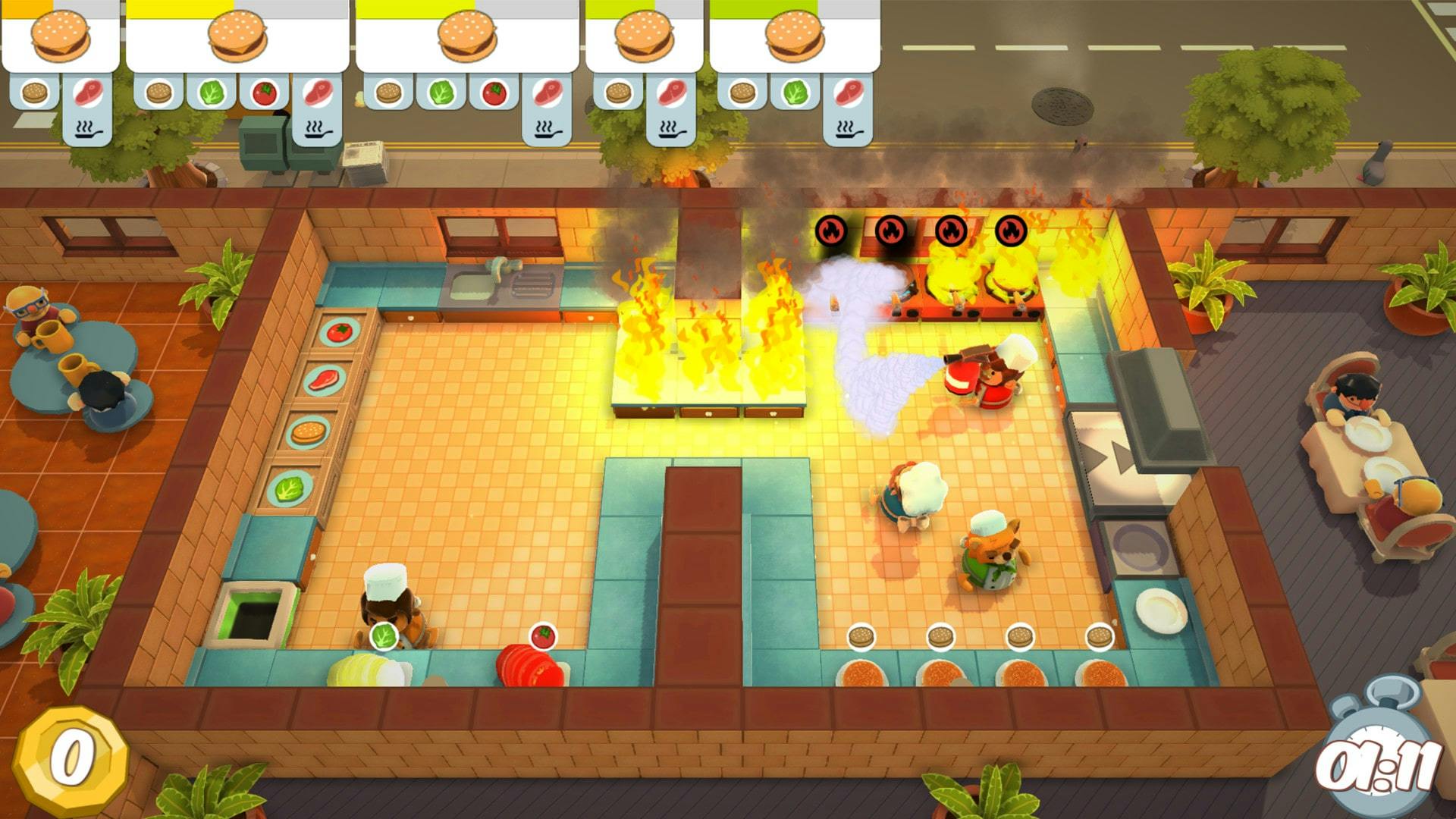 Do we still need to introduce the Overcooked series? Oh yeah, that's right, that's why we're here! Heir to a long (and not always brilliant) tradition of cooking games in which the player must prepare dishes on the line, Ghost Town Games' IP replaces this ancestral gameplay in a multi-crazy context, where cooperation and synchronization become the key to victory. Perfect for two, three or four players, both Overcooked episodes plunge you into completely crazy levels (on-ice kitchen, moving countertops) to change the stakes of a genre that is now highly codified. It's light, fun and very accessible. A must have.
Crawl
Developer: Powerhoof
Release date: April 11th, 2017
Price: €14.99
Players: 1 to 4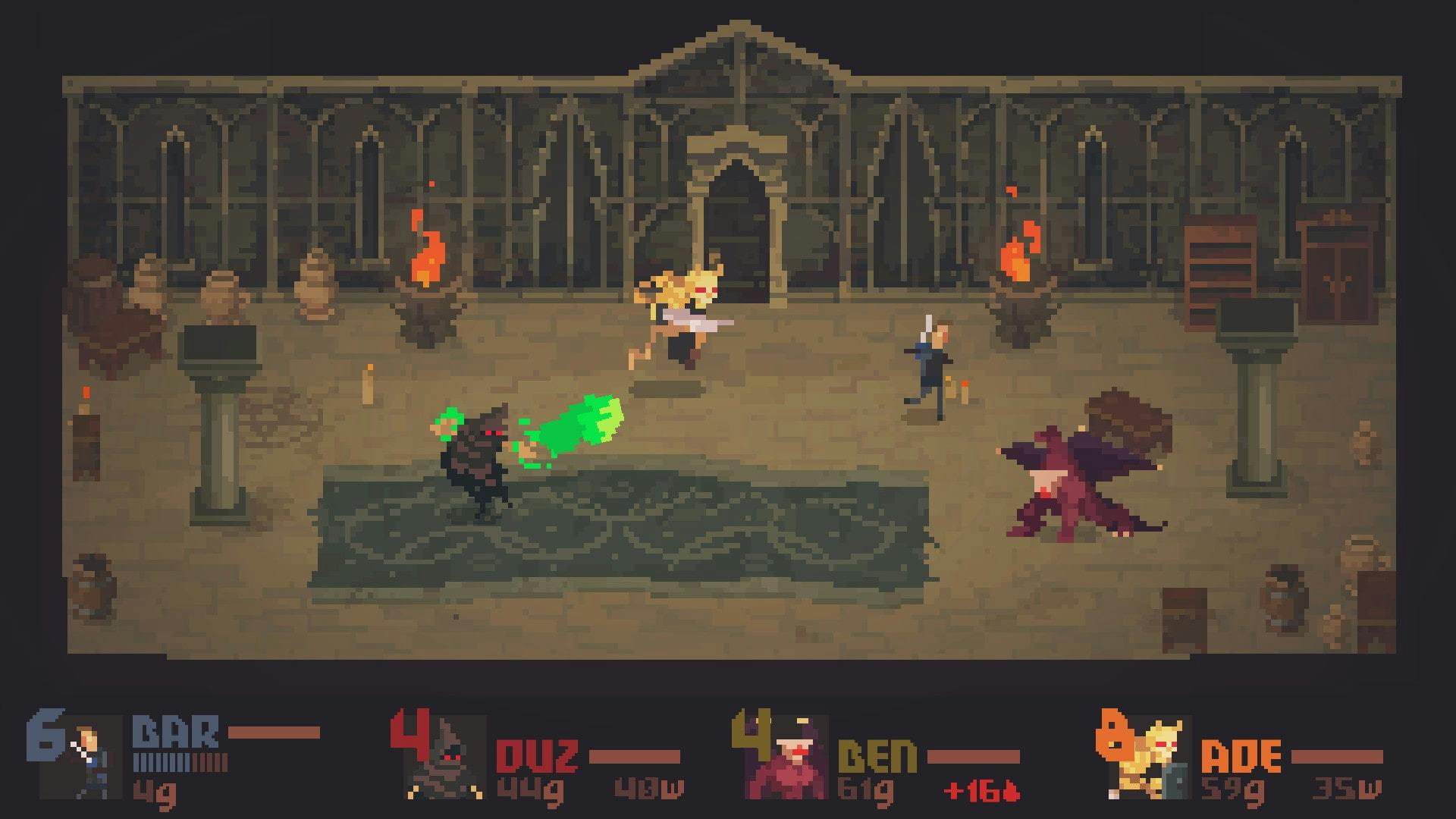 Crawl is based on a rather simple idea: what if you could play the mobs in your games? Taking the form of a dungeon-crawler all dressed in pixels, Powerhoof's title invites one of the players to take the costume of the valiant hero, while his comrades control various enemies who will try to bring him down and take his place! On the edge of cooperative and competitive multiplayer, Crawl is one of those games that likes to shuffle cards. Playing a mob or hero requires a different strategy and while some will prefer to play the brave adventurers, others would rather stay on the evil side to develop their sinister skills.
Mount Your Friends
Developer: Stegersaurus Software Inc.
Release date: July 29th, 2014
Price: €4.99
Players: 1 to 16
What do you do in Mount Your Friends? Well, yes, you ride on your friends. Behind this not so enigmatic title hides some kind of Jenga where you stack small puppets in briefs, with sticky hands and feet like these rubber toys you throw on the windows. Close to other hypersimulations like Octodad, Mount Your Friends asks you to bring each new character to the top of the pile by manipulating them as best as possible, knowing that each of their limbs is directed by a different button. Of course, the big gap between the search for performance and the ridiculous aspect of the whole game makes it one of our favourites in this selection.
Invisigun Heroes
Developer: Sombr Studio
Release date: February 8th, 2017
Price: €7.49
Players: 1 to 4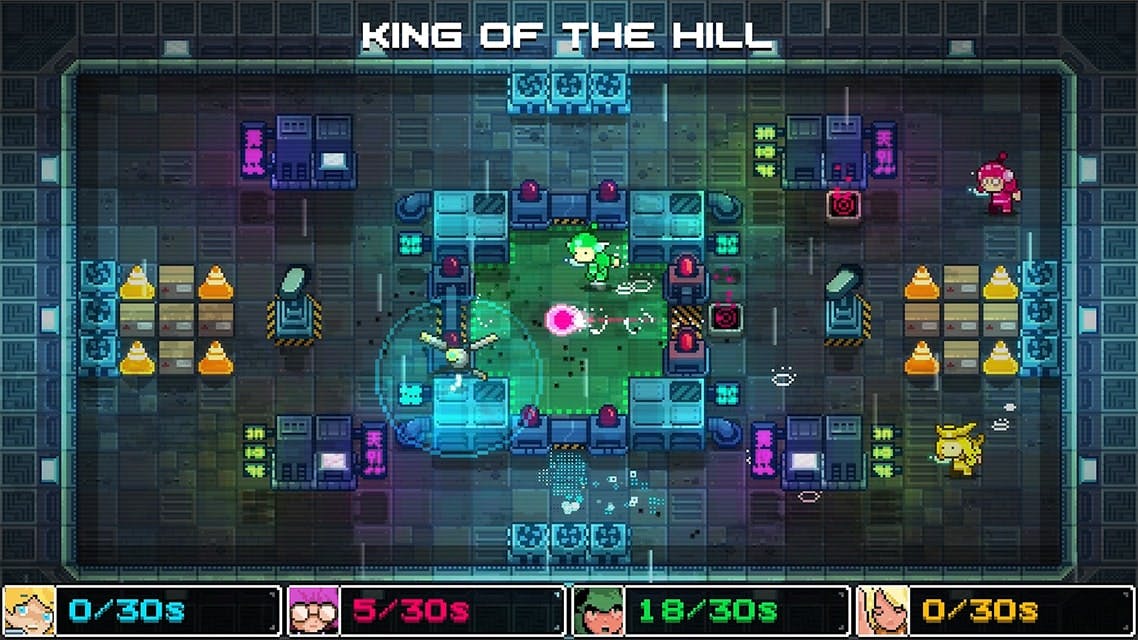 Not very far from Hidden in Plain Sight, Invisigun Heroes is a 2D arena shooter with some Bomberman vibes, and in which the various protagonists are... invisible! At least most of the time. Cause here's the twist : have a shoot and everyone will be able to see you for a second ! Once again, the idea is simple, the execution is excellent. 70 levels, a huge load of characters with specifics abilities, that's what you can call a polished game.
Super Indie Karts
Developer: One Legged Seagull
Release date: May 6th, 2015
Price: €12.49
Players: 1 to 4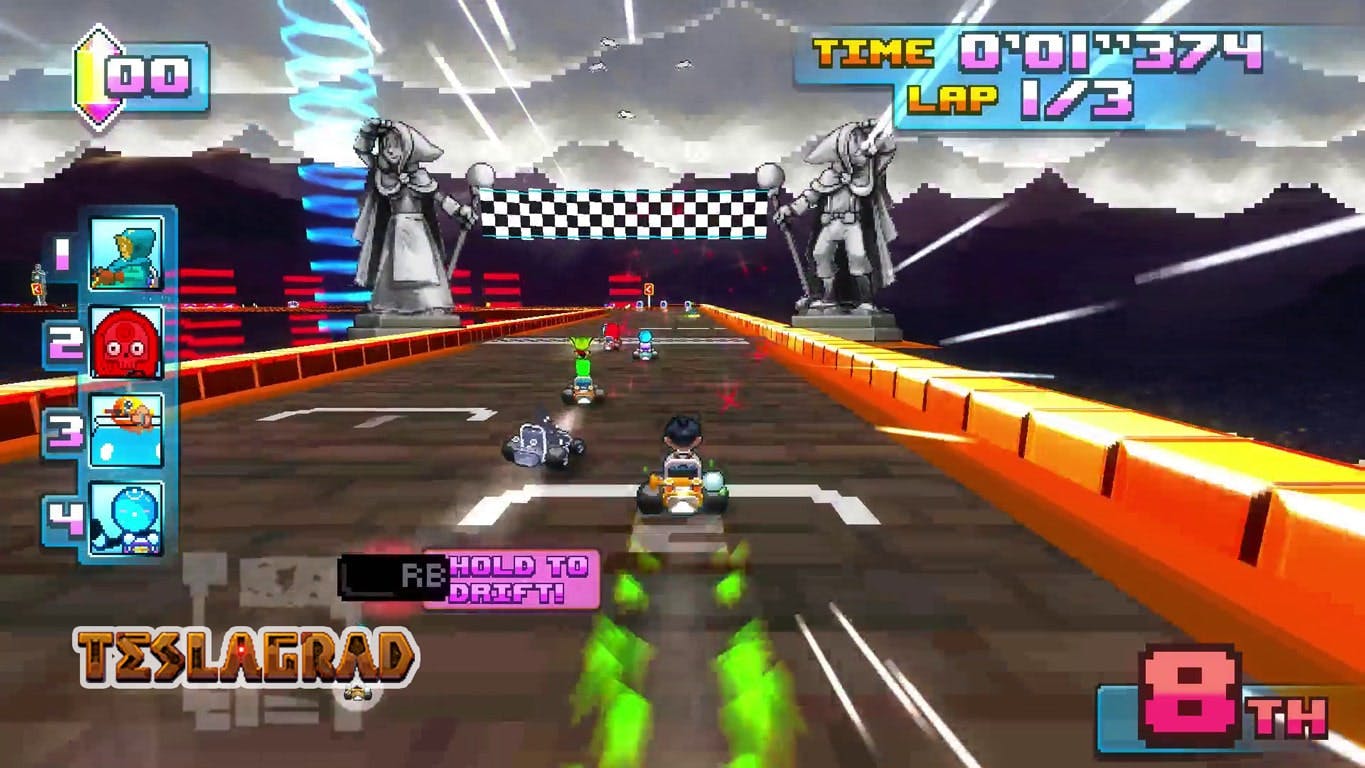 With Super Indie Karts, One Legged Seagull Studio tries to offer nostalgic players a spiritual counterpart to the reference that was Mario Kart 64 - 3D circuits, sprite characters - in a modern version. Still in Early Access (its final release is planned this year), the game already offers 32 circuits and 30 different characters, including some of the most popular indie game protagonists like Read Only Memories, Toejam & Earl or Guacamelee! And of course, the classic split-screen and Battle Mode are also available.