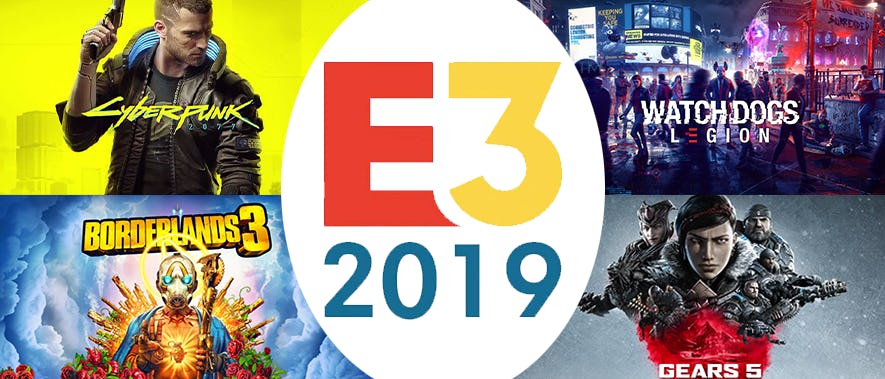 All of The Games Announced at The 2019 E3 Expo - Part 1
Shadow visited E3 - Every game announced at the Expo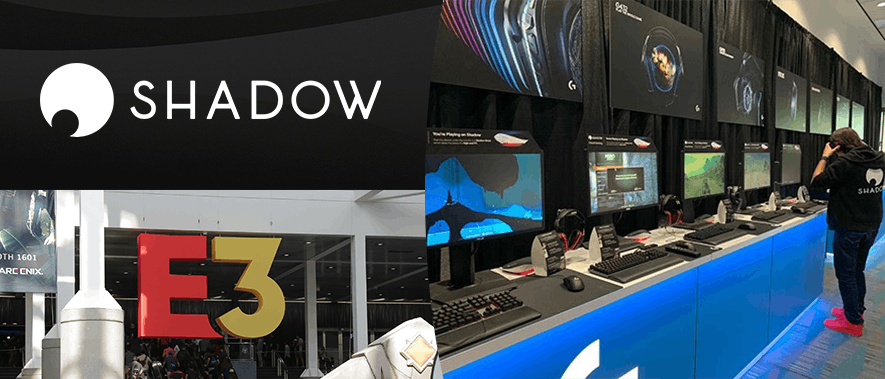 This is the first part of the E3 2019 series where we show you all the games announced at E3.
Part 1: 1-22
This year, Shadow attended E3!
We designed our booth to showcase Shadow with the best peripherals possible and demonstrate the power of cloud gaming.
E3 is a wonderful event for all video game fans, but not everybody can attend. That's why we decided to be your reporters so you can live the event like you were here with Shadow.
This article will give you the E3 announcements and what we think about them.
Games Breakdown
Many games came out this year, from new RPGs to party games, that will bring content every gamer wants. We can't wait to play all of these PC games , and other games as well.
Here is a full breakdown of the games per platform announced at E3:
PC Games - all available on Shadow: 61
Xbox Games: 42
PS4 Games: 38
Nintendo Switch Games: 28
Stadia Games: 3
Xbox Scarlet Games: 1
E3 2019 Announced Games Glossary
Use this glossary to jump to specific games that interest you (use ctr+F). Each game has a video and information related to the title.
The Last Remnant Remastered
Collection of Mana
Contra Anniversary Edition
Looking for Heals
Forza Horizon 4: LEGO Speed Champions
Cadence of Hyrule
The Sims 4 Island Living
Marvel Ultimate Alliance 3
Fire Emblem: Three Houses
Wolfenstein: Youngblood
Madden 2020
Age of Wonders: Planetfall
Oninaki
Control
Blair Witch
Astral Chain
Conan Chop Chop
Gears of War 5
Borderlands 3
Daemon X Machina
Police Stories
The Legend of Zelda: Link's Awakening
Games announced at E3 2019 by release date
The Last Remnant Remastered
Release date: June 10th, 2019
Platform: Nintendo Switch
The Last Remnant Remastered originally came out on PS4 in 2001.
At E3, Nintendo announced The Last Remnant is coming to the Switch. This game is an RPG that first came out in 2008, but wasn't received well by critics because of gameplay issues. This version has been improved with bug fixes and improving graphics for the modern gamer.
The trailer doesn't show any gameplay, but die-hard fans of the game are calling it one of the most underrated games available. With enhancements and bug fixes, The Last Remnant's second-coming should be a good one.
Collection of Mana
Release date: June 11th, 2019
Platform: Nintendo Switch
Collection of Mana is finally available outside of Japan!
This cute JRPG is coming to Switch as a pack of the 3 Mana games, including the 3rd game in the series.
The entire Series will release in the west. You can expect a remake of Trials of Mana early next year.
Secret of Mana may best be described as a game you could find on PlayStation one era game platforms, with a deep story and Final Fantasy type combat mechanics and traveling.
Contra Anniversary Collection
Release date: June 11th, 2019
Platform: Nintendo Switch, PS4, Xbox and PC
This collection is a compilation of 10 games from the Contra franchise to celebrate Konami's 50th anniversary.
Contra is a notoriously difficult side-scrolling shooter that introduces some unique elements to the side-scrolling genre, including, you better believe it, moving up and down.
These games come with exclusive features, new information, and eBooks. If you are nostalgic for some childhood memories, this package is definitely for you.
Looking for heals
Release date: June 11th, 2019
Platform: PC
For the first time in video game history, the healer is the main character.
In Looking for Heals, you command your fighters to do battle against monsters, while you maintain their health. The customization feature looks deep. It appears you can customize your party and also hire new recruits to your team.
Level up in this 2D/3D environment with your squad to beat all the monsters. A retro game that looks like a mini-game, on which you can spend hours of your weekend losing time while keeping your squad at full health. The game is currently in early access on Steam.
Forza Horizon 4: LEGO Speed Champions
Release date: June 13th, 2019
Platform: PC, Xbox
A mix between the famous Forza Horizon known for its quality and seriousness combined with the goofy, brick-filled world of LEGO.
Lego Speed Champions is a nice mix of fun and driving, while keeping the objective of always being the first across the finish line. The game serves Forza Horizon well, with a new, fun, take on the series that wasn't expected by most.
if you ever wanted to drive exotic sports cars made of LEGO pieces, this game is for you. Not only is this game awesome, everything is awesome.
Cadence of Hyrule
Release date: June 13th, 2019
Platform: Nintendo Switch
In the famous universe of The Legend of Zelda, you have the choice to play Link or Zelda. This crossover brings the dance-rhythm combat gameplay of Crypt of The NecroDancer and smashes it with the Zelda universe.
This rogue-like game is a nice crossover between the two titles, Crypt of the NecroDancer and The Legend of Zelda, taking the best from both. Cadence of Hyrule is set to release in Spring of 2019 on the Nintendo Switch.
The Sims 4: Island Living
Release date: June 21st, 2019 (PC) / July 16th, 2019 (Consoles)
Platform: PC, PS4, Xbox
This extension of the Sims 4 is a nice complement to the original title. Take your Sims to the Island of Sulani and feel the paradise holidays where it is "always sunny".
You can dive, swim and discover the island's spirit and make your Sims live the dream life. If you get lucky, you might encounter some mermaids, too!
Like most Sims expansions, you can expect new areas to explore, new clothing & customizations, and of course, new furniture.
Marvel Ultimate Alliance 3: The Black Order
Release date: July 19th, 2019
Platform: Nintendo Switch
After the last edition of the MCU franchise, some of you were still missing your favorite superheroes.
Where were the X-men? Well, the new Marvel Ultimate Alliance 3 looks like the crossover we have always wanted.
You can play as the Avengers' Heroes, and a lot more heroes like Wolverine, Ghost Rider, or Spider Gwen. Get your alliance of 4 characters, level up and battle to save the universe. The game appears to be a beat-em-up style involving hordes of common enemies and bosses who make their appearance near the end of each level.
Fire Emblem: Three Houses
Release date: July 26th, 2019
Platform: Nintendo Switch
This famous one player adventure game is coming back with a whole new story, where you choose your house, and your destiny.
A strategic turn-based game with new graphics that looked beautiful in the announcement. The game looks heavy, emotional, and vaguely reminds us of Game of Thrones with the political, faction nature tone set in the trailer.
If you are a fan of the Fire Emblem franchise, this game will satisfy your adventure appetite. We assume you can expect similar gameplay to other Fire Emblem titles.
Wolfenstein: Youngblood
Release date: July 26th, 2019
Platform: PC, PS4, Xbox, Nintendo Switch
The return of the Wolfenstein franchise. A First Person Shooter that takes place in Paris, 1980, in a alternate reality where France is occupied by the 3rd Reich.
The main characters are the two daughters of the main protagonist of the last game, who is currently missing. From the trailer, we see explosions, lightening-fast combat and flamethrowers. Fun.
The gameplay, the story, and the combat, makes Youngblood an interesting title that we can't wait to be released.
Madden 2020
Release date: August 2nd, 2019
Platform: PC, PS4, Xbox
A new game in the Madden franchise with better graphics and improved gameplay. The graphics look stunning. We assume you'll spend some time off the field too, as the game showed a few clips of players being drafted into different teams.
Expect to throw footballs, catch them, and score touchdowns. You probably aren't surprised after dozens of Madden games.
Age of Wonders: Planetfall
Release date: August 6th, 2019
Platform: PC, PS4, Xbox
Age of Wonders: Planetfall is a turn-based strategy game from the creators of the acclaimed, Age of Wonders series. The universe is set within a Sci-fi battlefield and includes cyborg zombies, dinosaurs with lasers, and other over the top monsters adding to the lush environment for you to do battle in.
Choose among the six available factions and build your empire to defeat your enemies in this new, over the top game.
Oninaki
Release date: August 22nd, 2019
Platform: PC, PS4, Nintendo Switch
This action RPG lets you play as Kagachi, a guardian guiding the lost souls into a world where death and reincarnation are omnipresent, helped by spirits. The art style looks like something like Breath of the Wild, with character designs that remind us of cute, Final Fantasy titles.
The gameplay looks like a combat, beat-em-up style that takes place in real-time.
Oninaki is a new take on the JRPG genre that will certainly appeal to gamers who like unique experiences not found in most games.
Control
Release date: August 27th, 2019
Platform: PC, PS4, Xbox
Developed by Remedy-Entertainment, Control is an action-adventure game that takes place in New York.
Your character, Jesse Faden, works in a secret agency called the Federal Bureau of Control, to defeat the supernatural forces attacking New York thanks to Jesse's telekinetic powers. The game looks dark, brooding, and lacking hope. From the trailer, we are getting serious government experiment vibes gone wrong.
A classic gameplay FPS style, coupled with a nice story that looks like a dark adventure.
Blair Witch
Release date: August 30th, 2019
Platform: PC, Xbox
This game positions itself as a new wind in the horror gaming genre based upon the classic movie. In the trailer we see similar connections to the movie, including a video camera and hard to see environments where you rely on light to keep you safe from unnatural creatures who live in the forest.
Blair Witch will let you experience a "story-driven psychological horror game" that studies your choices and reactions to fear and stress, to design specific ways to scare you.
If you're feeling brave, a return to the Blair Witch Forest is for you.
Astral Chain
Release date: August 30th, 2019
Platform: Nintendo Switch
Shown in the Nintendo Direct announcement back in February, this game will be released at the end of summer exclusively on the Nintendo Switch.
Become a policeman/policewoman to fight aliens in the city of Ark. You will be accompanied by a new weapon called "Legion" to accomplish your grueling task.
The Art style of Astral Chain looks beautiful, with character models who shine with unique designs. We aren't sure what the plot of the game is yet, but we are getting serious platformer vibes with a good combat system.
Conan Chop Chop
Release date: September 3rd, 2019
Platform: PC, PS4, Xbox, Nintendo Switch
First presented as an April fools joke from Funcom, it appeared during E3, that Conan Chop Chop is real.
This courtesy rogue-like game inspired by Conan The Barbarian, tasks you to defeat the evil Thoth-Amon, a wizard, before he succeeds in resurrecting an even more evil Wizards whose names are just as complicated as Thot-Amon.
The cute character designs mixed with the serious, yet obviously making fun of itself theme is refreshing in a time where every game needs to be a serious adventure to save the world.
Chop Chop might be fun, but be careful, it looks addicting.
Gears of War 5
Release date: September 6th, 2019
Platform: PC, Xbox
With less and less co-op games being released, the announcement of Gears of War 5 is giving a new breath to the fans of couch co-op.
The new 3 player mode gives you the opportunity to fight monsters with your friends, in this killer frenzy with crazy weapons, that even includes chainsaw guns.
Expect more of the brutality you know and love from the Gears of War Series.
Borderlands 3
Release date: September 13th, 2019
Platform: PC, PS4, Xbox
Borderlands, the famous co-op game whose story is just as crazy as the gameplay, making you addicted to this first-person shooter.
Walk into this post-apocalyptic world and defeat all your enemies all while trying to score the best loot. The hype is big around this one, and we can't wait for it! And, neither can our friend, Claptrap.
Daemon X Machina
Release date: September 13th, 2019
Platform: Nintendo Switch
A Mech-Action game in which you have to defeat robots in your battle suit, to defend the planet from corrupt A.I. Daemon X Machina promises to include fully-customizable mech-suits, which reminds us of the Armored Core Series in all of the best ways.
In this Manga like adventure title, the story brings you straight to a new mech world, a micro-genre that desperately needs new life.
Police Stories
Release date: September 19th, 2019
Platform: PC, PS4, Xbox, Nintendo Switch
Funded in 2017 by a crowd-funding campaign, this game will finally be released this September. Police story looks like a tactical shooter, where you can team up with an a.i, or play with a friend locally.
In the same top-down-perspective style as Hardline Miami, this violent and brutal action game looks serious, dramatic and the kind of game that requires thought before deciding what your best move is.
The Legend's of Zelda: Link's Awakening
Release date: September 20th, 2019
Platform: Nintendo Switch
This adventure game is the remake of the 1993 version, with entirely new graphics and gameplay thanks to the Switch Controller and its many different button schemes.
The cute design of the characters, the environment, and the awesome story that many of us already know makes this game one we can't wait to get our hands on.
Even if you haven't played the classic version, the remaster is probably an easier introduction to the game, and we assume a little easier than the classic Link's Awakening game.
If you need a high-end computer to play some of the titles listed, try Shadow. Don't forget to join our official Discord to hang out with other gamers, Shadow users and make some new friends to play PC games with.
Want to learn more? Sign up for our newsletter if you want to stay informed about the latest news regarding Shadow!