TLDR: If you couldn't watch the Shadow Keynote from October 2019 live, you'll find a summary of the highlights here, like the new Shadow TV App, the three new Shadow Configurations Shadow Boost, Shadow Ultra and Shadow Infinite, and more in this article.
Get ready for the Future with Cloud Gaming and Shadow
Tuesday, October 29th was a definitive day in Shadow's history. 
We revealed to the press (and so, to the world) everything we've been working on over the last year and our plans for the future.
There is a lot to unpack from the conference, so we'll try our best to give all the details here. Make sure to keep this article as a reference regarding our most important announcements to date! 
PC Gaming for all thanks to the Cloud 
At Shadow, we truly believe that gaming is for everyone, but not everyone has the same access to play the games they want to play. That is one of the reasons why our motto is "Stream Freedom". It means playing anywhere, with whatever power you need to fully enjoy your games. 
Some prefer to play alone, some want to play with friends and others love it when millions of people watch them game. No two gamers are the same, and this is why we created three distinct Shadow configurations, so gamers could find the perfect Shadow for them: each comes with different storage sizes, graphic cards, processors, and price points. 
You can get a discount on the monthly price, if you can stay with us for eternity (or less) by committing to our yearly plan! You can use the money you save for buying new games to play on Shadow! And if instead you prefer to shy away from any commitment, the month-to-month offer is here for you. Whatever your needs are, there is a plan for you.
We know you waited for it for so long, so here comes the magical word: STORAGE! You heard that right. More storage is coming. Finally! With every configuration, you have the choice to add additional storage in the size you need.
Shadow Boost, our first plan, makes a gaming PC accessible to everyone. Shadow Ultra, our second plan, enables you to play any game in Ultra. Yes, it's in the name! Finally, Shadow Infinite gives you the craziest configuration available in the cloud, with the best components on the market.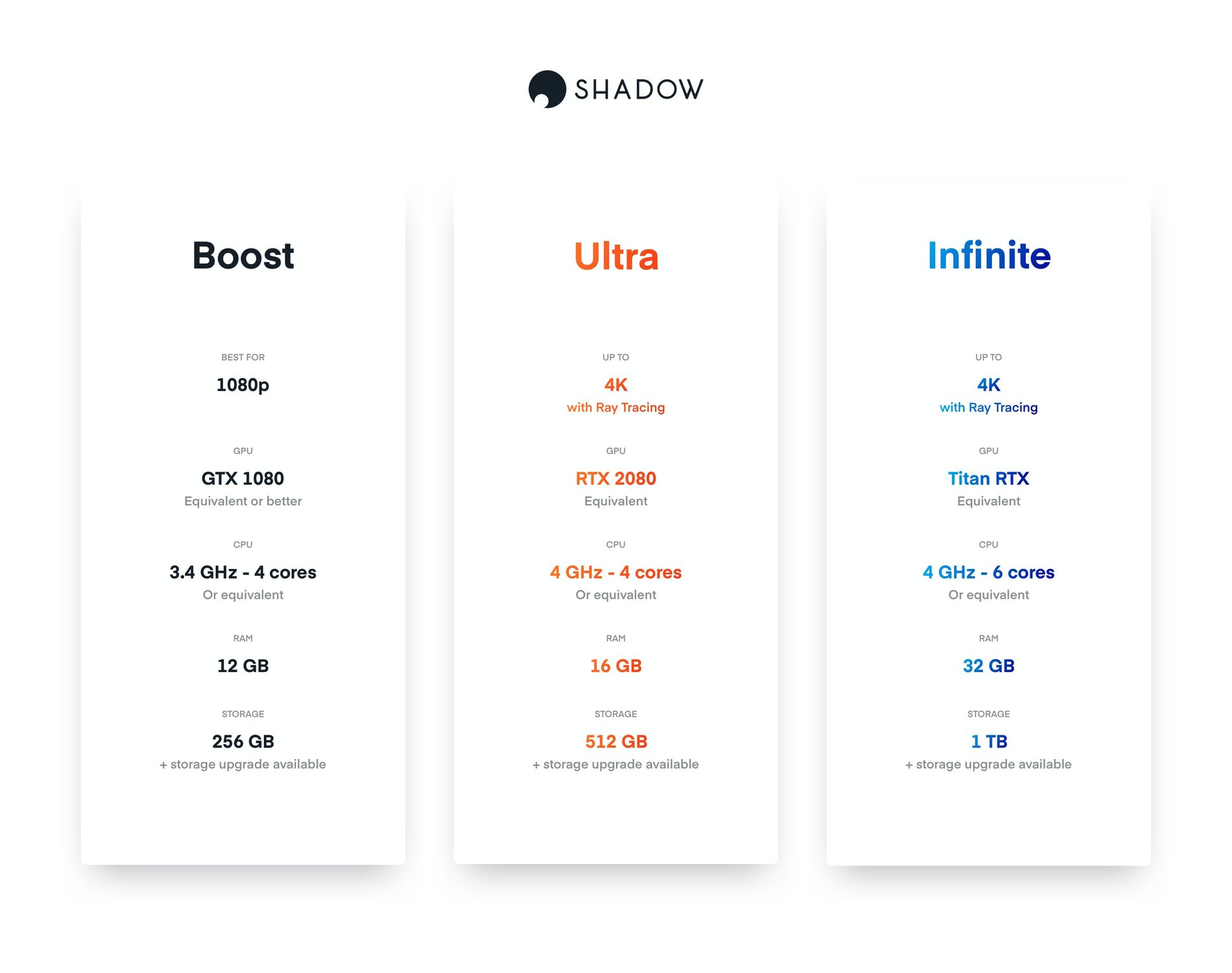 These offers will first launch in Europe, in February 2020 followed by a US launch later in 2020. Because of the complexity and required hardware, we are phasing this rollout through each one of our data centers in order to insure the best possible experience for you, the user. We look forward to announcing more about US availability in 2020 along with an announcement for expanded coverage in the US.
Shadow Boost - The Shadow Plan for Everyone!
Shadow Boost is our most affordable offer yet! But don't be fooled, it's still gives you all the power you have come to expect from Shadow. With Shadow Boost you can play any game on the devices you own at high-quality settings, at a price point that is right for all gamers.
Shadow Boost comes with 256Gb of storage included, with the option to add additional storage. You can personalize your storage exactly as you need in increments of 256GB, up to 2TB.
Shadow Ultra - The Shadow Plan for the Next-Gen Gamer!
Shadow Ultra is the right subscription for gamers with a thirst for RTX games. Ultra comes with beefier specs, which allows you to play your favorite games on ultra settings with improved CPU speed and a better graphics card.
Shadow Ultra starts with 512GB of storage; a good size for any gamer who has a variety of demanding games or software, with the same option for additional storage.
Shadow Infinite - The Shadow Plan for the Uncompromising Gamer!
Shadow Infinite is our advanced plan for the gamer that also expects extreme multitasking performance. Infinite allows hardcore gamers to play their games the way they are truly meant to be played. Almost every game can be played on the highest graphics settings available. Infinite is the dream configuration for gamers who want everything.
Not only do you get an elite gaming PC with Infinite, but you also get a full Terabyte of storage to fill with anything you want. Similar to the other plans, you can upgrade your storage to an eye-watering 2Tb maximum.
We made Infinite give gamers everything they have ever wanted. We are proud to offer it.
The future of Shadow starts now
Expect to see big improvements to and from Shadow, and cloud gaming as a whole. You will be able to pick the performance you need to enjoy your favorite games the way they are meant to be played.
The new Shadow tiers aren't live yet. But don't worry, we are actively working to open pre-orders in the US as soon as we can! Don't forget to follow us on social media and on Discord so you won't miss the information once it's announced!
More ways to stream - New Shadow Apps for Android and iOS
Let's face it. There are 3 camps of gamers: PC gamers, console gamers and mobile gamers. Of these three, mobile gaming especially lacks blockbuster game titles, which can be found both on PC and console. Traditionally, gaming happens on the couch or at a desk, and a lot of mobile games lack depth and sort of behave like slot machines with a gameplay facade. Until now. 
At Shadow, we believe gamers should be able to play their favorite games anywhere and on any device. That's why we're completely rebuilding our host of Shadow apps so you can enjoy PC gaming on any screen. With our betas for Android and iOS, you'll get the best of Shadow in a simple app.
A completely overhauled interface to bring the best Shadow experience to Smartphones 

A brand new home screen, to display and launch your installed Steam games

Our first virtual gamepad, that lets you play your PC games without any further equipment
The first big overhaul is coming to the iOS App and the Android App for mobile and TV (all Apps in Beta). Our goal has always been to simplify using Shadow on any screen, and our team created a beautiful new interface that works for both experiences on small and big screens. 
With the new apps, you can control your Shadow using your favorite Bluetooth controller, and thanks to our new interface you can even start playing as quickly as you can turn on your TV. 
The Android TV app is available for our beta testing community starting on October 29th. So if you want to learn how our Beta Programs works, we invite you to check out one of our older articles!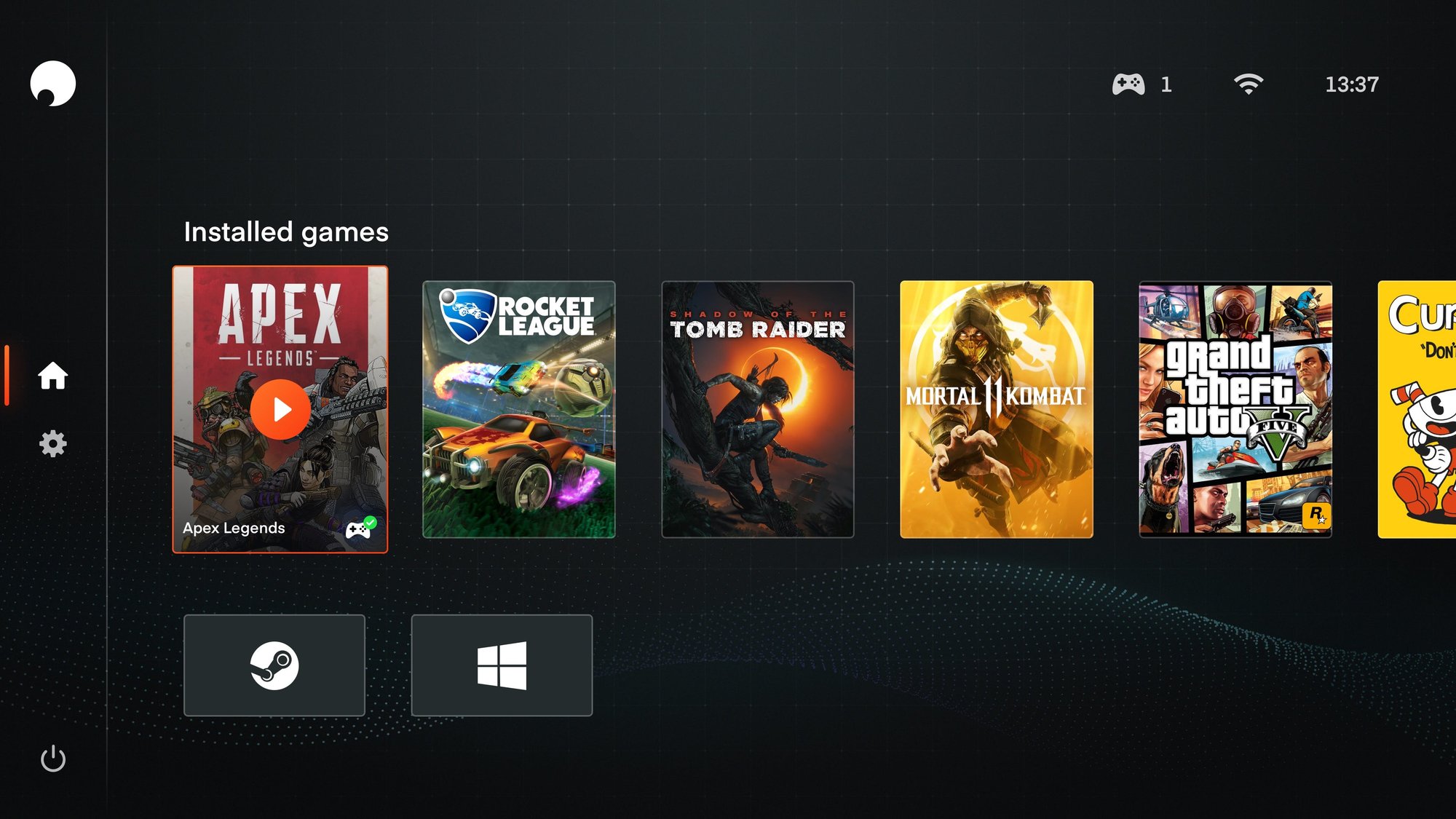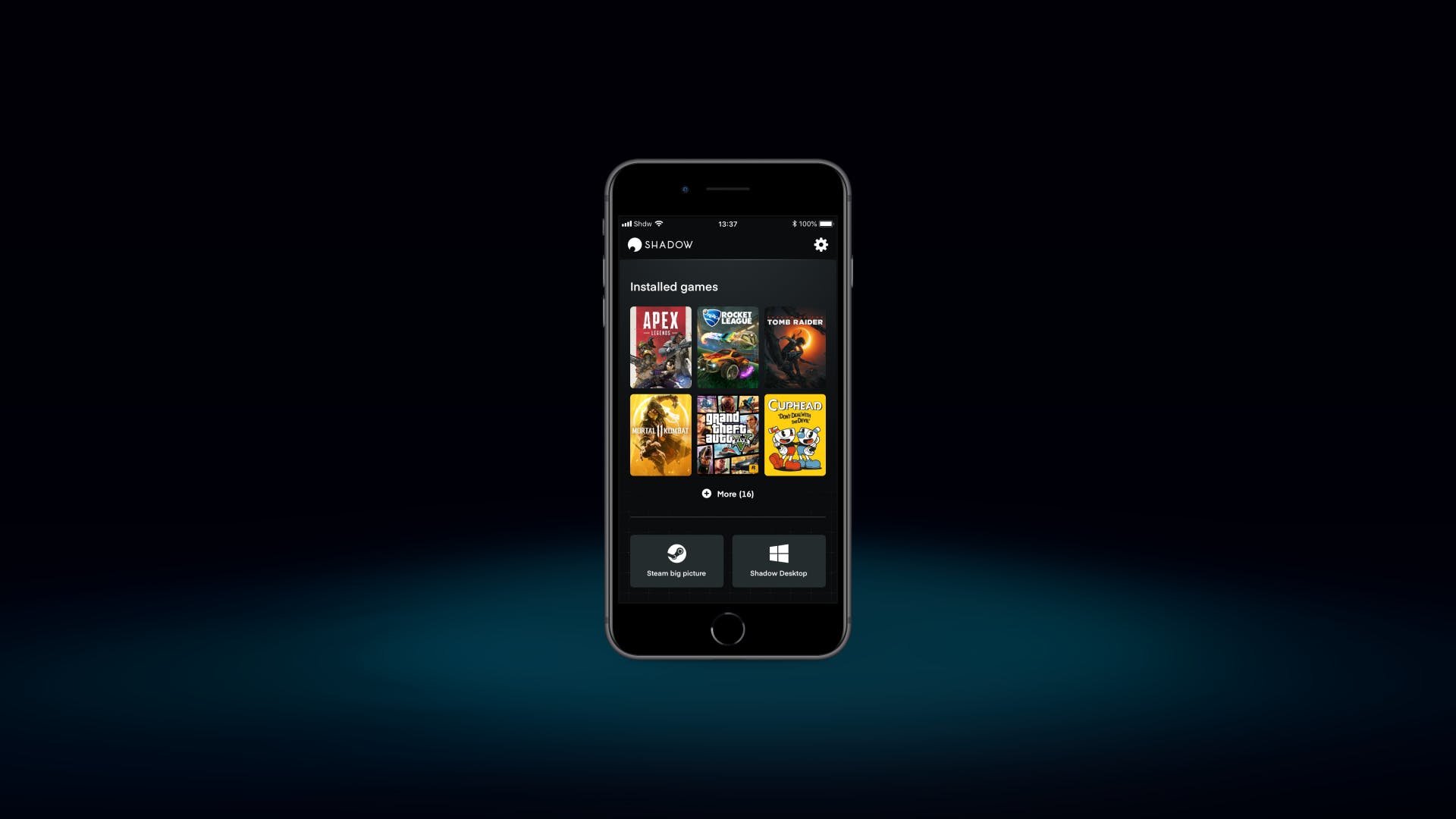 3 years ago, we were less than 10 employees and only known by our own families (hi, mom!). Today, we are more than 200 and we introduced Shadow to a whole generation of gamers in 8 countries. 
But now, a new wave of growth is coming for Shadow. To be fully prepared and manage this expansion phase, we are pleased to welcome Jérôme Arnaud as our new CEO! As a former CEO of an international tech company, we trust him to help us make Shadow known worldwide. As an early investor in Shadow, we know him and he knows us pretty well.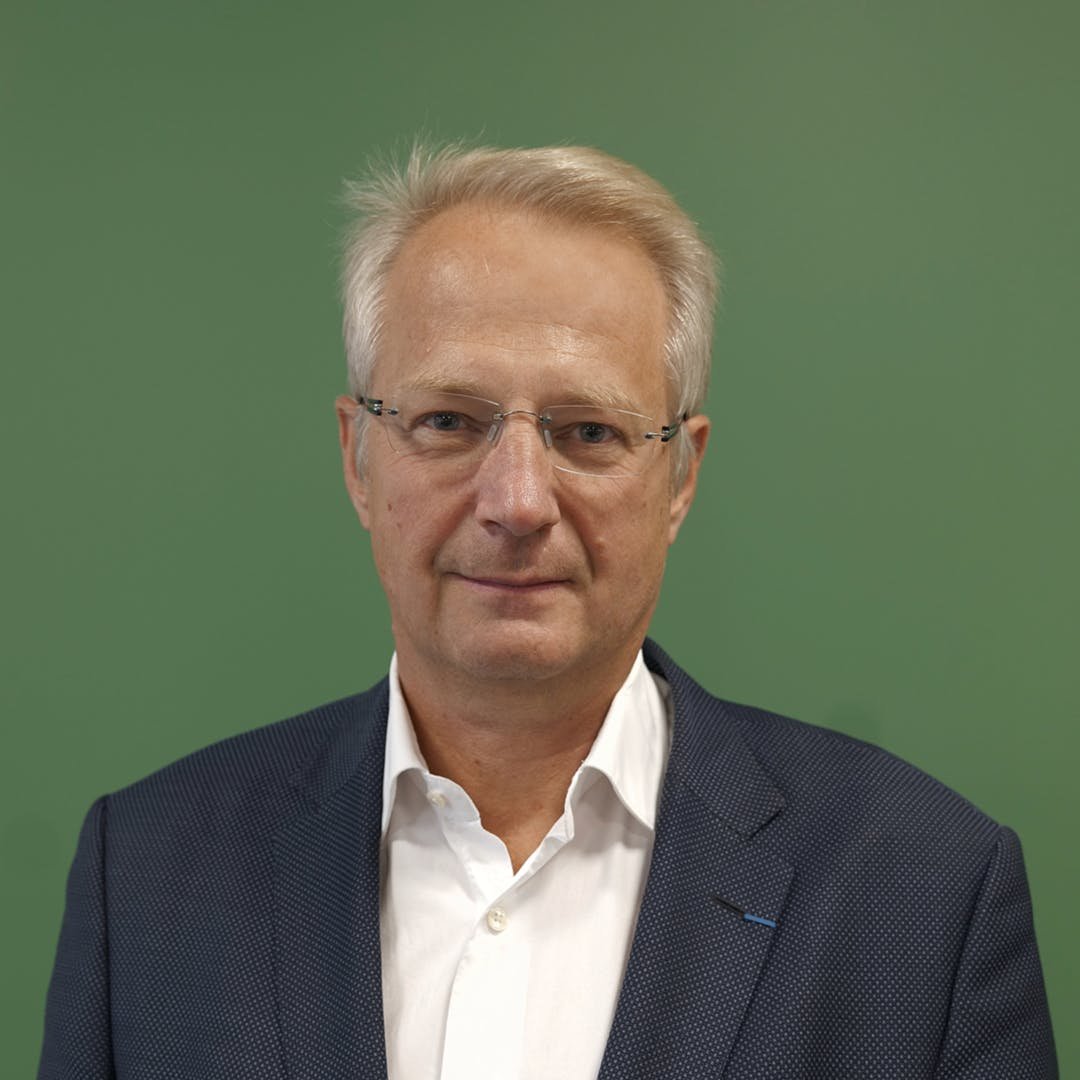 He plans to take our founders shared vision to the next level, while working closely with them. 
Our mission? Reinvent gaming and remove hardware as a barrier to play our favorite games. 
Prior experience: check ✓
Trust factor: check ✓
Final decision: approved ✓ 
Oh, and one last thing. Our R&D team has been working hard on perfecting VR on Shadow and we gave the press a demonstration at our event. Since virtual reality is hard to put in words we will have more information as soon as VR is ready for all our users. 
Want to learn more? Sign up for our newsletter if you want to stay informed about the latest news regarding Shadow!