Summary:
The new Shadow referral program is a simple, easy way to help your friends join Shadow while also lowering the price of your Shadow subscription. A classical Win-Win situation.
So what's in it for you when you refer Shadow to a friend?
For every friend you refer, you get $1 off of your monthly fee up to your full monthly fee, as long as your friends maintain their Shadow subscription. With enough referrals, you can even get Shadow for free.
For example, if you're subscribed to the yearly Boost plan at $11.99/month and refer 15 people to Shadow, you pay no monthly dues as long as your 12 friends have an active subscription. So you better play more often with them.
Amazing right? 
But even if you don't reach the number of referrals to completely wave your fee, every additional referral saves you $1 off your plan for the lifetime of your friends' membership.
There's no limit to the number of people you can refer. However, once you reach enough referrals to waive your fee, you are not able to accumulate additional credits for future invoices. Referral discounts are active only in the current month.
What brings the referral Program for my Friends?
Your friends will be able to save $5 off of their first bill... and even more on the following ones if they end up referring other friends, just like you!
How do I track my referrals?
On your account page, you will soon find a display showing the number of referrals you have in real-time. Our devs are busy working on it and we will let you know as soon as the Referral Tracking is available via our Shadow newsletter - subscribe here.
If you're looking for your referral code you can find it on your account page, as shown below.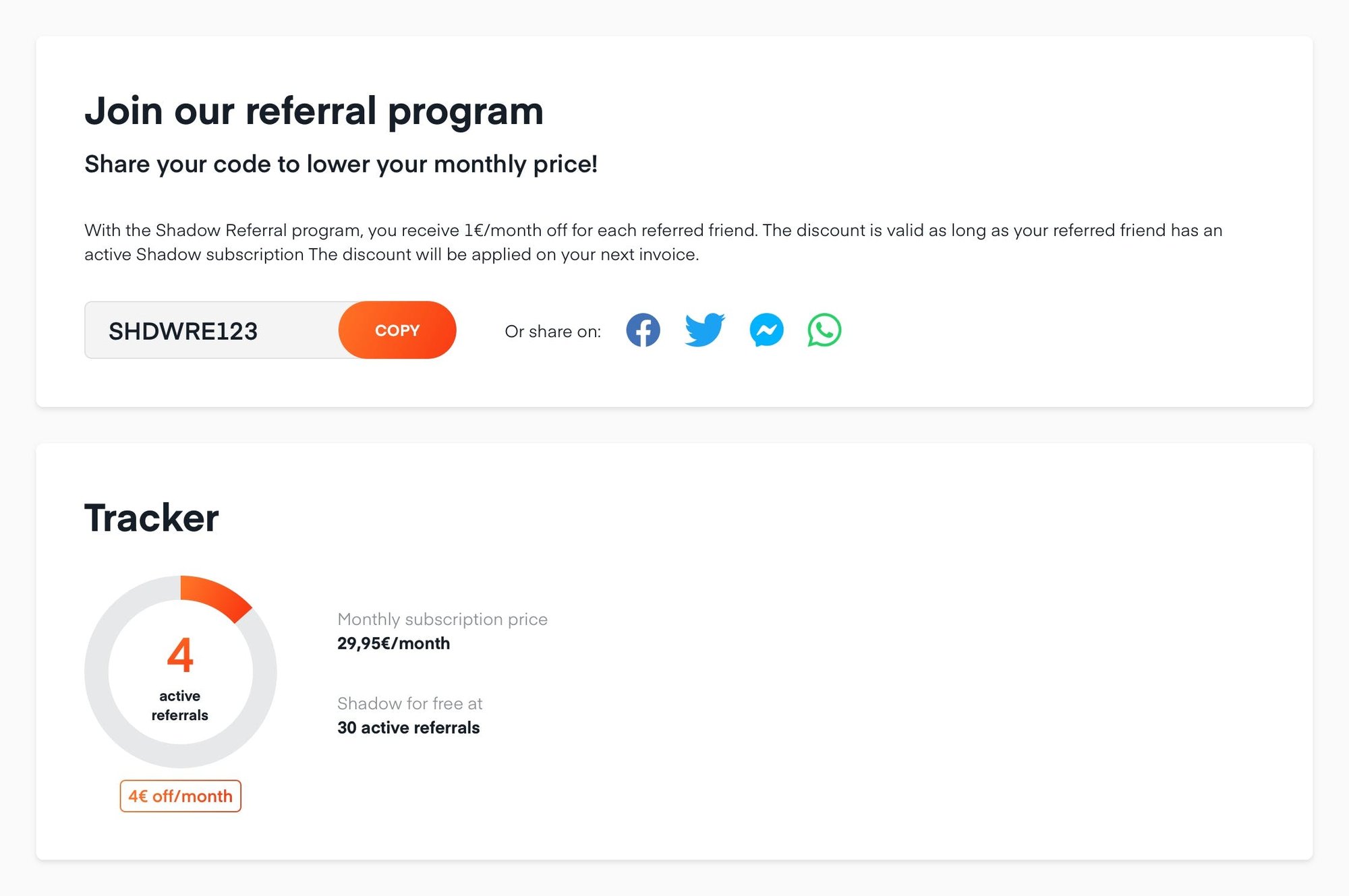 Acceptable use of the referral program
We released the new referral program in good faith and expect the same from our Shadow Community in return. Please note that we may withhold rewards where we believe members are acting in bad faith. 
Below are a few examples of what is ok and what you should rethink!
Okay use of the Shadow referral Program:
Direct sharing of your code through email, social media, messaging

YouTube Channels

Fan Websites

Informative websites: Reviews, etc.

Social media sharing
Not Okay use of the Shadow referral Program:
Advertising

Spam

Misleading content 

Paying or offering incentives to use your link - for this you should join our Affiliate Program!
What happens to my previous referrals?
The previous Shadow referral program ends on October 29th, 2019. The referral credit you have already earned will be preserved, but the new referral program will take over. 
If you still have rewards that you unlocked but you didn't claimed, you will have until November 13th to redeem them. So don't forget.
Can I get Shadow for Free?
With the new Shadow referral program and enough referrals, you can get any plan for free and have more friends to play with.