With our VR Exploration Program underway, we thought it would be great if we brought you updates on the program and how it is going. The program is important to us because it represents our whole vision of what we are trying to accomplish. We constantly want to push past "what is" into "what could be." There is no "can't" simply a "not yet," and if we want to truly embody that, then we must take care of each one of our ambitious passion projects. And with that, we introduce… the VR Explorer Log!
The VR Explorer Log will keep you informed (hopefully biweekly - cross our fingers) on:
The process

What has been happening so far

Things to come
So, let's get started with… well, how the program started. :)
Okay, so applications opened March 12th (2020 of course), which closed March 22nd (again, 2020). Shadow received approximately 600 unique applications during that time, which is obviously insane!
After we received our enormous pool of applications, we decided we needed a second round of evaluation. We emailed the narrowed down pool of potential candidates for the next round of evaluation, which we received 51 responses too. 
Then we had to really go into dissection mode. And we literally went through each and every one. 'Cause we love y'all - and they were actually amazing responses. After meticulous deliberation, drumroll please… dum dum dum dum dum (is that the sound a drum makes?)... we have our 17 Shadow VR Exploration Program candidates!
Before getting into the program itself, we wanted to highlight a few of our favorite submissions we received!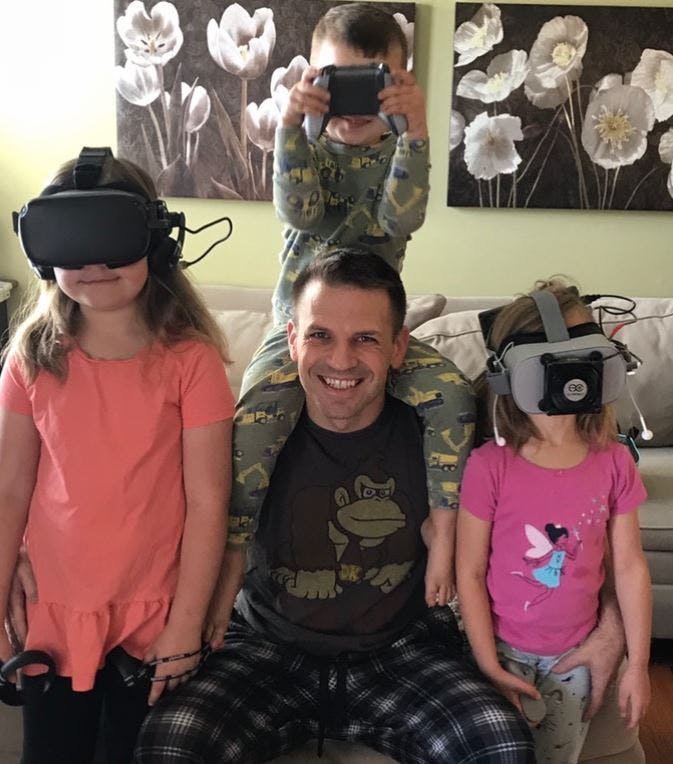 Once selected, the Shadow VR Explorers were invited to join a (super) secret room in Discord!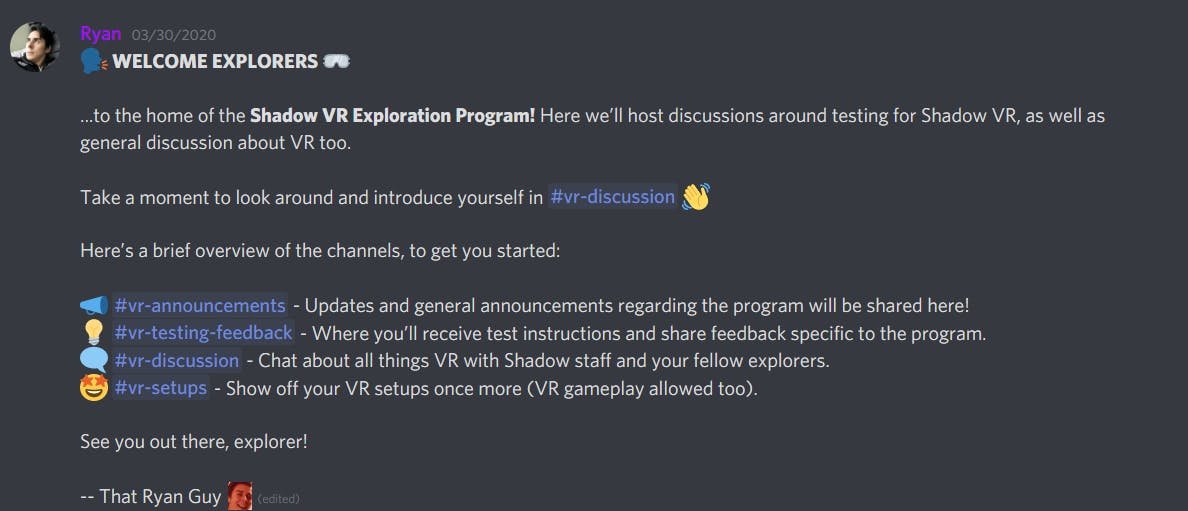 This is where all the magic happens - aka discussion regarding the program. Here we have everything setup for a smooth test-feedback flow, including:
Announcements used by devs to announce new builds and features (communication is key!)

Testing-feedback for specific testing done based on the newest build

VR-discussion for general conversations

VR-feature requests for structured requests on features to implement that could improve the product

VR-setups for the testers to share their current setups :)
Each participant was required to sign an NDA, provided by Shadow specifically for testing VR. For reference, an NDA is a non-disclosure agreement, in which the party requested to sign cannot disclose information they learn regarding a company. So, why an NDA? Don't worry, it's a very common practice.  The NDA here is needed because we are giving our participants access to features currently in development, before they are ready for launch. The NDA is to make sure information isn't released before things are ready. We are excited to inform you of updates as they are successfully complete development!
Following their compliance with the NDA request, they were provided the rules (via Trello board) for the program:
You do not talk about Shadow VR Program

You do not talk about Shadow VR Program (you are under NDA - this is why)

Use the associated Discord channels to discuss with your fellow testers and Shadow devs

Share as much feedback with the devs as you can, especially when new versions are released

Actually you can talk about your impressions about VR on Shadow (but Brad Pitt won't like it)

What you can't do is talk about the discussions with the devs (no screenshots please) or share the files provided by the Shadow team

Use your test VM only for Shadow VR program related tests

Do not spoil Half-Life: Alyx storyline (that's not cool)
To give you a highlight of what this all looks like in real-time, we took some screenshots of our amazing participants in action: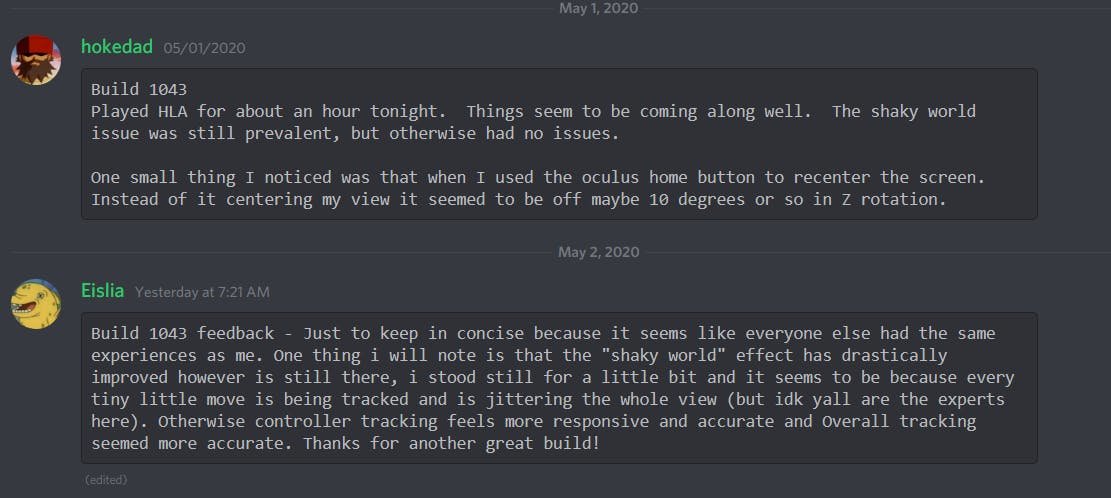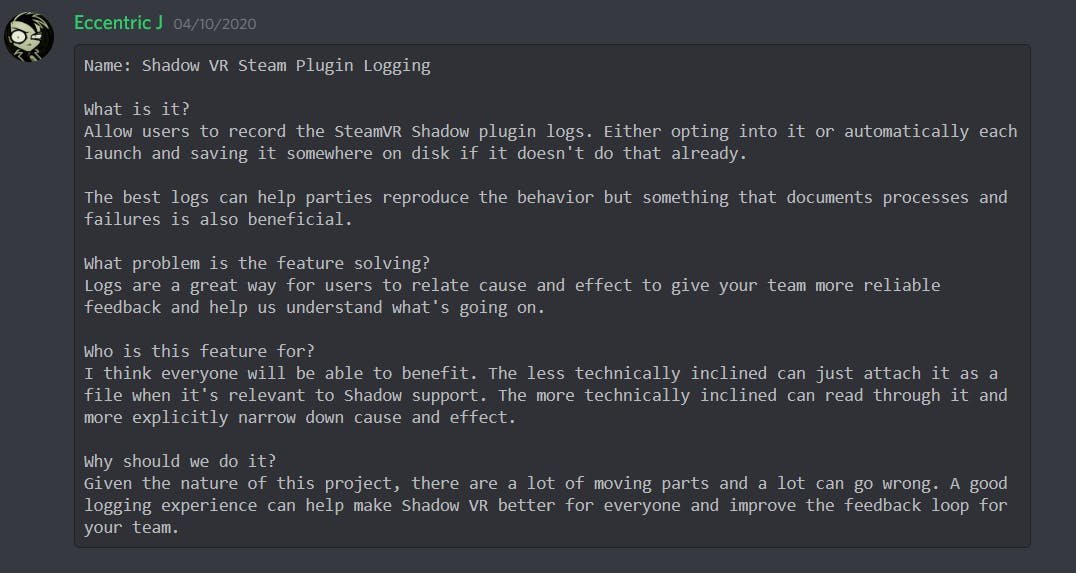 As you can see, our participants (and Shadow project leaders - we didn't forget about you!) are working hard, and having a blast it would seem, to make sure this program is on it's way. We wanted to thank our explorers (that's what we call them - explorers) for all they are doing to help the future of Shadow. But we have only just begun! 
Our devs are currently working to implement so many of the feedback items our participants have provided, including: 
App user experience improvements

A proper debug log system

Improved tracking
Lastly, we will be highlighting some of our amazing VR Program participants, so keep at eye out for our "Meet the Explorers" blog article to see just who is helping make this program a success!