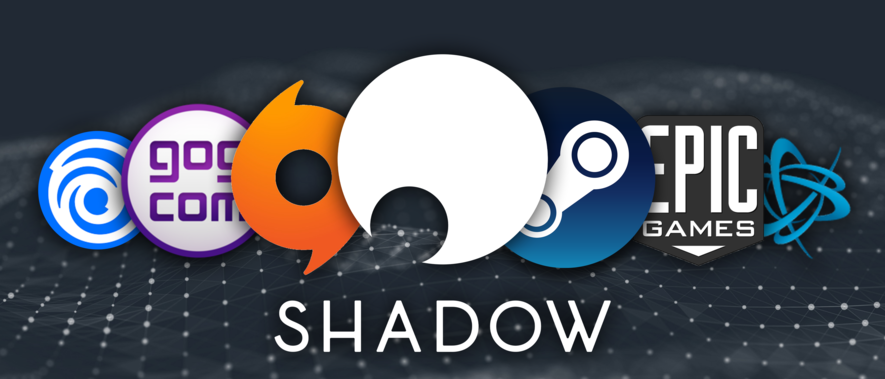 The Six Best Game Launchers for Shadow
PC Game launchers and game recommendations
Now that you've gotten yourself a shiny new Shadow Subscription, you're gonna need some games. Game launchers are the best place to pick up new games.
Besides the legendary Steam sales, there are plenty of other launchers that provide countless hours of PC gaming. Once you read our post on the best launchers, you'll never miss a sale and have more games to play on Shadow than you know what to do with.
Below are our favorite launchers, polled from a handful of Shadow employees who love gaming as much as they love Nutella -- and that's a lot of love. The list is in no specific order, and you have probably seen at least one of these launchers before. We want this post to introduce you to a new launcher that could become a new favorite, or at the minimum you'll learn about a few features to make your favorite game launchers even better. We also twisted some arms and put together three Shadow-employee recommended games for each launcher that we think everyone should experience.
1. Steam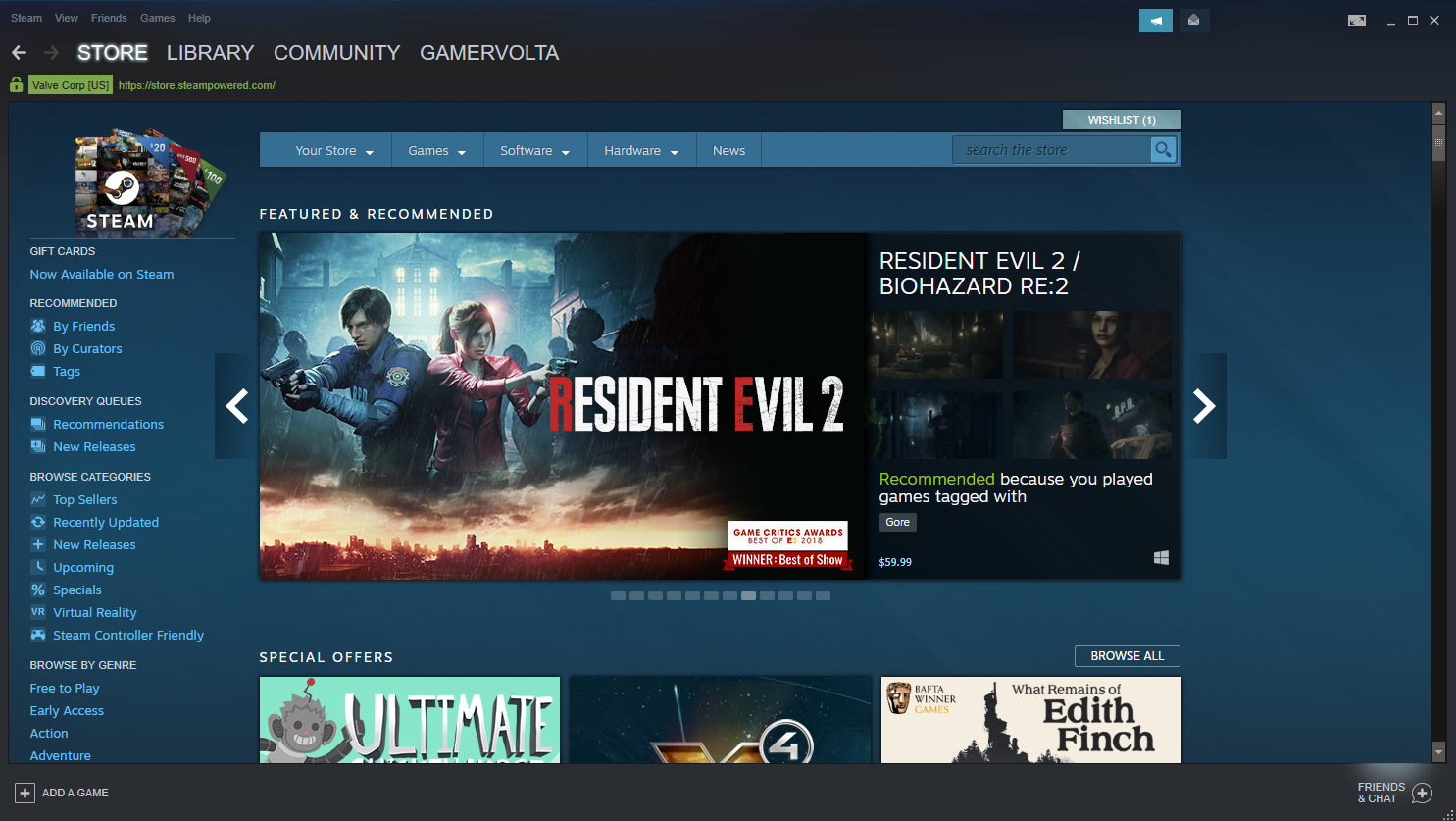 Chances are Steam has, on at least one occasion, put a dent in your wallet during a seasonal sale in exchange for dozens of games. At Shadow, Steam sales have become an office-wide event, usually resulting in a cash-spending panic.
Steam has roughly 30,000 games, from indie games like Kerbal Space Program to AAA titles like Dark Souls; the epitome of controller throwing. Steam provides users with exclusive deals, game updates, the ability to gift games to friends, and a light social network built into the platform.
Even though Steam is the biggest player in digital distribution, publishers like Activision, Electronic Arts, and Bethesda are slowly moving away from it in favor of their own clients. Regardless, Steam still boasts an impressive and massive selection of games including shooters, visual novels,  simulation and strategy games, and even psychological horror.
Steam has almost everything. So why even consider alternative options? Well, different game launchers have different games, pricing, and promotions. Having at least two or three other ones installed will almost guarantee you never miss a sale and  get access to a larger library of games at a lower cost or sometimes even get games for free.
3 Shadow-recommended games on Steam:
2. Epic Games Store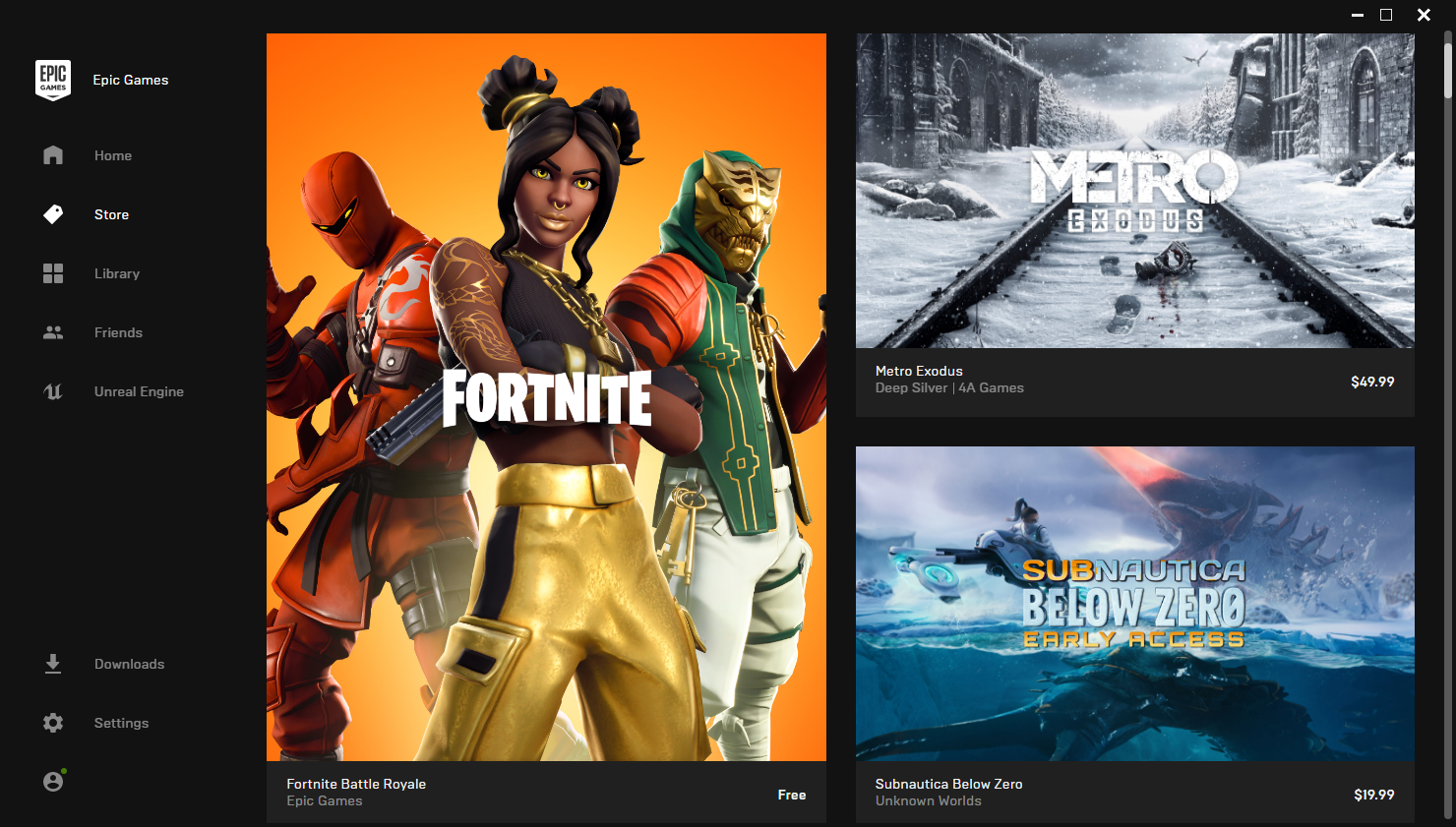 The Epic Games Store is the launcher behind Fortnite, the... epic-ally popular game teaching young kids all over the world to dance. And now the Epic Games Store is becoming popular with other publishers since they released a better revenue split model that allows publishers to keep more revenue made from game sales.
The Epic Games Store has a wide variety of games to select from including AAA titles and games from lesser-known publishers that offer a wonderful gaming experience, usually at a lower cost. The Epic Games Store also gives away a free game every two weeks, which is a nice bonus just for having it installed. As of this post, Epic is giving away the well-received adventure/puzzle game The Witness. Having the Epic Games Store in your selection of launchers is a guaranteed way to play high-quality titles for free; one of the reasons why we love it so much.
Another cool feature of the Epic Games Store is the focus on the Unreal Engine, one of the most popular game engines used in titles like PUBG, Sea of Thieves, and the upcoming Yoshi's Crafted World. Within the Epic Games Store is a tab for the Unreal Engine that includes training documents, tutorials, updates and of course, an option to install the engine for enthusiasts who want to transition into making their own games.
The Epic Games Store is one of our favorite game launchers and one we consider to be quite 'gamer friendly'.
3 Shadow-recommended games on the Epic game Launcher:
3. GOG Galaxy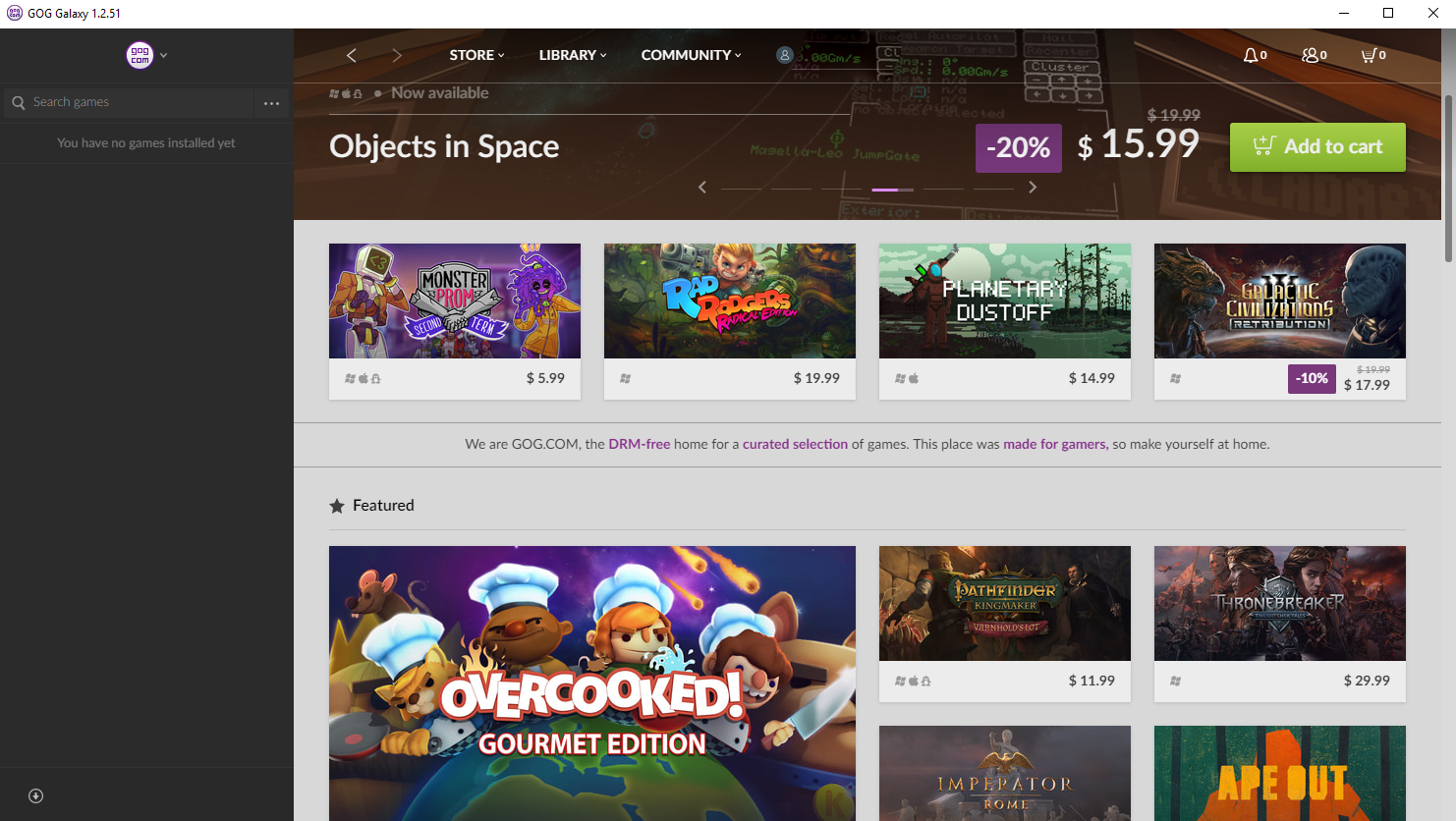 Good Old Games, stylized as GOG, brands itself as a platform dedicated to DRM (digital rights management)-free games. While GOG primarily focuses on its namesake, good old games, GOG also sells new games, with a focus on their parent-company CD Projekt Red's flagship series, The Witcher.
GOG began as a storefront, catering to old and difficult to find games. GOG sold games you might need a DOS emulator to run, back when downloading a 1 GB game was a three-day affair and your siblings making a phone call restarted the entire process. Since 2012, GOG has offered a wide selection of new indie games, and their own catalog of CD Projekt Red titles.
Like Steam, GOG has huge sales. Having GOG as a go-to game library guarantees you'll have more games then you have time by the end of every summer. We're most excited about playing their new title, Cyberpunk 2077, adapted from the good old game, Cyberpunk 2020. When Cyberpunk 2077 releases, you'll find most of the Shadow office calling out sick while playing the game on Shadow the way games are meant to be played.
3 Shadow-recommended games on GOG:
4. Itch.io Launcher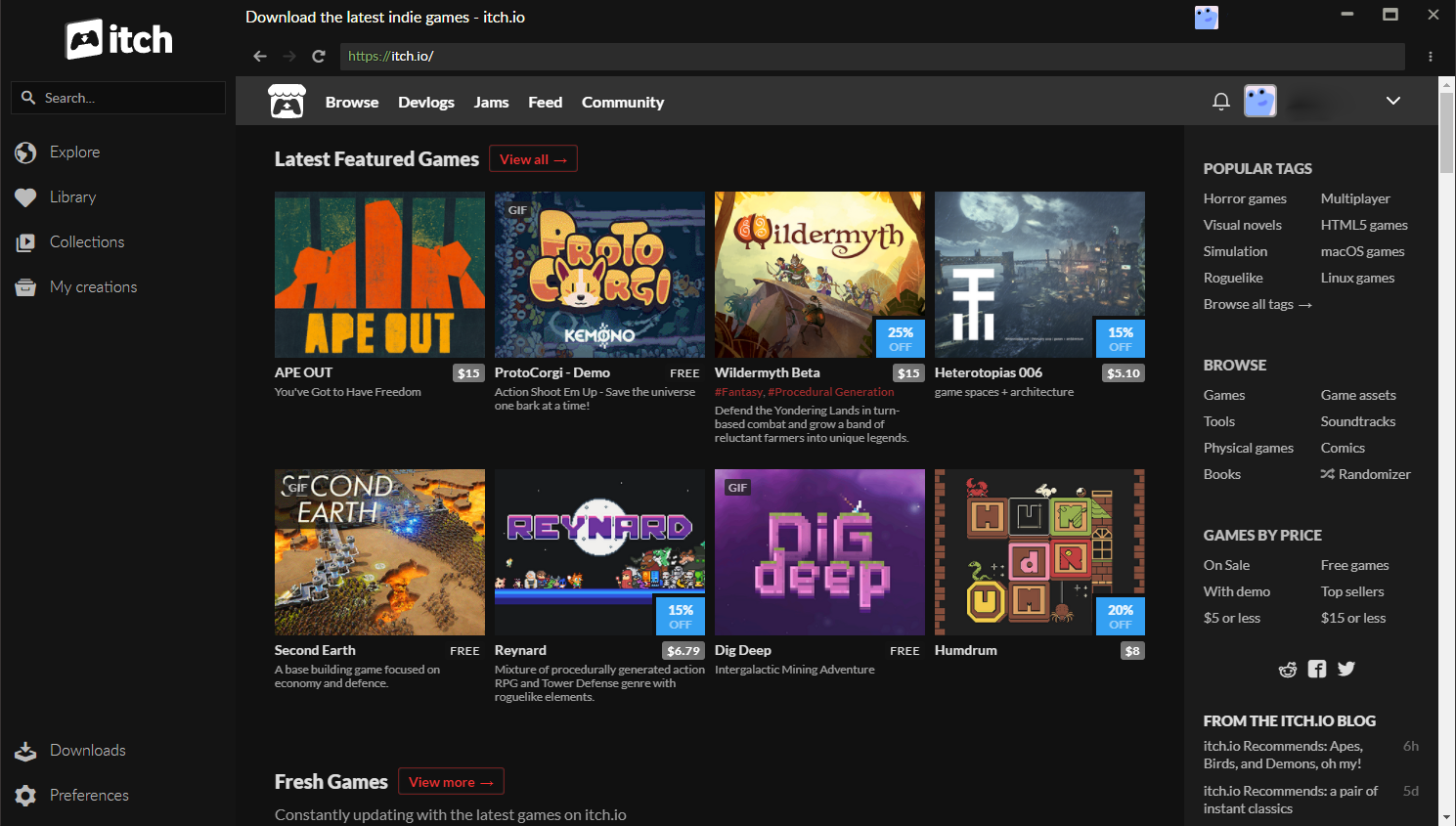 Itch.io is by far the most unique game launcher on this list, and possibly in the universe. It focuses on small, lesser-known indie games.
Itch features countless versions of small, quirky and fun games that can be experienced as quickly as they're downloaded. The Itch.io desktop client also helps manage all of your indie installs, either from the website or the launcher. The launcher features tags to help sort games and a community forum for further discussion. Many titles on Itch are free as well.
We recommend itch for gamers who tend to stray away from big, AAA titles in favor of smaller, lesser-known games. There are plenty of reasons to play indie games, especially when you want to jump into a game and can't afford sinking ten-hour sessions into a game on the weekend.
3 Shadow-recommended games on Itch:
5. Origin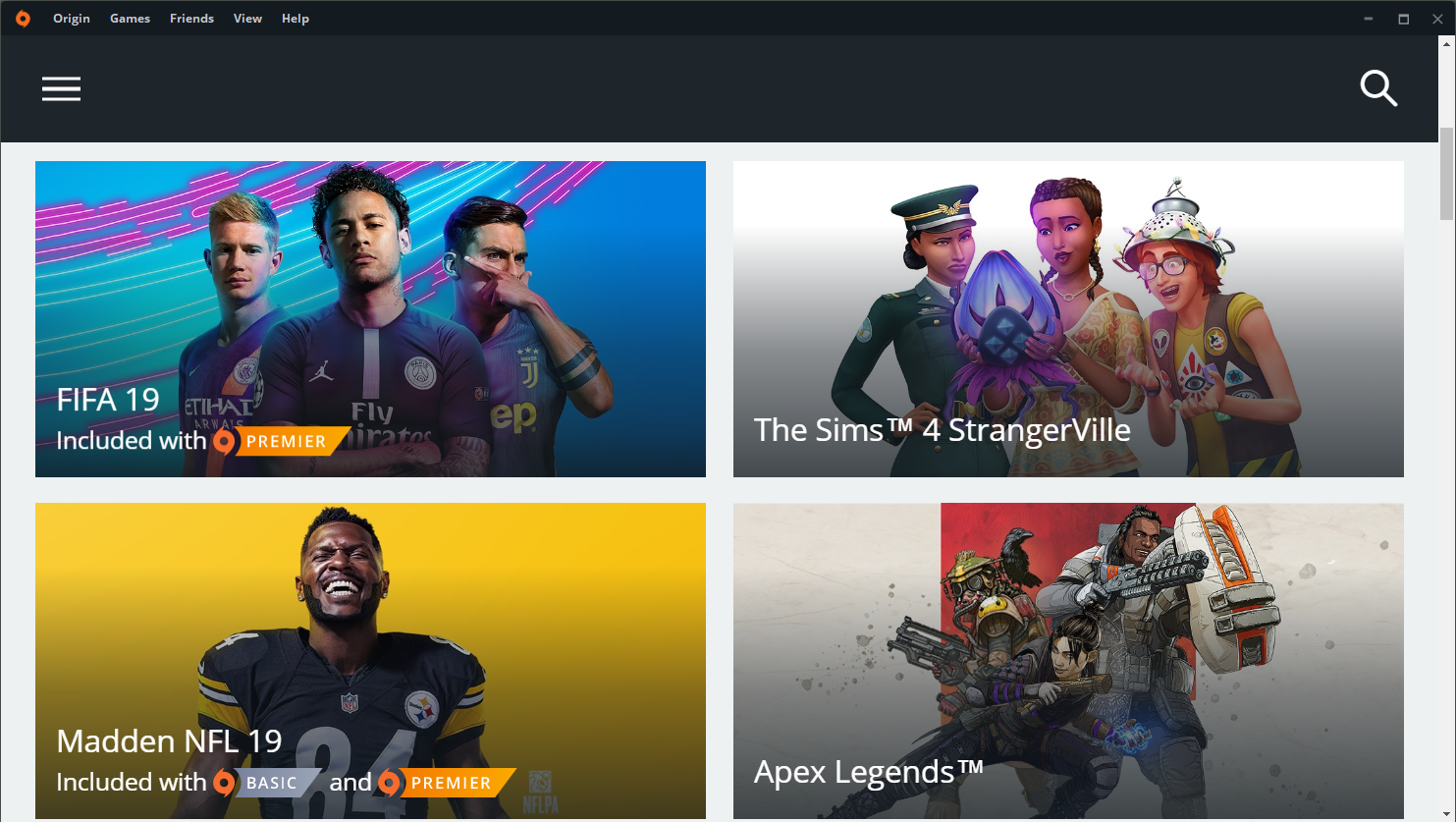 In order to download and play APEX Legends you need to go through Origin. Run by EA, Origin does an excellent job pushing their own titles, including a monthly service called Origin Access, which is similar to Xbox Game Pass and includes a selection of free & discounted games as long as you maintain your subscription.
Origin Access is a subscription game catalog offering two tiers of subscription: Basic & Premier. Both tiers grant you 10% off Origin games and a collection of games you can download anytime. The main difference between Premier and Basic, besides a higher price, is the access to in-game content for free. A service like Origin Access can be a great addition to your Shadow, with close to 200 games to download and play as you like.
Our favorite feature of Origin is Origin Access, which allows us to try games before we buy them, and play as election of games like the way you watch movies with Netflix.
3 Shadow-recommended games on Origin:
6. Windows Store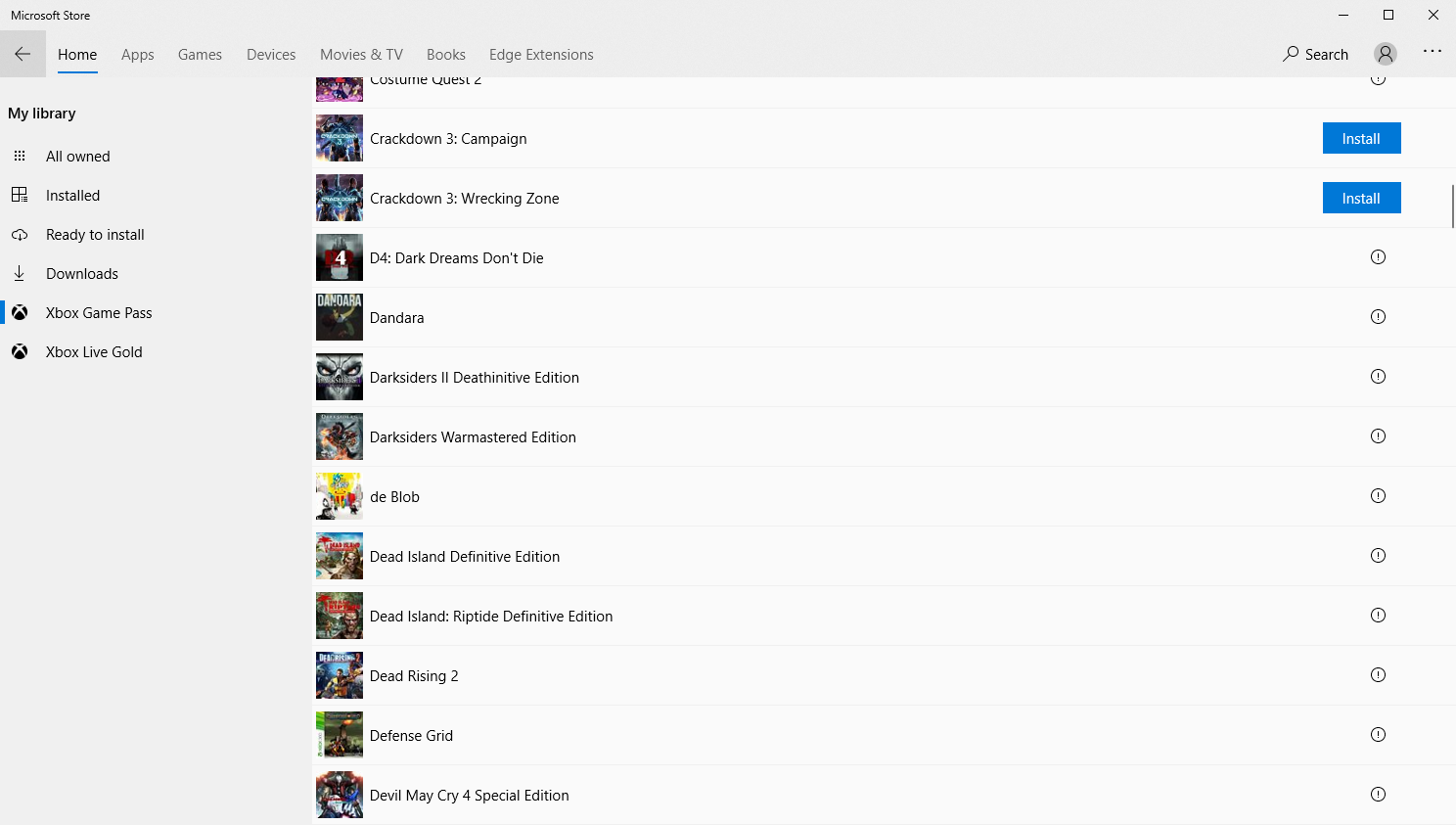 The Windows Store exists to play games published by Microsoft and use Xbox Game Pass, a $9.99 per month subscription service for unlimited use of specific games, much like Origin Access.
There are plenty of good Microsoft titles in the Windows Store, but it all depends on what you're looking for. The Windows Store blends full titles and also includes smaller, mobile-focused games for casual gamers and full games made for Xbox. The Windows Store is best for gamers who are using Game Pass, already know what they want, and can search for the title, or for casual gamers looking for a less-hectic game experience, like playing Mahjong or Candy Crush.
3 Shadow-recommended games on Windows Store:
Wrapping it up
Did we forget any of your favorite game launchers that deserve to be on this list? Are there any game launchers you evangelize, but not many people know about? Let us know on our official Discord server.