A year ago, in March 2022, SHADOW and Bandai Namco Europe announced the continuation of their strategic partnership with the organization of the ELDEN RING game preview program from the cloud. Journalists and content creators were able to discover the game in a stable and secure cloud environment, thanks to the dozens of state-of-the-art virtual machines provided by SHADOW.
Today, we are releasing a video testimony from Wouter van Vugt, PR, Communications and Events Director for Bandai Namco Europe, that explains in more significant detail Bandai Namco's expectations and needs, and how SHADOW responded to them through its cloud services. The relationship between the two companies didn't start with ELDEN RING. As early as 2019 indeed, Shadow offered the publisher to test its technology on one of its titles. Bandai Namco did not hesitate for a second, as Wouter van Vugt explained: "The answer was obvious: I couldn't see myself inviting journalists from around the world to gather in one place to test our game. So why not bring the game where they are, no matter what device they want to test it on?"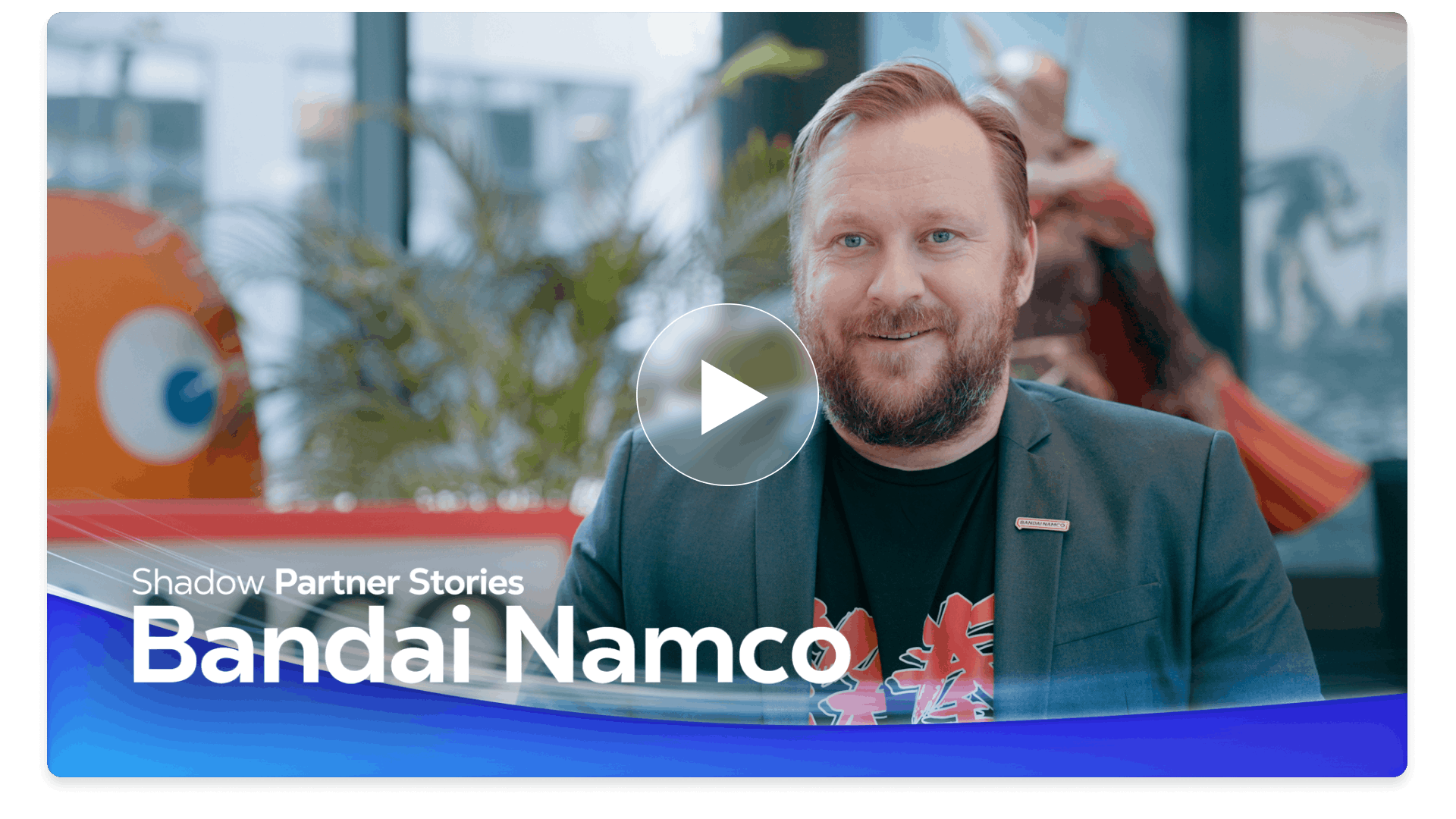 How COVID-19 accelerated this partnership
COVID-19 significantly accelerated the deployment and use of SHADOW services within Bandai Namco Europe. ELDEN RING was tested by over a hundred journalists in the EMEA region on Shadow PCs specially configured to host the game. Stability and flawless performance were essential to tackle the Dark Fantasy Action-RPG, whose creators are known for demanding gameplay where every second counts.
SHADOW configured and made available dozens of powerful virtual machines: "It was essential for us to know which media was playing and when they were playing, in order to ensure a direct relationship with journalists during the hands-on, to check how the test was going, if they had any questions, issues with the game, or simply needed help to progress in the Elden Ring story. We set the bar very high in terms of requirements and SHADOW perfectly met these expectations," added Wouter van Vugt.
Breaking free from technological barriers with the cloud
Journalists were able to benefit from a real gaming experience, at full power, without having to overcome the technological barriers that a physical PC running Elden Ring could require. Since then, the game has conquered the entire planet and has even been elected GOTY (Game of the Year). And this is just the beginning! 
SHADOW continues to work hand in hand with Bandai Namco to enrich its services. Wouter vanVugt explained, "Security is at the forefront of the new features we have asked SHADOW to work on. For example, the ability to watermark the in-game screen or to lock a certain number of settings on each virtual machine, remotely of course."
All of these features are now available to Bandai Namco for its tests and upcoming games. "This partnership is really here to stay. Unfortunately, I cannot go into details about the projects we are currently working on, but we have some surprises in store for you!" said Wouter van Vugt.
For those who want to learn more, meet us at the Game Developer Conference (GDC) in San Francisco from March 22-24, where SHADOW will present its new features dedicated to gaming professionals.
About SHADOW
At SHADOW, we strive to become the definitive cloud platform for businesses, gamers, and creatives, because we believe that cloud innovations have the potential to bring technological freedom to all. SHADOW delivers a state-of-the-art cloud-computing experience to consumers, via its original Shadow PC service, the first-ever high-end cloud PC, and to professionals via its Shadow Business Solutions. It also reinforced recently its Android-dedicated expertise via the acquisition of Genymobile, including leading products such as Genymotion. SHADOW now goes beyond by building a unique European cloud-based collaborative platform, with a first brick focused on storage, Shadow Drive. SHADOW has about 200 employees based in Europe and North America. Check our latest news on our blog. Check our job openings here.
About Bandai Namco Europe S.A.S.
Bandai Namco Europe S.A.S. is a leading global publisher and developer of entertainment content for platforms including, but not limited to, all major video game consoles and PC.
Bandai Namco Europe is producing intellectual property for a global audience and is building its reputation with franchises such as LITTLE NIGHTMARES™, PARK BEYOND™, and the upcoming UNKNOWN 9™ Awakening - developed by the recently acquired Reflector Entertainment based in Montreal, QC.
Bandai Namco Europe serves as the Headquarters of Bandai Namco Holdings Inc. for mainland Europe, which is known for creating and publishing many of the Toy & Entertainment industry's top franchises, including PAC-MAN™, TAMAGOTCHI™, GUNDAM™, TEKKEN™, DARK SOULS™ and the recently released ELDEN RING™.
For more information please visit www.bandainamcoent.eu
ELDEN RING™ & ©Bandai Namco Entertainment Inc. / ©2022 FromSoftware, Inc.