Paris, France - May 4th, 2023. SHADOW listens to its users and aims to offer configurations that meet their expectations as closely as possible. That's why, today, we are announcing several evolutions to all our offers, whether they are designed for gamers, creatives or professionals. Let's check them out, vertical by vertical.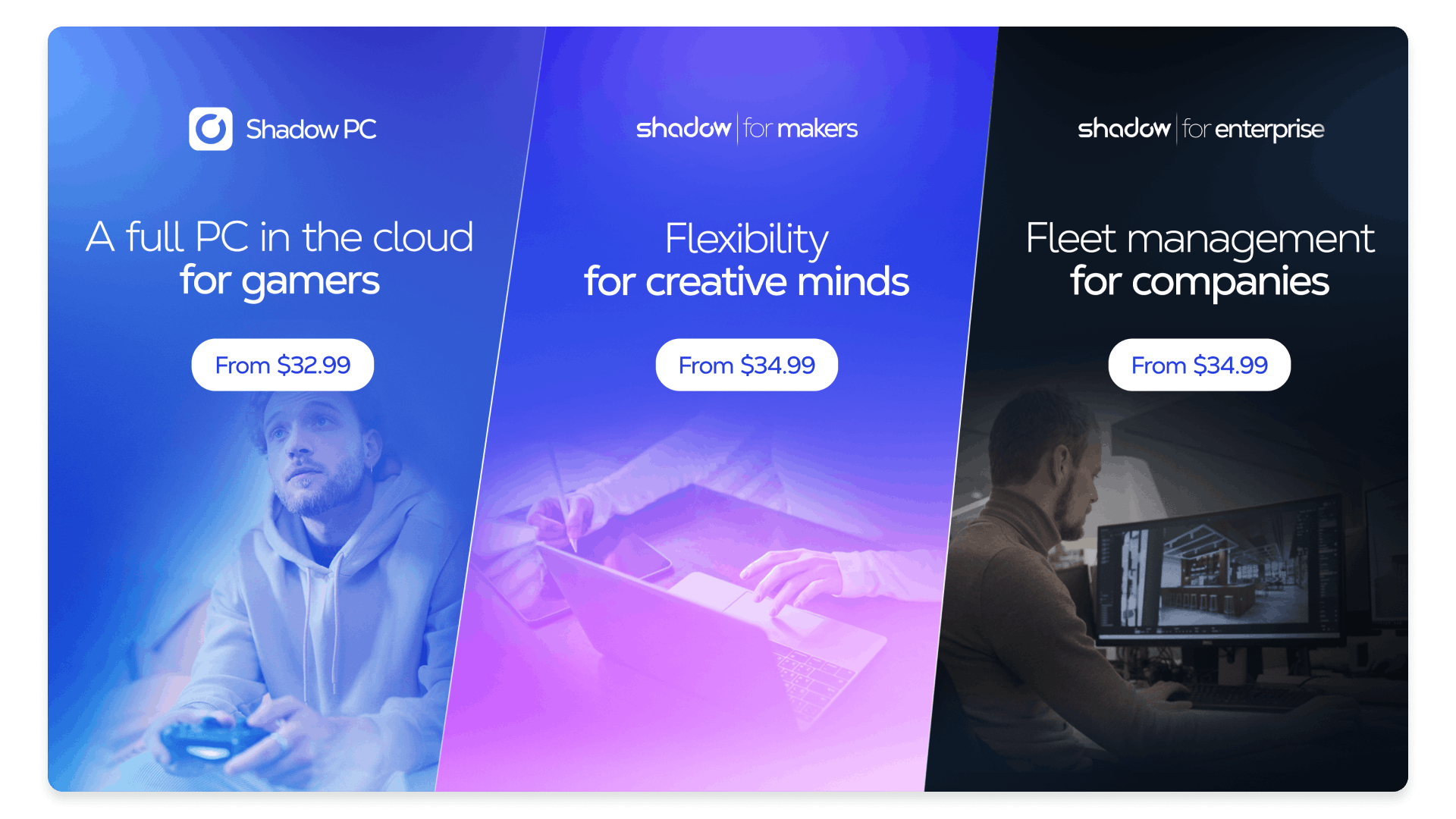 Shadow PC and its Power Upgrade evolve in North America
Our legacy offer, Shadow PC and its Power Upgrade, will now take advantage of more powerful configurations, with augmented RAM and storage. These offers are live beginning today, and only in North America for the time being.* These new offers provide twice as much primary storage, up to 512GB. Shadow PC's Power Upgrade has also received a RAM increase from 16GB to 28GB. All this for just a few additional dollars per month: the Shadow PC offer now costs $32.99 per month (previously $29.99), while the Power Upgrade now costs a total of $49.98 per month ($16.99 for the upgrade itself, previously $14.99).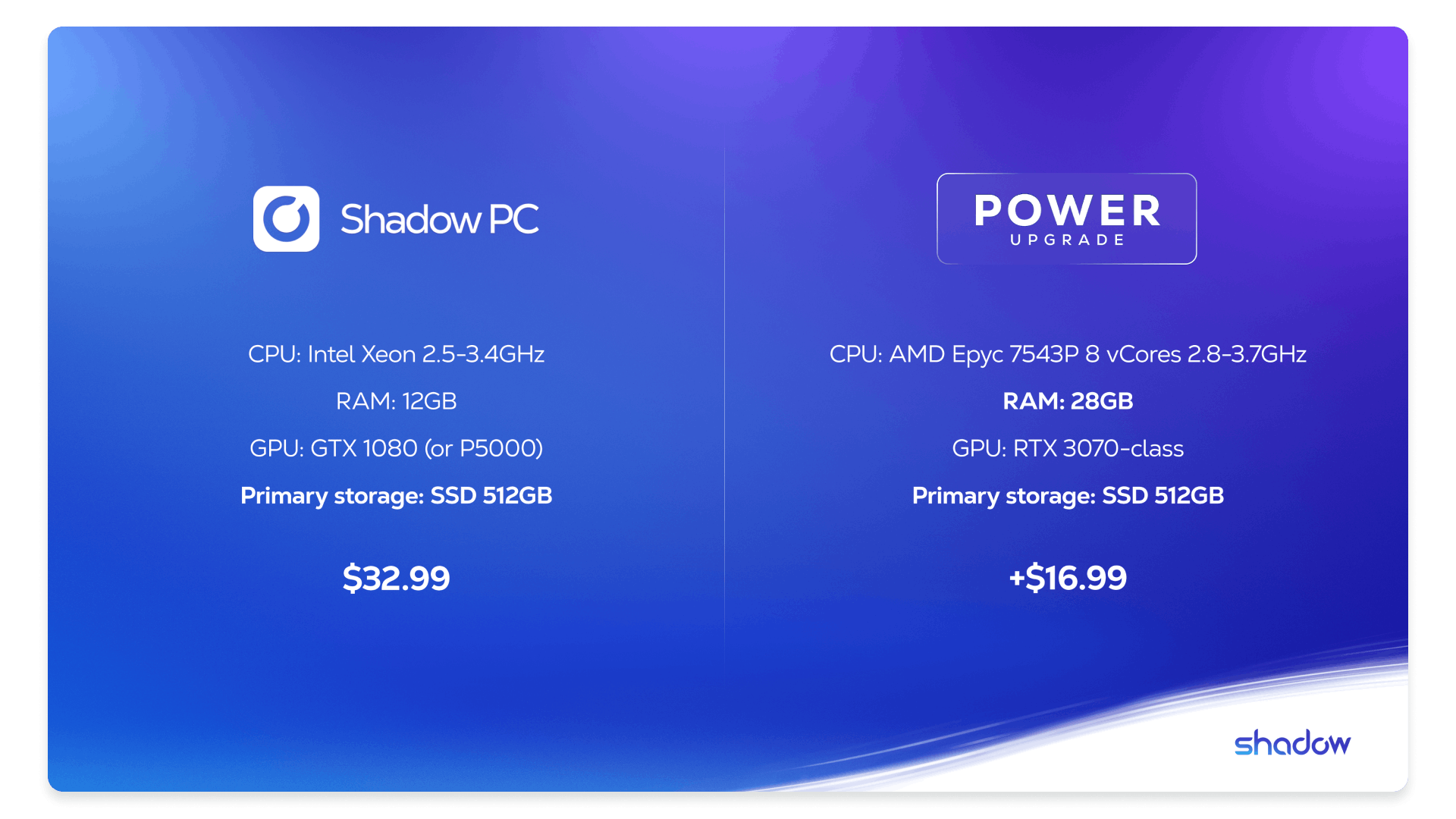 As of today, these new offers are replacing the previous Shadow PC and Power Upgrade offers in North America, and all new users in the US and Canada will automatically have access to them. Existing Shadow PC and Power Upgrade subscribers in the region will keep their existing plan, but will be able to upgrade in the coming weeks, should they want to. We will update our subscribers when plans are available for upgrade! Existing subscribers can indeed, of course, keep their current offers. They can also subscribe separately to up to 5TB of storage.
More RAM and more primary storage for Makers and Enterprise, too
To better meet creatives' and professionals' expectations, the Shadow for Makers and Shadow for Enterprise offers have been equally enriched, with some of the most affordable prices on the market, even in the midst of high GPU demand.
Our Shadow for Makers offers are aimed at individuals who need more power to build and create everything they need and want. Our more powerful offer, Zenith for Makers, evolves: it now displays 28 GB of RAM (16 GB before) with a new price of $54.99 per month. The Spark for Makers offers remained unchanged.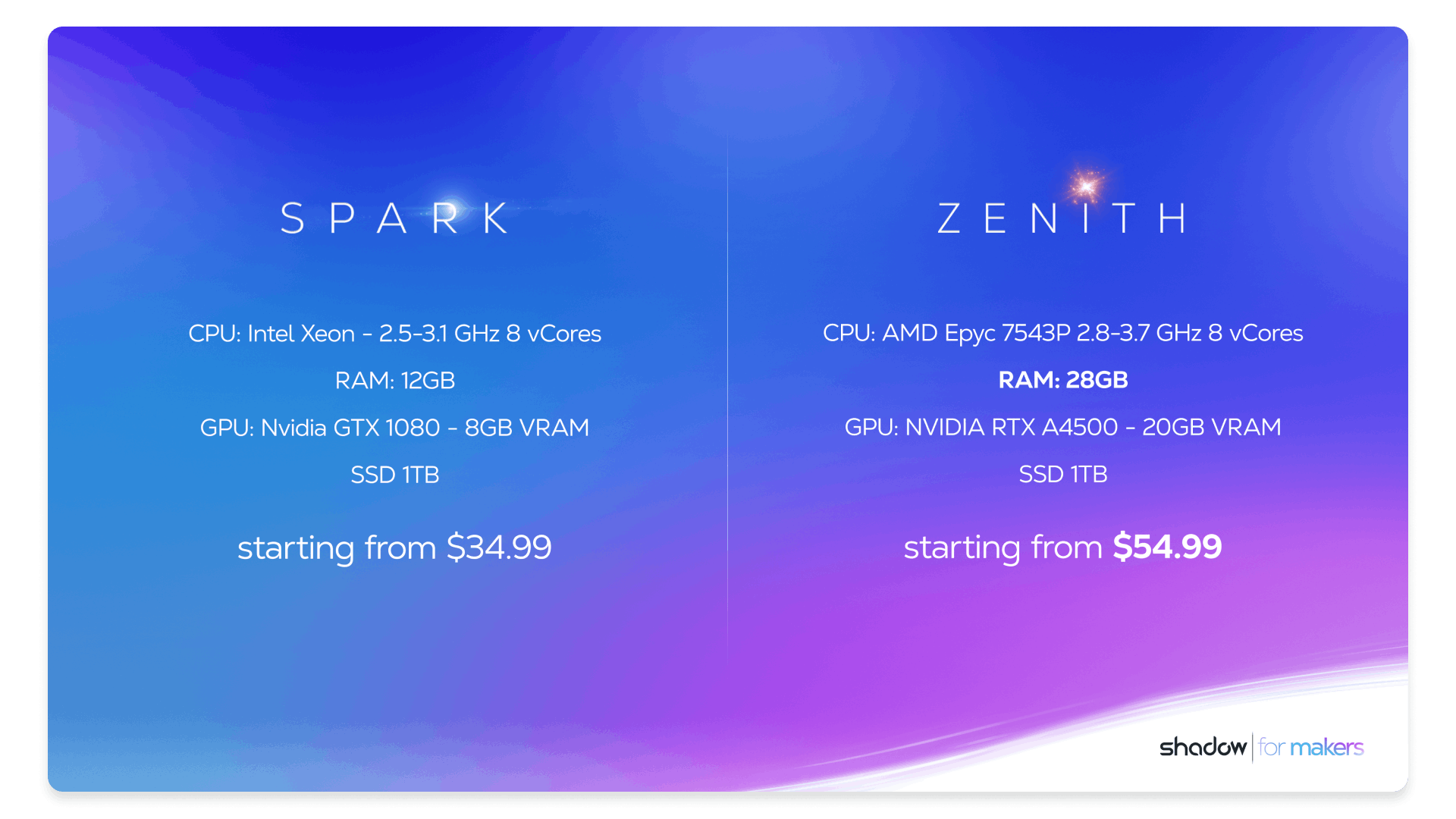 Our Shadow for Enterprise offerings will both benefit from improved specs - now 1TB SSD storage and Zenith for Enterprise now packing up to 28 GB of RAM - and a general price decrease. See all details below: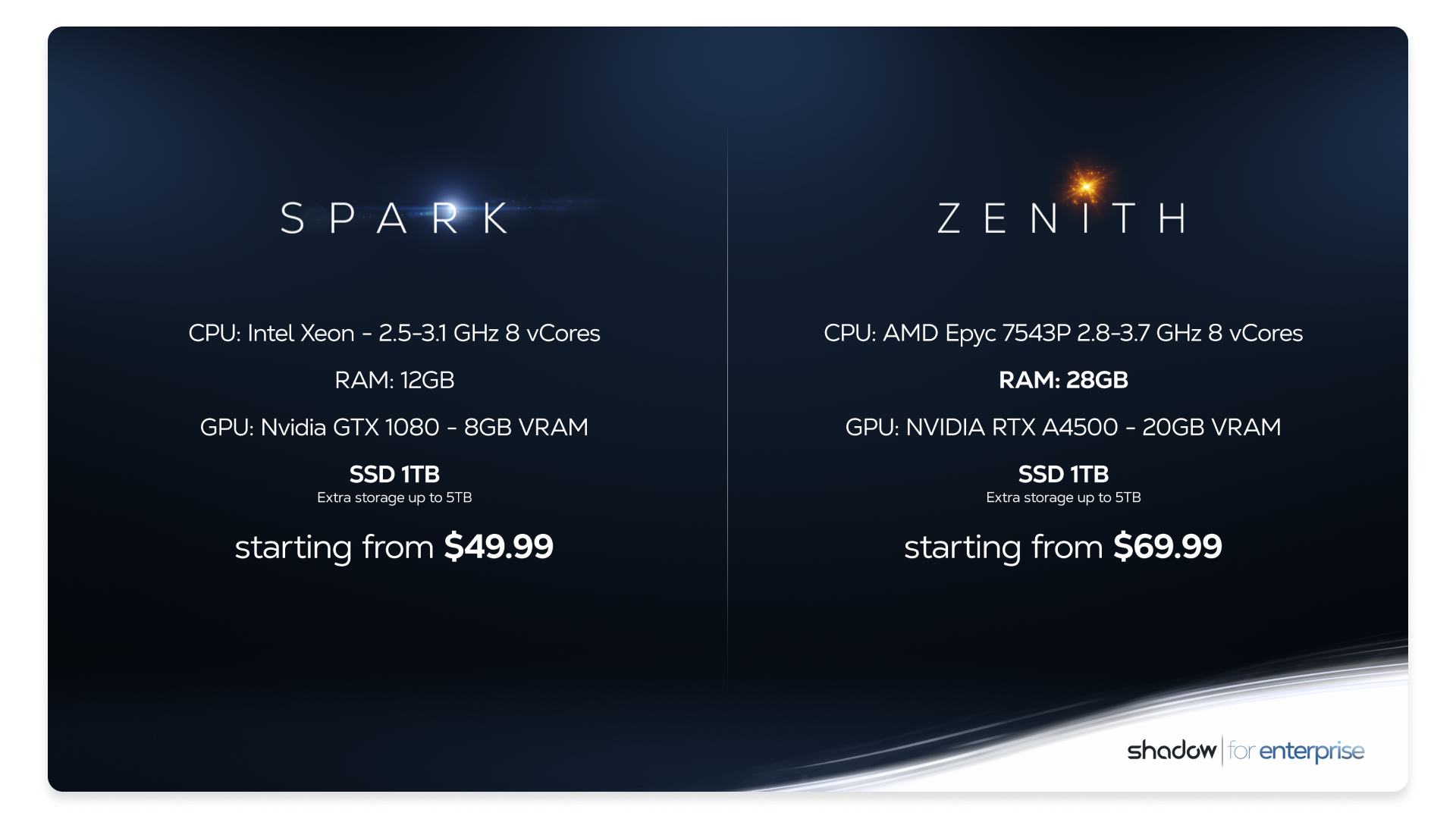 Shadow for Enterprise prices excluding taxes and Windows license
These rates do not include a Windows license, as Shadow for Enterprise subscribers can bring their own licenses. SHADOW can also provide a Windows 10E license for customers requesting it, for an additional cost of $15 per month, per machine.
In addition, a setup fee of $29 for each new Shadow PC for Makers or Shadow PC for Enterprise created within each plan are applied.
The Shadow for Makers and Shadow for Enterprise new plans are replacing the pre-existing ones, available to all new subscribers. Current Shadow for Makers subscribers will not be automatically moved to these new plans, but will be able to upgrade in the coming weeks. Existing Shadow for Enterprise customers will be contacted by our teams to detail the modalities of the migration towards the new offers.
Shadow for Makers and Shadow for Enterprise users can still subscribe to extra storage up to 5TB.
In a nutshell, despite inflation and the overall increase in cloud market rates, SHADOW maintains attractive and affordable prices, while providing improved performance and specs.
All of these offers are currently available in our shop.
*New offers are available only in North America due to storage limitations in our European data centers for the moment