More than five years ago, we founded Shadow with the crazy ambition to change the way the world uses computers to work and play. Since then, we've continued to pioneer and innovate, guided by our community and mission to make high-end computing accessible to all.
Today, we are pleased to announce a new offer that will stay true to our mission, and lay the foundation to propel Shadow to new, unforeseen heights. 
Why are we introducing a new offer? 
Over the years, we thrived in many ways - but being at the forefront of this computing revolution also comes with its unknowns and challenges. 
We found ourselves financially exposed with an unsustainable business model. Large operating costs and investments were not well aligned to our price point, inevitably dragging the company down to a cash strapped halt. 
With the risk of Shadow ceasing to exist, hubiC's takeover of Blade breathed a new life into the company. This new chapter gives us the privilege to start on new, sturdy financial grounds, so we can continue to provide you with the best damn cloud computing service out there. 
But in order to do so, and ensure you can use Shadow for years to come, we are introducing a new offer, with an adjusted price plan, that will pave the way for Shadow to reach profitability. 
With this new change, you can expect Shadow to progress and evolve much faster. This is our commitment to a healthy, long term future that will accelerate all sides of our business. 
The new offer: what is it?
We're keeping things simple. There will now be one base offer called, "Shadow" - crazy, right? 
As first announced on Shadow News, the new pricing plan will be simple, too. Starting June 25, 2021, Shadow's price will be readjusted to a $29.99 month-to-month plan, giving you the flexibility to cancel at any time.  
With this new plan in place, it will set us on the right track to cover the costs of our investments, operations and development, so we can  grow a healthy business - and more importantly, allow you to continue gaming to your heart's content.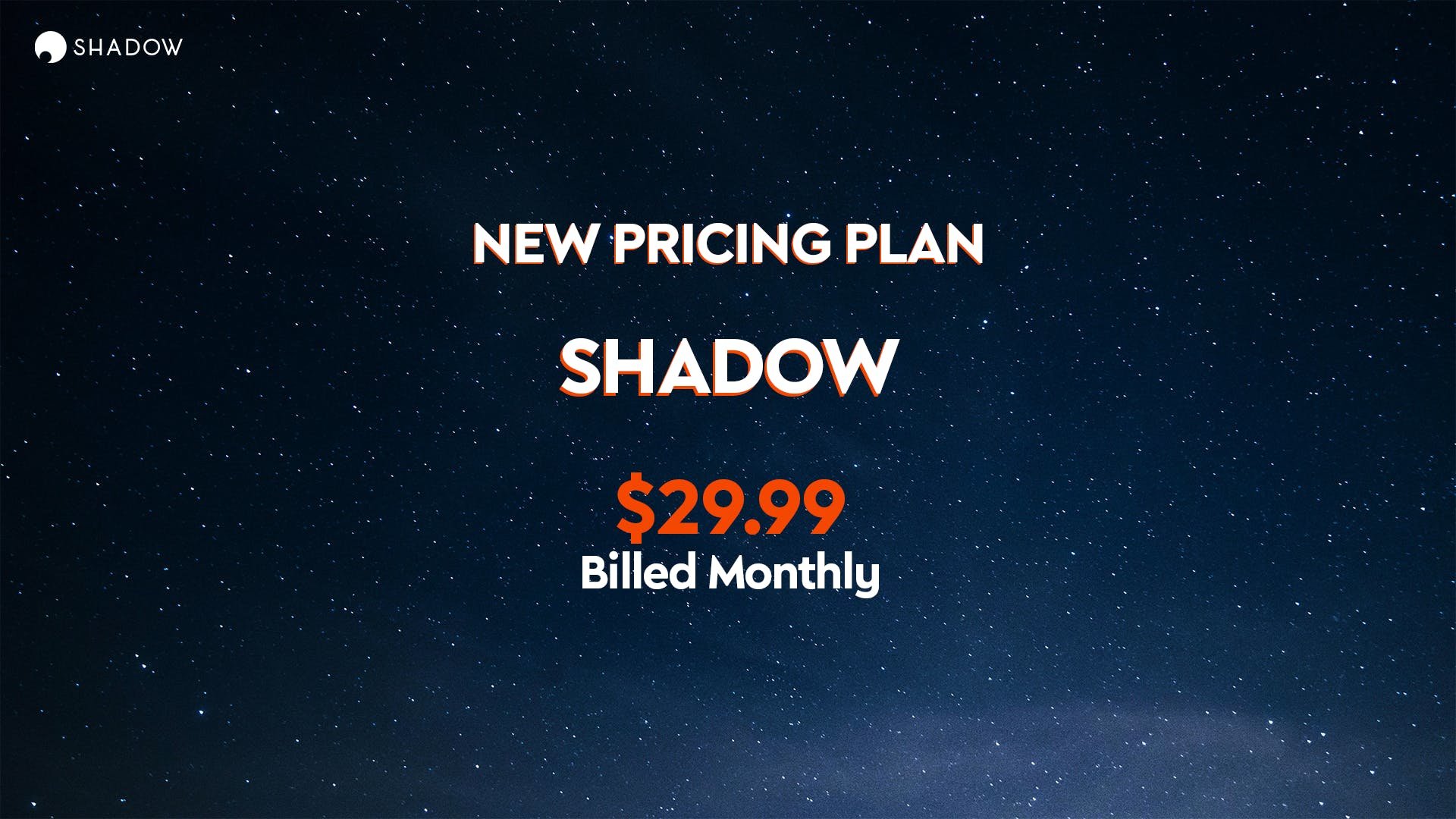 Of course, we are carefully listening to our community to continually enhance the Shadow experience. New hardware, additional features, among other improvements, are on the top of our list as we transition to this new offer.
This is a huge leap forward for us in all dimensions, and we firmly believe you will enjoy the new flexibility of your Shadow so you can continue to game for years to come.  
Stay tuned, we'll be back soon with more information. 
Q: What happens to Shadow Boost?
Shadow Boost as a name will be sunset. In its place we will offer you Shadow, which will feature a standard configuration.
You can expect the new Shadow configuration to be improved regularly with highly sought-after features, as well as new hardware upgrades thanks to our new partnership with OVH Cloud. 
Q: I pre-ordered Shadow Boost, when will I receive Shadow and for what price?
At this time we have paused all activations in order to properly map out how and where to distribute the machines. 
As soon as we have a clear plan in place, we will resume activations and expect a much faster pace than before thanks to our new partnership with OVH Cloud.
The new price for Shadow will be $29.99.
Q: I have a yearly/monthly contract, what's the impact? 
By reintroducing Shadow, we will remove all commitments. This means that you will be free to cancel your subscription at any time moving forward. 
You will receive multiple emails to notify you about the new pricing plan. It will outline step-by-step instructions on how to cancel your subscription if you decide to leave Shadow.
Q: Will there be additional costs with the new Shadow subscription?
The price for the new Shadow plan is fixed at $29.99 and will feature regular feature improvements and upgrades to always give you the best cloud PC experience possible.
Q: What will additional storage cost?
The cost for additional storage will remain the same ($2.99 per month) for each add-on of 256 GB
Q: When will we receive the new hardware and features of the new plan?
Double screen, 4:4:4 improved coloring, and a new authentication system are planned to be released this summer. 
We will announce more details about hardware upgrades later this year. This includes upgrades to the Shadow base offer, as well as hardware you will be able to power-up with via your customer account.
Q: Will sales remain open? 
Yes, you will be able to continue to purchase Shadow. Activation delays will vary depending on your location.
Q: Will the referral program change?
Not for now.