When Blade became Shadow, we made a few announcements. One of them was to put in place ways to guarantee you a better service experience. In order to achieve that, we must finalize our new industrial implementations. 
As a result, we will be migrating a number of users to new hosting centers.
In this context, the continuity of the service may not be able to guarantee the transfer of the data of all our basic customers.
Rest assured that we have considered all the possibilities to avoid this and wish a limited impact on the reset requirements for some.
This also means that Shadow accounts currently hosted on previous datacenters will have to be migrated to the new ones. Ok, but who is affected by this? What does it mean? And, oh, wait? There are €23,000 in prizes to win? How come? 
Just read this article to learn everything you need to know on the topic!
CLICK HERE TO PARTICIPATE IN THE OPERATION REBOOT
When?
This will happen in the upcoming weeks, we will email the affected users prior to the migration.
Who?
Shadowers from the New York, Santa Clara, and Amsterdam datacenters will be migrated to new data centers.
To determine if your Shadow is impacted by this migration, you can check out our status page.
How?
This migration will impact your Shadow. We know it's not a fun process, this is why we came up with the Operation Reboot to make things easier and more enjoyable. We're hoping that you will like the initiative! 
CLICK HERE TO PARTICIPATE IN THE OPERATION REBOOT
Operation Reboot, or how to win cool stuff!
How will the migration impact your Shadow? There are two options that you can choose from: 
Option Operation Reboot (quick and fun): We factory reset your Shadow, and in exchange, you're entered in our Operation Reboot. 
This factory reset, will wipe all the data on your Shadow and restore it to its default software state. This option will greatly speed up your migration process (if you don't choose this option, you won't have access to your Shadow during hours/days - will explain more about it below).
You will be notified prior to the reset, and when your Shadow is up and running again.
Ok, but what is the Operation Reboot? It's a chance to win from more than $23,000 in prizes. 
What are the prizes in this good-looking loot box? 
1 year of free Shadow subscription (50 winners will be picked).

1 4K UHD 50" TV

$50 Steam gift cards (100 winners will be picked)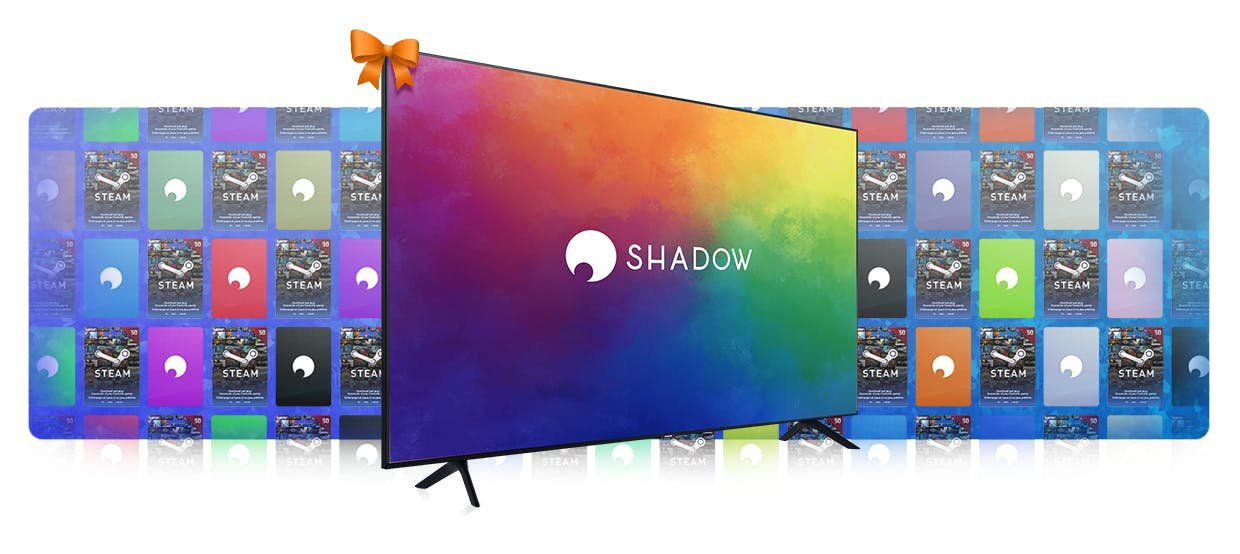 Sounds amazing, right? To sign up for the Operation Reboot (and accept having your Shadow rebooted), just click here! 
But this isn't the only thing you can get! If you're not much of a player, you can also decide to accept the factory reset, in exchange for a $5 discount on next month's bill!
I WANT A FACTORY RESET AND $5 OFF OF MY NEXT BILL
This is really the option we encourage you to take, as it will make things much easier for us and faster for everyone! We hope this incentive speaks to you, and we wish you all the best of luck :) 
Option Long and Not so Fun: If you choose not to factory reset your Shadow, then we will automatically migrate you to the new data center with, hopefully, all of your data intact. Your Shadow will be unavailable for a period of a few hours to a few days, this is an automatic process, so we cannot say how long the process will take for each Shadow. Also, please note that there is a risk that we may have to still erase your data, as we are limited in time to make these migrations, and that as much as we are doing our best, it might still be a possibility. Of course, we won't erase your data without warning you prior to that.
I DON'T WANT TO PARTICIPATE AND WISH TO KEEP MY DATA
You will be notified by email with more information regarding when the migration period will start and end.
–
Whether you decide to factory reset your Shadow or not, we highly recommend backing up any data you might need from your Shadow.
We want to make the experience of migrating to a new data center for everyone to be as smooth as possible, which is why we have these two different options for you. 
To end this article, we would like to remind you, once again, that we really encourage you to pick the Fast and Fun option! Also, please accept our sincere apologies, as we are truly sorry for the inconvenience these migrations are bringing. Participating in our Operation Reboot will not only make the entire migrating process of your Shadow easier for us, but also faster for you. So if you participate in it, THANK YOU! You have our eternal love and recognition <3 And if you don't, well, we still love you :) 
Wishing everyone the best of luck!