Back in May, SHADOW announced Shadow Business Solutions, a range of cloud-based services building upon the company's technological expertise and designed specifically for professionals and companies. Shadow Business Solutions is composed of innovative and flexible professional cloud-based services that will get enriched over time. And the time for an update has come!
Shadow Business Solutions provides powerful Professional PCs in the cloud that can be accessed from various devices and operating systems (Windows, Mac, Linux) depending on your location (office, home, on the move). All configurations are equipped with a Professional Windows License, a dedicated GPU, SSD storage and an additional HDD storage that can be increased in size.
Overall, Shadow Business Solutions can address dozens of different B2B usage, from creatives to game developers, teachers to architects. You can discover some of them by checking our Client Testimonial video including Bandai Namco Europe, SNCF or PCA-STREAM: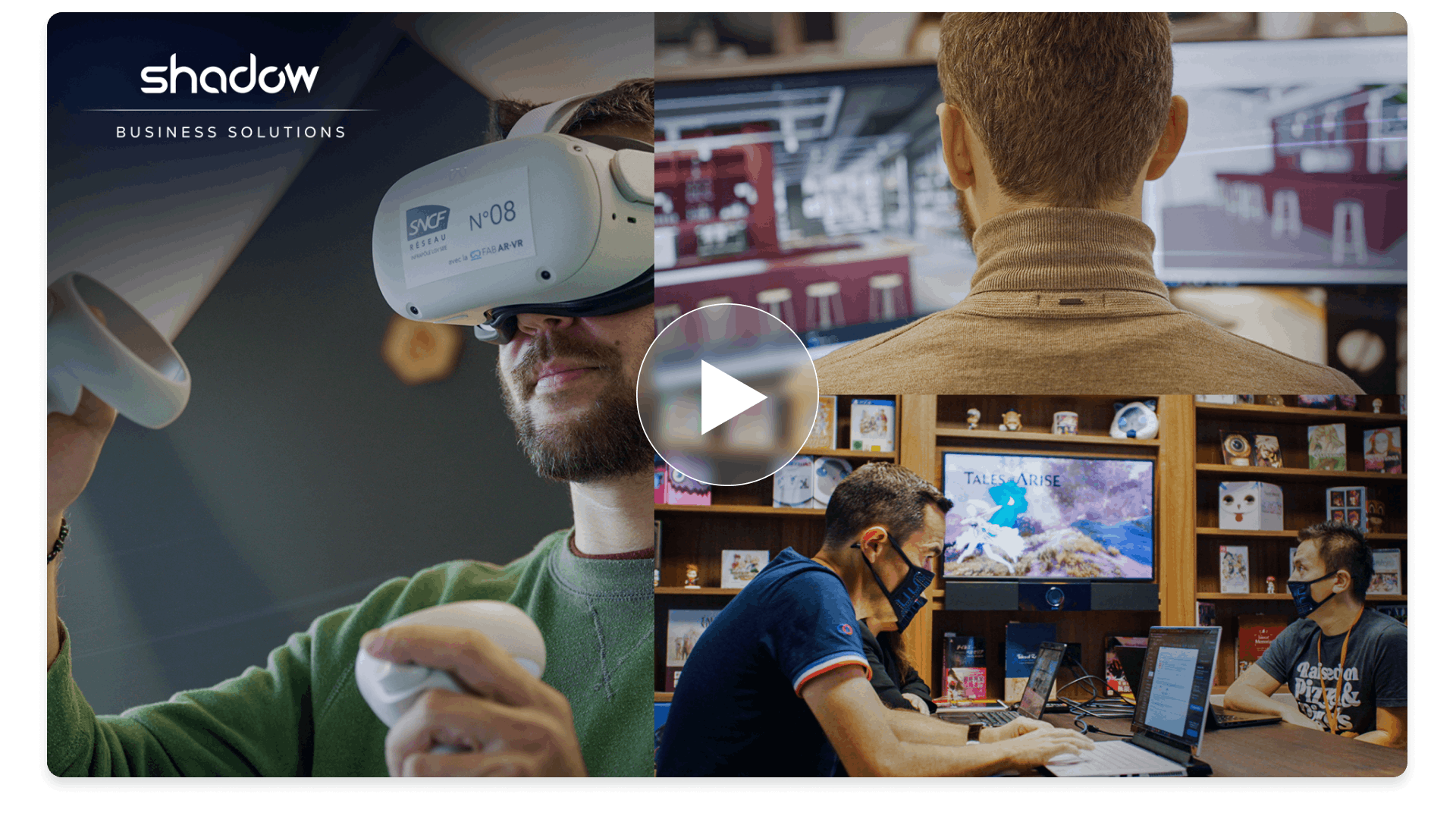 - Spark, our starting professional offer that suits most power needs, perfect for 1080p/2k usage. Includes: CPU Intel Xeon 2.5 up to 3.1 GHz, 8 vCores SSD 256 GB, 12 GB RAM GPU NVidia 1080/P5000
- Aurora, our mid-tier offer, faster and more powerful, ideal for higher workloads. Includes: CPU Intel Xeon 3.3 up to 4.5 GHz, 8 vCores SSD 256 GB, 16 GB RAM GPU NVidia RTX 5000 12GB VRAM*
- Lightning, the most powerful workstation you can dream of, suiting all potential needs. Includes: CPU Intel Xeon 3.3 up to 4.5GHz, 12 vCores SSD 512 GB, 32 GB RAM GPU NVidia RTX 6000 24GB VRAM*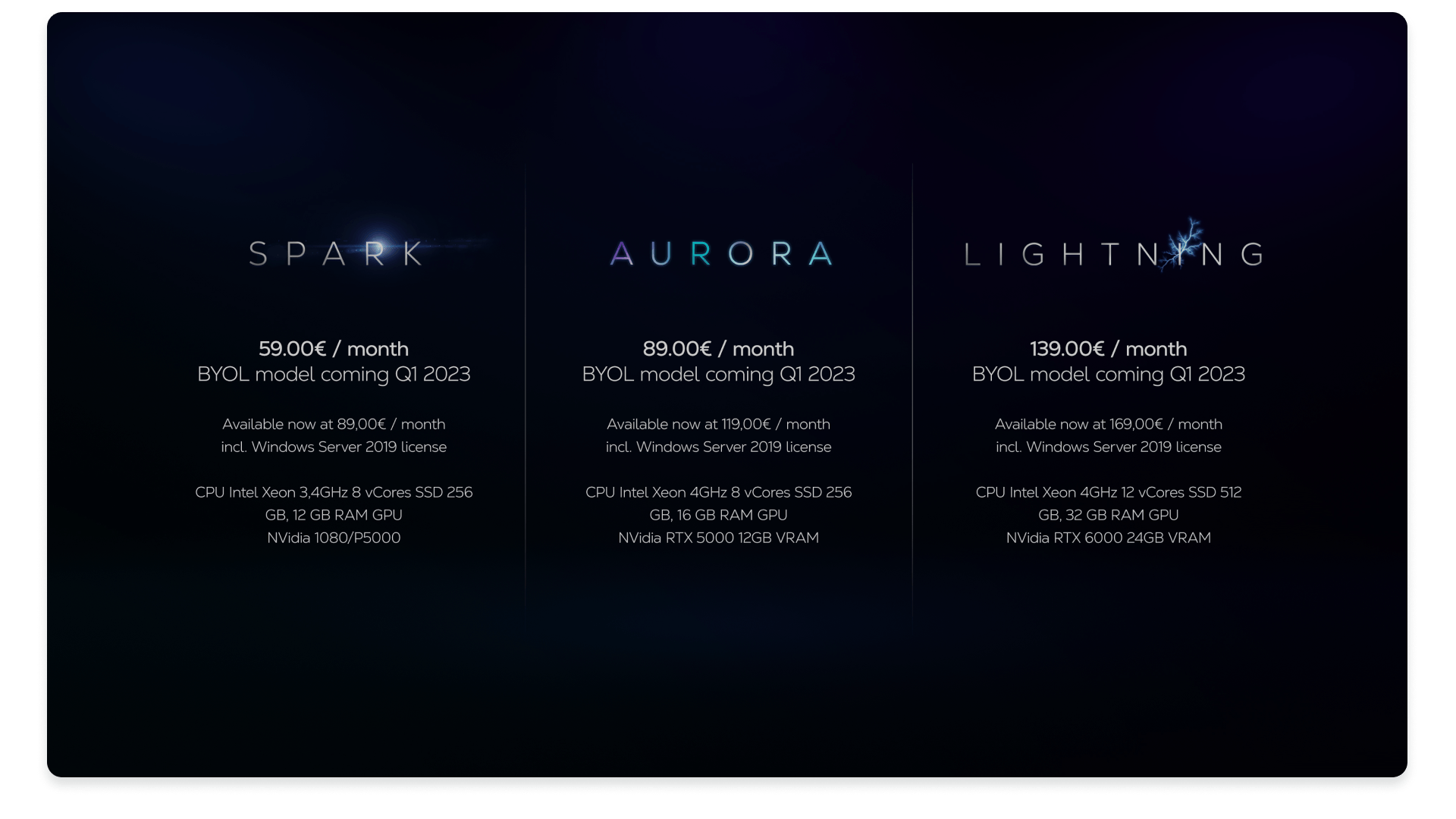 As Microsoft is currently updating its license terms & conditions, our objective is to offer a Bring Your Own License model in Q1 2023, with more flexibility and the following base prices:
Spark: 59.00€ / month, excl. taxes;

Aurora: 89.00€ / month, excl. taxes;

Lightning: 139.00€ / month, excl. taxes;
These offers are available now with the following prices, inclusive of the Windows Server 2019 license:
Spark: 89.00€ / month, excl. taxes;

Aurora: 119.00€ / month, excl. taxes;

Lightning: 169.00€ / month, excl. taxes;
Extra Storage slices of 256GB are also available at 4.99€ / month each, excl. taxes.
Shadow is also committed to the education sector, as students and schools or universities are struggling with hardware obsolescence. As a result, Shadow Business Solutions also include offers for organizations eligible for Microsoft Education licensing scheme:
Spark Edu - CPU Intel Xeon 3.4GHz 8 vCores SSD 256 GB, 12 GB RAM GPU NVidia 1080/P5000
Zenith Edu - CPU AMD Epyc 8vCores SSD 512 GB, 16 GB RAM GPU AMD Radeon 6700 XT 20GB VRAM
Shadow Business Manager, our cloud PCs management tool designed for IT teams
Shadow is also proud to unveil today one tool that will be pivotal to our professional offers: the Shadow Business Manager. Our Shadow Business Manager will allow any IT service or manager within your company to create, modify and suppress Shadow PCs. The first version of our Shadow Business Manager will be available to business customers on December 5.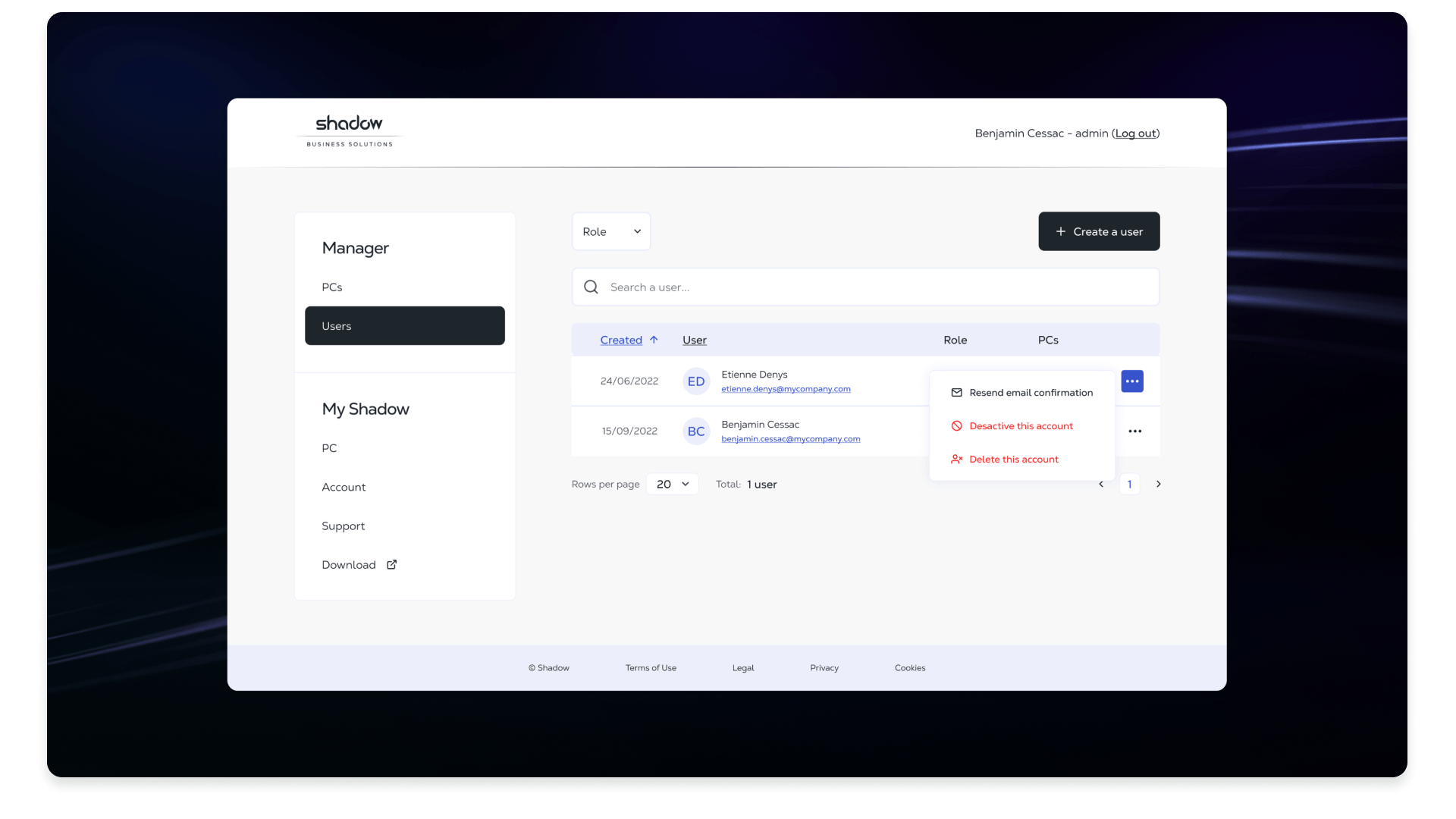 In early 2023, SHADOW will unveil updated versions of the tool that will allow rights management, configuration duplication, group management, collaborative work on a single Shadow PC, backup management, and more.
SHADOW helps improve the carbon footprint of companies by extending the lifetime of their devices thanks to our Shadow PC, therefore reducing obsolescence and waste.
"Since we announced Shadow Business Solutions last May, our B2B teams have already gathered nearly 2 000 leads. We are proud to have already dozens of B2B customers working with us from various sizes and sectors. And there is much more to be announced in the coming months. 2023 will be super exciting for the future of our Shadow Business Solutions and our customers!", said Éric Sèle, CEO at Shadow.
For more information, check our new dedicated Twitter account.
*Only available in Europe - North American availability announced soon 
About SHADOW
At SHADOW, we strive to become the definitive cloud platform for gamers, creatives, and businesses, because we believe that cloud innovations have the potential to bring technological freedom to all. SHADOW delivers a state-of-the-art cloud-computing experience to consumers, via its original Shadow service, and to professionals via its Shadow Business Solutions. It developed the first-ever high-end cloud PC to play, create and work on any device. Shadow has more than 160 employees based in Europe and North America. Join us at www.shadow.tech. Check our latest news on shadow.tech/blog. Follow us on Twitter.