Using a second screen on Shadow was first mentioned 5 years ago—almost as old as Shadow itself—and it hasn't left our discussions ever since. Today, we finally have the pleasure of announcing Shadow's most anticipated feature of all time: Dual Screen.
The seemingly simple feature turned out to be quite the nut to crack. Our teams tested a wide range of angles and strategies throughout its development cycle before finding the sweet spot, the best possible user experience crossed with a low-as-heck bandwidth profile.  
And boy did they find a sweet spot. Don't believe us? Read on and see for yourself.
It's better to have two of anything: eyes, opinions, shotguns (ask Serious Sam), and most importantly, screens.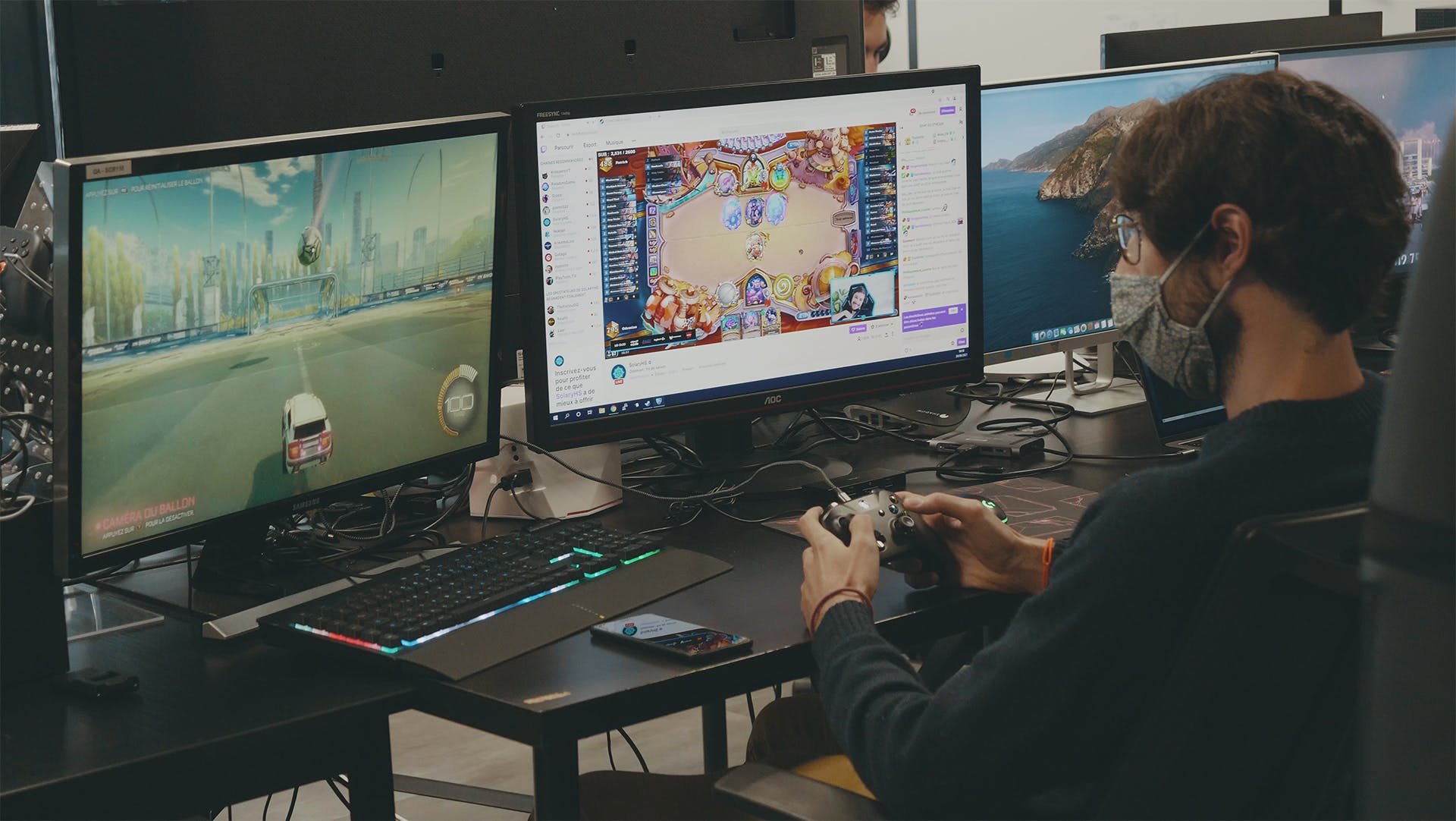 Throughout a year of development, we spent several months polishing and fine-tuning the Alpha and Beta (with none other than you). Now it's time to release this baby bird into the wild.
With Dual Screen introduced into our official release candidate, it will be available for:
Windows

macOS 

Linux (Ubuntu)

Shadow Box (not Shadow Ghost)
💡 To see if you can use Shadow on your device, For more information on our Shadow App hardware requirements, see our dedicated Help Center article.
Let's move on to the most important part of the new feature: enabling Dual Screen.
By now, you should be fairly familiar with Shadow's Quick Menu: the closest to a personal command station for your Shadow you'll ever get. And it will once more act as your very own gateway into a new dimension of Shadow experience as it will host all the necessary checkboxes, buttons and levers right there in it's "Display" tab of the Quick Menu.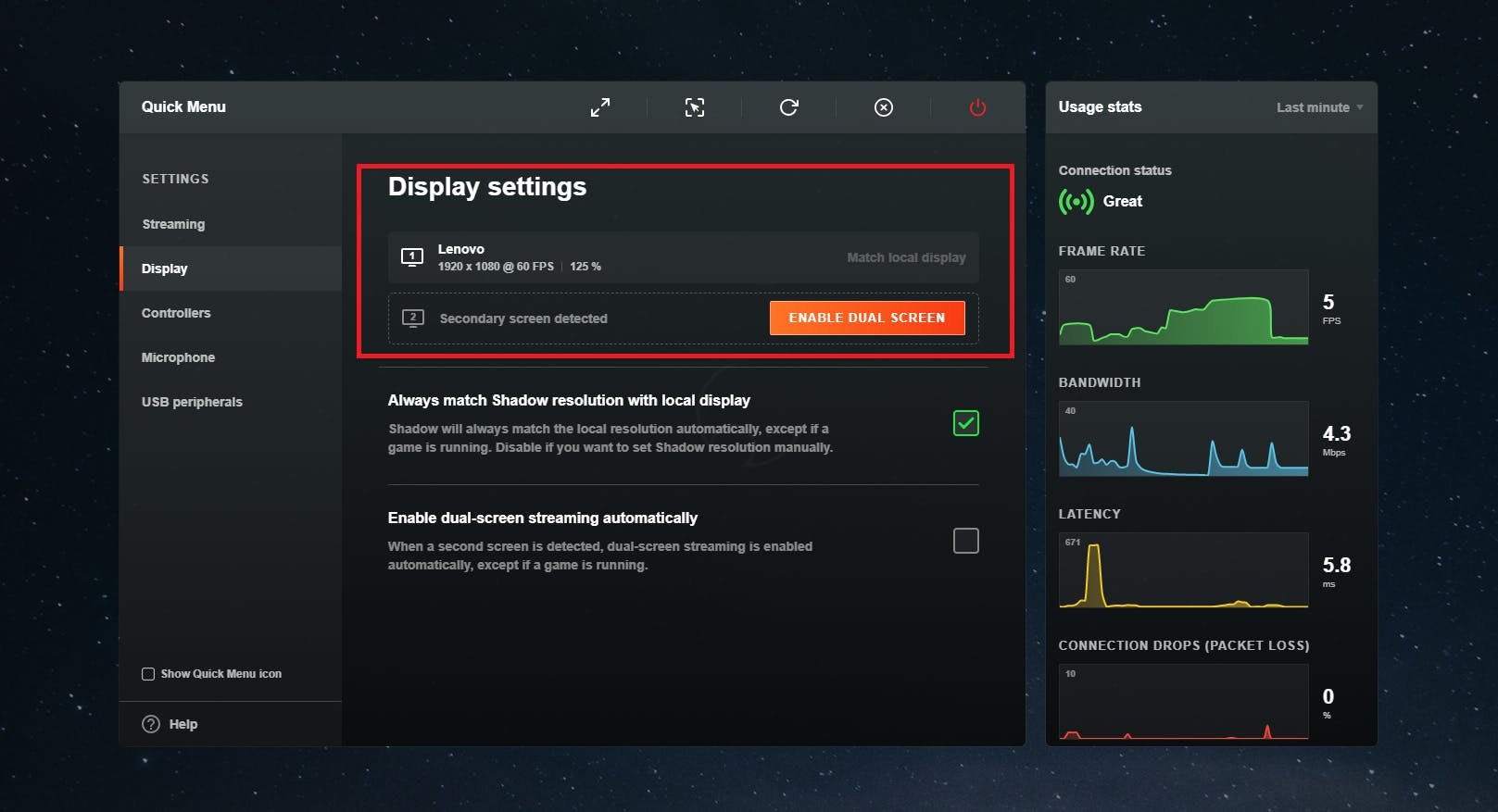 It has to be noted however that enabling this feature will divide the allocated bandwidth of your Shadow in half. This means that if you are using Shadow with an allocated bandwidth of 50mbit/s, 25mbit/s will be used for screen 1 and the other 25mbit/s for screen 2.
So please keep that in mind while using it.
More information on how to set up this feature and a brief FAQ can be found in our help centerhelp center.
Do you enjoy watching a stream or YouTube video while grinding your favorite MMORPG, or would you rather stay in touch with your friends on Discord without having to change apps all the time? Well, let's just say, in both cases a second screen comes in very handy.
And even if your second screen is only hosting your walkthrough (of course that's not cheating), or it's the home to your chat (because you are one of them streamers) this feature is for you!
There are of course many, many more ways for you to get the best out of this new release. More ways than we can possibly list here, so at this point we leave the Dual Screen in your hands.
But before you jump off this article, we wanted to thank all of you so much for your help and patience throughout the development of this much anticipated feature. We hope you will enjoy it just as much as we do.
See you in the cloud!