A few months ago, when we launched our offers dedicated to professionals, we realized that among the most avid users of SHADOW were many architects. As we announced this week our new offers dedicated to creative individuals, Shadow PC Pro, let's take a look at what SHADOW can do for architects, either freelancers or working within larger scale entities. We met with some of them to gather their feedback on SHADOW's services and their use of our cloud-based PCs.
Amidst many recurring benefits for SHADOW users - flexibility, time and cost savings - architects also highlighted specific advantages for their profession. Here's an overview of the specific benefits offered by our services for architects.
Increased Flexibility, Reduced Expenses
SHADOW gives architects instant access to powerful PCs from anywhere, be it their home, office, or while on the go. This allows them to have the same user experience as they would with a local PC, with much more flexibility. Thanks to the centralized management of PCs in the cloud, architects' data and projects are kept secure, enabling them to concentrate on developing new projects and fostering creativity and innovation.
SHADOW solutions also help companies reduce costs associated with managing their IT infrastructure, and they also allow for increased flexibility, as explains Laurent Mudry, co-founder of "Mon Concept Habitation", who's been using SHADOW services for more than two years: "SHADOW offers great flexibility, which is practical for us because we have grown rapidly from 0 to 15 employees. And the vast majority now work on SHADOW at the office. The ease of creating new Shadow PCs has been especially appreciated: it allows us to not invest 1 500€ or 2 000€ in a physical computer, spreading the expenses over time for optimal efficiency."
With our Shadow PCs, companies can easily scale their IT infrastructure according to their needs, without having to invest in new expensive equipment: through our Shadow Business Manager, machines can be added or removed in a few clicks, without service interruption.
A point of view supported by Yan Roche, Project Manager at PCA-Stream: "There is indeed a very pragmatic aspect of the SHADOW solution: we can acquire a machine in a very short time. When you need several weeks, even months, to buy expensive machines, with SHADOW you can have it in less than a day."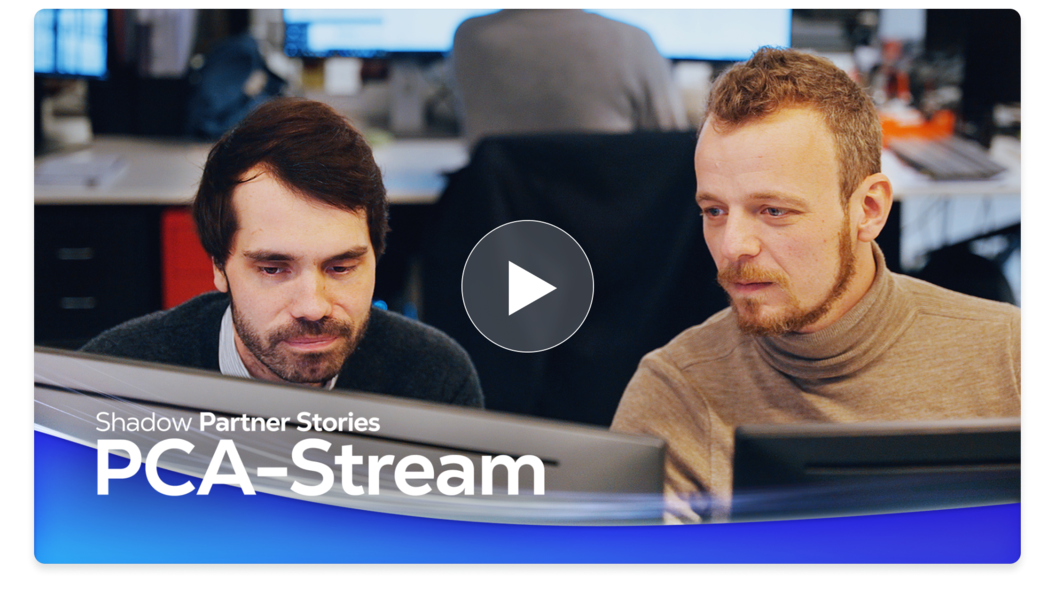 Moreover, SHADOW helps reduce costs compared to purchasing and maintaining physical machines. Hardware updates are managed by us, allowing companies to focus on their core business.
More power for enhanced productivity
SHADOW allows for substantial time savings in creating renders. Machines are optimized for heavy workloads, allowing architects to work faster. "We expanded the solution to our 3D visualization team as an in-house render-farm which means that specifically, we are still using our physical computer to model and design, and we use the Shadow-ones for rendering", said Yan Roche, Project Manager at PCA-Stream.
"This actually saves us a lot of time. We also dedicated a couple of licenses to architects with specific resource needs, so instead of buying very expensive computers that wouldn't be used on a daily basis, we have Shadow virtual computers to handle those very specific tasks."
Adapting to any work situation
SHADOW allows for easy and fast adaptation to all work situations. Architects can work on projects of different sizes and complexities without worrying about the capacity of their machines. SHADOW can provide the best configuration whenever needed: Have a huge unexpected project comes up and requires more computers for a limited time? Our Shadow PCs can be deployed easily and quickly to adapt to all situations.
"The idea of a powerful PC with a very good graphics card, accessible from any computer is a great premise. Some of our employees work on Mac, others on PCs, and it even works very well on iPad when they need it. Everyone uses what suits them best when telecommuting", added Laurent Mudry.
Our Shadow PCs are compatible with many architecture software tools, a real asset for architects who can work with the tools they already know.
Dicky Lewis is a London-based architect and director of the White Red architecture firm. "I discovered SHADOW a few years ago when we were looking for alternatives to access our devices remotely compatible with all of our power-hungry graphics software. It is the only alternative on the market that allows us, via its applications, to work remotely on an iPad for example."
Our users can already work from their Shadow PC on software such as 3DSMax, Acrobat, Adobe Photoshop, After Effect, ArchiCAD, AutoCAD, Autodesk Revit, Blender, Catia, Corona Renderer, Cryengine, DaVinci Resolve, Houdini, Illustrator, Indesign, In Situ, KeyShot, Labview, Lightroom, Lumion, Maya, Octane Render, Rhino 3D, SketchUp, Solidworks, Adobe Substance 3D, Unity, Unreal Engine, Vault, Revit Architecture, Grasshopper, Dynamo, Fusion 360, Vestico or vRay.
"We've been working on Shadow PCs at the office for two years now. At first, we tested different configurations to make sure that the service was compatible with our tools and efficient for all our uses. Then SHADOW was globally adopted by the whole agency", explained Dicky Lewis.
Finally, SHADOW cloud solutions can help limit companies' carbon footprint by reducing the planned obsolescence of their IT hardware, while offering essential power for their projects.
Shadow PC Pro is a new vertical dedicated to individuals who need more power to build and create everything they need and want. It allows you to explore the various facets of your talents, including 3D modeling, development, video production, creating virtual works, and designing a future professional path. With Shadow for Makers, you can choose the Shadow PC configuration to fit your own monthly budget rather than buying a new device every time you need one.
To discover more details about Shadow PC Pro, check out our dedicated website and our latest dedicated blog post.