Sure next-gen consoles are cool and all, but have you ever played your favorite game on a real gaming PC? A real gaming PC like your smartphone, your parents' tablet, your TV or even your dusty old Mac that you bought to learn web design with? 
But also have access to your favorite gaming libraries, mods, huge communities or the opportunity to, if you don't feel like it, not play at all. It's a real PC in the cloud after all. Do whatever you please with it!
Dream on, you say? Make it our future, we say!
Shadow - a pipe dream coming to life
Shadow was created with the dream of having your powerful PC exactly here, on all the screens and devices you already own. To free you of the need to shop for the newest hardware and having to throw your current setup into the bin.
With such a technology, your smartphone can get more compact while turning into your gaming or working PC at any moment's notice. And this would only be topped by an affordable price, way below the cost of buying a new smartphone, gaming PC or next-gen console. 
Smells too much like a scam? We know.
That's why today, Shadow does not only come in three different flavours (or configurations) called Shadow Boost, Shadow Ultra & Shadow Infinite, but it's also available on a large variety of operating systems and devices, and in 10 countries, including the U.S. and South Korea. 
We have never been closer to our founders' dreams than today. 
💡 To learn more about the beginning of Shadow, check out our article about Shadows 5th Birthday.
Enough tooting our own horn. Work and life at Shadow has not only been fun and giggles. Waiting time, miscalculations, broken promises, tears and painful decisions have also been a part of this journey.
No one knows that better than our community which is the core ingredient of Shadow ever since its founding. They are here with us, encouraging and supporting us, to build a piece of the future that is enjoyed, used and praised by many critics. 
Still tooting our own horn, aren't we? So let's see what experts have to say about Shadow.
#nofilter.
Shadow is a cloud computer on the screens you already own bringing you the freedom to use the software and games you want to play and use. This might sound enticing to some tech enthusiasts but screams 'latency' or 'niche' at others. 
This rings especially true, when looking into the past of cloud-based services, especially computing. Just thinking about it brings back unpleasant memories and makes the word of critical tech experts more important than ever.
One of these experts is Darren Allan from Techradar, who gave Shadow an in-depth look saying that had "been impressed by the quality of the service", anticipating that "the stage might be set for it to gather some serious momentum going forward". 
In a similar vein, Engadget asks its readers, "who wouldn't want the performance of a $2,000 gaming rig without having to cough up for the gear?", as well as The Verge that describes Shadow as being "one step further than Nvidia".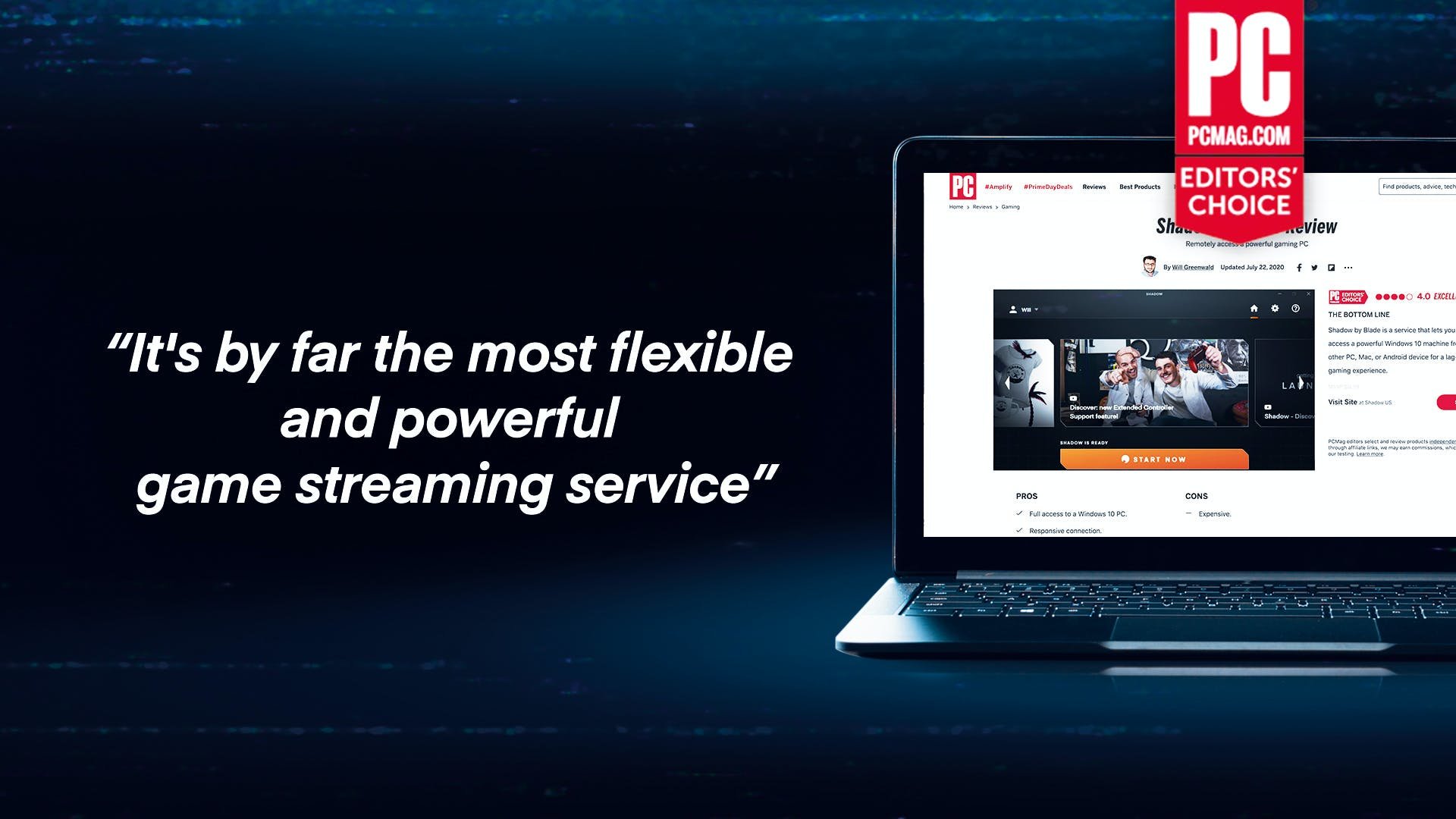 PCMag goes one step further than its peers and awarded Shadow with nothing else than their 'Editor's Choice' award. 
Alongside the shining red Editor's Choice pennant of the year 2020, Shadow was graded a slick 4.0. With notable highlights that include its great gaming and non-gaming potential, its powerful specs, full access to a Windows PC 10 and responsive connection. 
This makes Shadow "the most flexible and powerful game streaming service", PCMag states in their review while also rewarding our constant push for freedom with a comparison of other services and mentioning that "it's more than GeForce Now or Stadia and their limited libraries can offer".
Or to just give you the TLDR in Laptop Mags words: "It is objectively the best game streaming service on the planet". 
We couldn't have said it better ourselves, as we take these kind words and awards as our fuel to make Shadow even better. That's a promise.