Two years after the change in leadership for the company and a year after the announcement of its highly anticipated Power Upgrade, SHADOW is back in the spotlight with thrilling news and great updates that will significantly enhance our users' experience. Our now 200-strong SHADOW team is, as always, doing great work behind the scenes, and we're delighted to share these improvements with you today.
A Warm Welcome to Our New European Offers
We always consider our users' feedback and as a result, we are bringing important updates to our offers. Already available in North America since May 4, these updates are now available to all European users, as we're dedicated to providing our users with top-tier services and these packages are a testament to our commitment to delivering high-quality services at competitive prices.
Our legacy offer, the Shadow PC and its Power Upgrade, will now take advantage of more powerful configurations, with increased RAM and storage. These offers are live starting from today, and provide twice as much primary storage: up to 512GB. The RAM on Shadow PC's Power Upgrade has also been boosted from 16GB to 28GB. All this for just a few extra euros per month: the Shadow PC offer now costs 32.99€ per month (previously 29.99€), while the Power Upgrade now costs 16.99€ on top, previously 14.99€.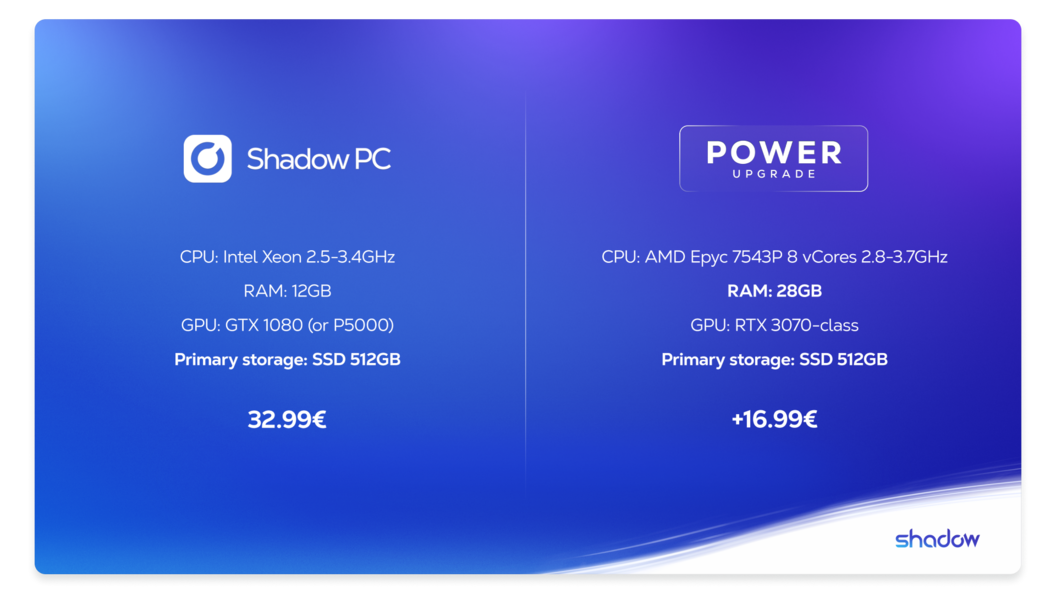 As of today, these new offers are replacing the previous Shadow PC and Power Upgrade offers, and all new users in Europe will automatically have access to them. Existing Shadow PC and Power Upgrade subscribers will keep their existing plans. All existing users will be able to easily switch to the new Power Upgrade offer immediately, and then users wishing to change to the new Shadow PC offer will be able to do so in a few weeks. We will update our subscribers when this becomes available so stay tuned!
Introducing Shadow PC in Browser
One of our goals has always been to make Shadow as accessible as possible. With this in mind, we're excited to announce a transformative way to access Shadow PC: through a browser. As a platform that's agnostic of your local device's operating system, this innovation brings a whole new level of flexibility. We've engineered a lighter version of our Shadow PC apps, focused on delivering only the core features you need for an optimal experience. Best of all? Instant access, no download required. This development exemplifies our commitment to making Shadow truly accessible, anywhere and everywhere. It will make it possible to tap into the power of Shadow seamlessly on new devices, such as TVs… and car interfaces!
But we're not just stopping at enhancing your user experience; this new way to access Shadow PC also paves the way for exciting opportunities for professionals. The introduction of Shadow PC directly into the browser not only enhances the user experience but also gives a new level of security and flexibility for IT managers. Running within a web browser mitigates potential security concerns of additional software installations, providing compatibility with existing IT policies, while also allowing easy access from any device equipped with a browser, simplifying setup and maintenance. Shadow in Browser will be available in Early Access with our new augmented offers this July.
Shadow PC in Browser is also allowing the set up of our Game Creators solutions (Virtual Booth & Echo session products), announced back in March at San Francisco's Game Developers Conference.
Making Life Easier with Drag & Drop
In our continued pursuit to improve usability, we're rolling out a new Drag & Drop feature. Managing and moving your files has never been this easy. It's just one more way we're making Shadow PC a seamless part of your digital life.
Drag & Drop is now available on our BETA app, and will be available to all later on. With this feature, you can effortlessly transfer multiple files or folders of any type from your local PC to your Shadow PC. Transfer progress is conveniently notified via your Quick Menu. Currently, all transferred files are saved in the "Downloads" directory of your Shadow PC's "C:\" drive. This release represents the first step in our ongoing efforts to increase your file transfer capabilities.
Finally, in order to ensure better synergy between our services, we have just integrated, as of today, Shadow Drive directly into Shadow PC. This means that any new subscriber to Shadow PC will automatically have an additional 20 GB of storage included in their cloud PC through our very own storage app! We will continue to offer improvements of this type in order to provide the best possible cloud experience.
For those who couldn't keep up with our latest announcements, we have some exciting news. Shadow Drive is now offering up to 2TB of storage for just 4.99€/month, and it's fully accessible on iOS. Furthermore, our new partner, Genymobile, is proud to announce the official support for Apple Silicon chips in Genymotion. Finally, we've recently announced our partnership with Daedalic Studio to showcase a preview of their latest game, The Lord of the Rings: Gollum. Your continued support fuels our commitment to innovation - stay tuned for more thrilling updates!