Today is a great day. Shadow users are no longer constrained to a single screen.
As a result of our work on other features, including true multi-screen on a single device, we're able to bring you the ability to add a second screen to your Shadow via a second device.
You can use your second screen for anything you want. You can extend your Windows desktop and put a video stream or social media feed on it, or you can mirror your primary display and play couch co-op games on two different devices. You're only limited by your imagination and we can't wait to see how you use this new, experimental feature.
How to turn on Second Screen Functionality
First, keep in mind this feature is in beta and will be available only on the beta client located in the apps page for now. Our developers are continuously working to optimize this new feature so it will become better and better over time.
Instructions for second screen functionality:
Load two different devices with the beta version of Shadow installed on each device.

Launch Shadow on the device you plan to use as your primary screen first.

On the second device under settings in the launcher, check the "Define as secondary screen" box

Launch Shadow and enjoy!
note: Both devices must be in full screen mode when using the second screen functionality. You can use WIN-ALT-F as a Windows shortcut.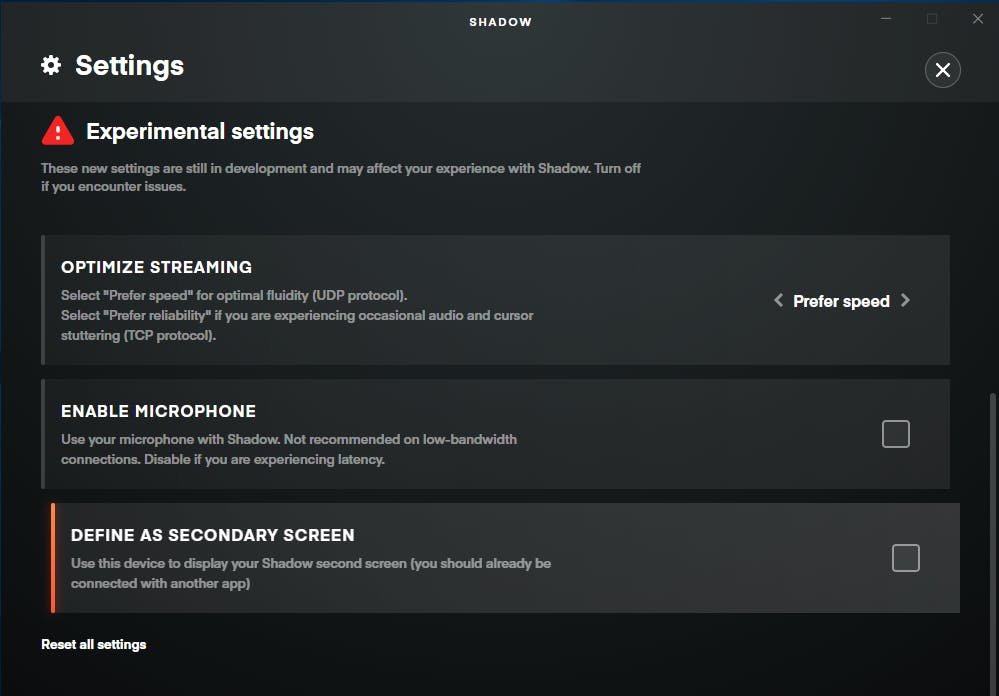 How to get the best-possible experience with secondary screen:
The second screen function is in its first beta release and is supported on:
The Shadow Box (v1)

Windows

Mac OS

Linux

Android
All the apps you need for second screen beta testing are in your Shadow account page. Second screen functionality will be supported across all apps and devices in the future.
The following can be used as a primary screen:
The Shadow box (v1)

Windows

MacOS

Linux
The following can be used as the secondary screen:
A feature unique to Shadow
You will be able to use a secondary screen from one end of your home to the other. However, the two devices MUST be on the same local network.
As a reminder, this is a beta version for the moment. We have more features coming, like the possibility of extending the second screen outside your home on a different network. We are looking forward to your Discord feedback to be able to fine-tune the current beta and its next features.
We hope you enjoy using the dual screen function and we look forward to seeing what you think!